Description
A night out just for digital scrapbookers! Saturday, Jan 21st from 5-10 pm. Your ticket includes: exclusive FREE digital scrapbooking kit, individual tutoring, prizes, coupons, a live template challenge, and featured deisgner, Danyale, from Etc by Danyale.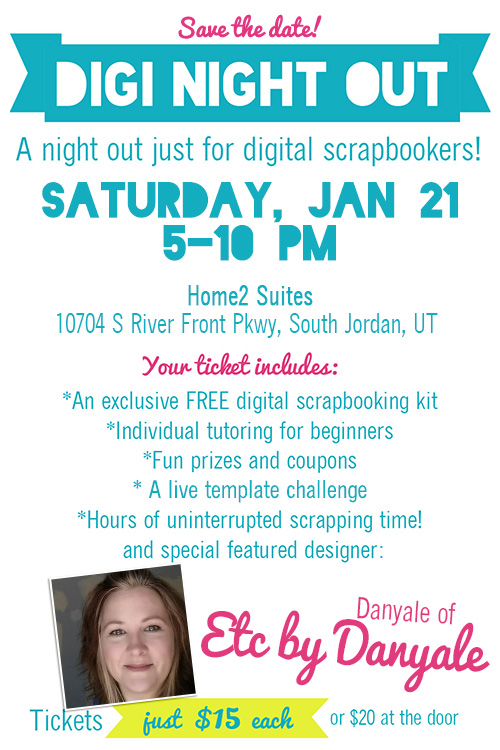 We also have available the Digi Night Out Annual Pass!


Save a whopping 39% when you purchase the FULL DNO Annual Pass! Attend all 6 events in 2017 for only $66! That's just $11 per event - an even better deal than buying an early bird ticket. Can't commit to all 6 dates? Grab the MINI DNO Annual Pass. Attend any 3 of the 2017 events for just $33 - get the pass now and choose your dates later! (Click the image above to buy the pass)
We're also pleased to offer the REFER A FRIEND program..
Refer a NEW friend to Digi Night Out and you will BOTH save $3 on your tickets to a future event. Simply enter his/her name at checkout and then check your inbox for a discount coupon.
(Coupons will come from kathleen@diginightout.com after you have both completed your purchases for this event.
Please allow 7-10 days to receive your coupon.)

Sign up for our newsletter for updates and special offers!