Digestive Health Disorders and Solutions Seminar [Limited Seating]

Thursday, October 29, 2015 from 6:30 PM to 8:00 PM (EDT)
Event Details
Get Rid of Your Gut Gremlins, FREE Digestive Health Disorders and Solutions Seminar
Did you know Your Gut Health Could Be The Answer to Metabolic Conditions and More: 
Therapeutic Advances in Gastroenterology Recent Study Sates That Your "...gut harbours a complex community of over 100 trillion microbial cells which influence human physiology, metabolism, nutrition and immune function while disruption to the gut microbiota has been linked with gastrointestinal conditions such as inflammatory bowel disease (IBS) and obesity." also "…systematic diseases such as diabetes [Qin et al. 2012]1 and chronic inflammatory diseases such as inflammatory bowel disease (IBD), encompassing ulcerative colitis (UC) and Crohn's disease (CD) [Frank et al. 2007 ]1. 
This seminar will explore the link and provide solutions to natural gut health and restoration REGISTER FOR FREE.  Register now and Get Your Gut and Life Back! Limited Seating Available.
At this FREE SEMINAR you will learn this and more from our expert speaker: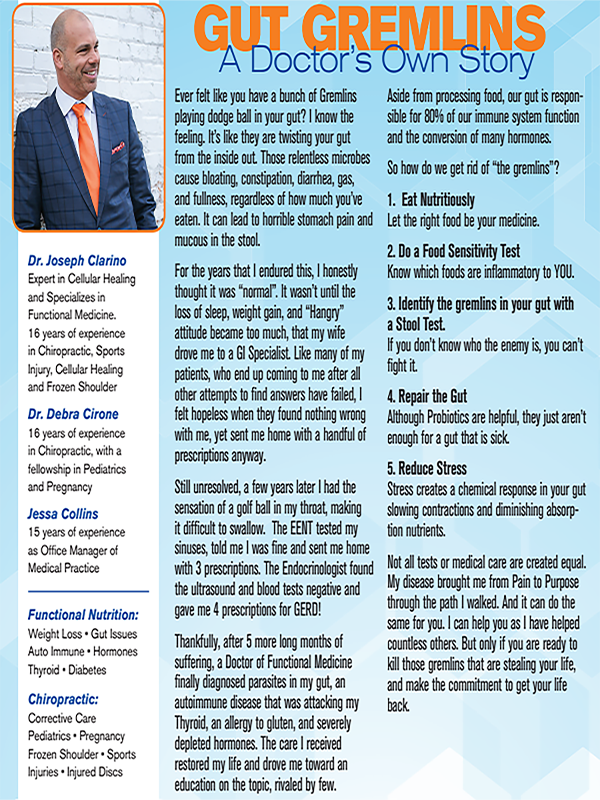 1. Guinane C, Cotter P. Role of Gut Microbiota in Health and Chronic Gastrointestinal Disease: Understanding a Hidden Metabolic Organ. Therap Adv Gastroenterol. 2013 Jul; 6(4): 295–308.
When & Where

Sugar Hill Spine & Wellness
5422 Highway 20
Suite 1A
Sugar Hill, GA 30518


Thursday, October 29, 2015 from 6:30 PM to 8:00 PM (EDT)
Add to my calendar
Organizer
Sugar Hill Spine & Wellness
At Sugar Hill Spine & Wellness we pride ourselves on being an integrative health and wellness center. We are unique in the sense that we take a very well-rounded approach to getting you back to 100% health. Our philosophy is important to us and is what makes a separate and distinct from that of "modern medicine". We believe that your body was not made with too many organs that need to be removed when they aren't working right or not enough drugs that need to be pumped into us every time a symptom arises. We know that God created you to be a self-healing organism that contains every drug needed to keep you alive and enable a full expression of health. Chiropractic is the art of an adjustment that removes the interference of misaligned vertebra that choke the nervous system, keeping it from properly communicating with the rest of the body. This misalignment it's called a Subluxation. A subluxation is to the body, what a dimmer switch is to a lightbulb... Given a small amount of pressure electricity, or the communication between the switch in the lightbulb is slowly interfered with causing the light too dim. Remembering that only the weight of a dime on a nerve decreases the nerves function by up to 60%. Our goal is to educate and it just people toward a healthier future, no matter their age. Every infant child and adult that we can keep from getting vaccinated, taking unnecessary drugs and getting barbaric surgeries, is it brighter future for them, their loved ones and anyone who's path crosses there's for the rest of OUR lives!
Digestive Health Disorders and Solutions Seminar [Limited Seating]