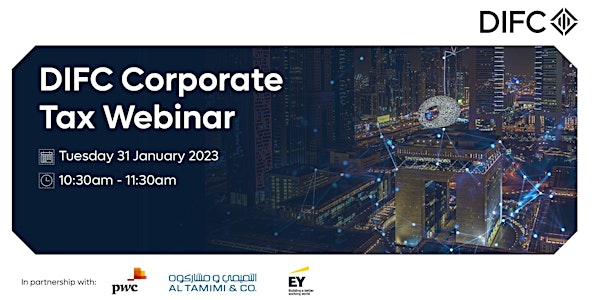 DIFC Corporate Tax Webinar
Learn about UAE's corporate & federal tax regime - In Partnership with PwC, Al Tamimi & Co. and EY MENA
About this event
Event Overview:
On 9 December 2022, the UAE Ministry of Finance introduced a Federal Corporate Tax of 9% for UAE businesses, which will come into effect on the 1st of June 2023, this new introduction will play a key role in changing the UAE's business landscape as well as accelerating the nation's growth by establishing a more sustainable future with consistent revenue streams.
Whilst DIFC-based institutions may continue to be entitled to Tax incentives, they may be impacted in the absence of satisfying certain conditions.
In this first episode of DIFC's webinar series, we will help DIFC clients and prospects increase their understanding of the new Tax Law as well as its implications on business profits. We will answer questions that are top of mind for businesses locally, regionally, and globally.
• Platform: Zoom
• Time: 10:30 am to 11:20 am
Partners:
• EY
• PWC
• Al Tamimi & Company
Agenda:
- 10:30 am to 10:35 am Welcome Remarks
Khadija Ali, Chief Representative - Business Development Segments
- 10:35 am to 11:05 am Panel Discussion:
• Corporate Tax Law - Overview
• Scope of taxation and applicability
• Exclusions, exemptions, and impact of corporate tax
• Corporate tax - What does it mean for DIFC-based entities?
• Case studies/scenarios
Moderator:
Shiraz Khan - Partner, Head of Taxation, Al Tamimi & Company
Panellists:
Charles Collett - Partner, PWC Middle East
Mohamed Araji - Partner, Financial Services Tax Leader, EY MENA
- 11:05 am to 11:15 am Q/A session
- 11:15 am to 11:20 am Wrap-up Notes/Closing Remarks
Khadija Ali, Chief Representative - Business Development Segments