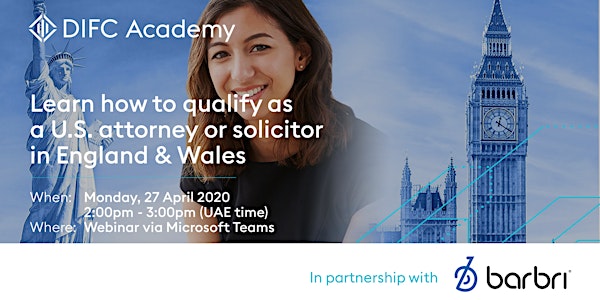 DIFC Academy and BARBRI Webinar - April 27, 2020
Study Anywhere in the World-Learn how to qualify as a U.S. attorney or solicitor in England & Wales
About this event
DIFC Academy in partnership with BARBRI would like to invite everyone to a webinar on April 27, 2020. Whether you are intending to qualify as a lawyer in New York or California or as a solicitor in England & Wales, we will be delighted to meet you at our virtual event.
You will e-meet Chris Jorgenson, Director of Institutional Partnerships at BARBRI, who is a dual-qualified lawyer in the States and in England & Wales. You will have the chance to ask us questions relating to our legal qualification preparation programmes and the qualification process in the U.S. and England & Wales. We will also provide you with guidance on eligibility and explain how we support you through your studies.
We look forward to e-meeting you!
Date: April 27, 2020 (Monday)
Time: 2:00pm - 3:00pm (UAE Time)
Platform: Microsoft Teams