Description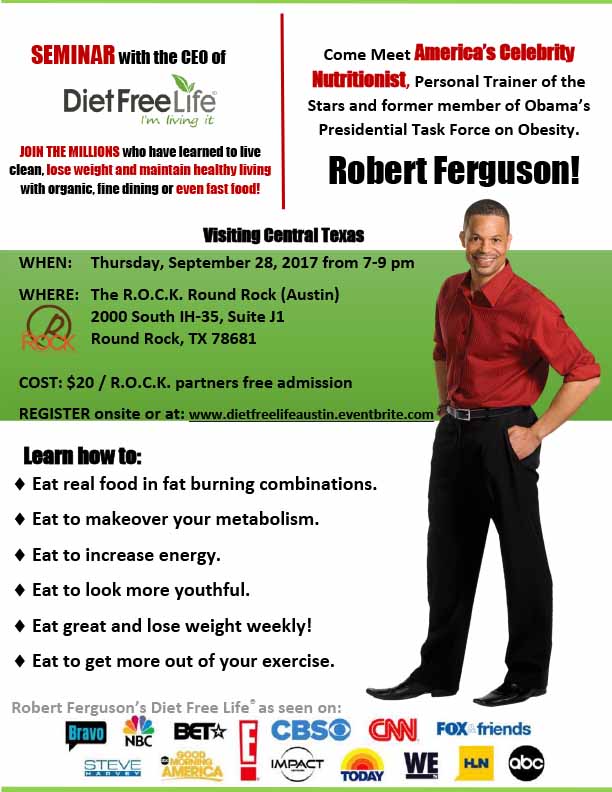 Dubbed "America's leading voice on health and wellness," Robert Ferguson, MS., CN., is a nationally recognized author, certified nutritionist, fitness expert, entrepreneur, TV personality, motivational speaker, and CEO of Diet Free Life.
Robert has also trained celebrities such as Latoya Jackson, Daniel Baldwin, Toni Braxton, Ricki Lake, Mindy Cohn, Bobby Bonilla and Days of our Lives, to name a few….and gospel legends such as Hezekiah Walker. He has successfully worked with many top companies and brands such as Aetna, Anthem, United Healthcare, Kaiser, McDonald's Corp, the NAACP, UNCF and many others.
He has served on the Presidential Task Force on Obesity for the National Medical Association under the Obama Administration.
Ferguson has a Master's degree in counseling psychology and certifications in fitness and performance nutrition. For more than 20 years, he has been dedicated to helping the population at large break the diet mentality and engage the joy of eating, which results in simple and authentic weight loss and personal wellness. He is a leader in providing healthy living strategies for underprivileged communities.
Robert Ferguson has helped millions of people live clean and lose weight eating organic, casual and fine dining, fast food and otherwise. With a philosophy of meeting people where they are, his teachings remain diabetic friendly, heart healthy, cash convenient, psycho-socially responsible and adaptable to all taste (even vegetarians and vegans). This seminar and his program will take you step-by-step on how to use food to burn fat, meal building and planning, efficient ways of categorizing foods, and everything you need to live a diet free life!
Robert Ferguson makes nutrition, fitness and weight loss simple.
Come out and hear America's wellness expert, Robert Ferguson. The cost is only $20.
Register online to pay now or at the door. www.dietfreelifeaustin.eventbrite.com
Date and Time
Location
The Rock Round Rock
2000 North Interstate Highway 35
Suite J1
Round Rock, TX 78681
Refund Policy