Description
Bay Area Flamenco Festival presents CAJON Workshop with Diego Amador Jr.
Saturday, Feb. 2, 1:00pm-2:30pm (1.5 hrs $40)
Diego Amador Jr.: From Seville, he was born into flamenco royalty. His father is the celebrated flamenco pianist Diego Amador and his uncles are Rafael and Raimundo Amador (Pata Negra). From a very young age he began performing and touring with some of Spain's top flamenco artists, including Remedios Amaya, La Susi, Lole Montoya, Farruquito and Joaquín Cortés. He has also worked alongside jazz greats such as Pat Metheny, Bireli Lagrene and Charlie Haden. Known mainly as a percussionist, he also sings, plays guitar and piano and recently launched a solo project as a singer/songwriter, with the track "Y me siento tan bien".
For info on all Festival events and workshops click here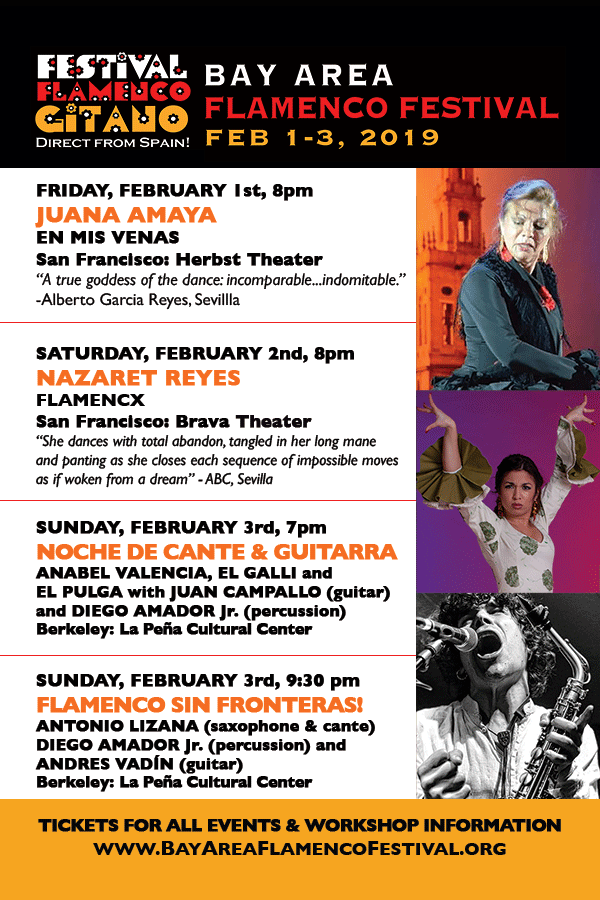 Organizer of DIEGO AMADOR JR: CAJON WORKSHOP: Bay Area Flamenco Festival
Founded in 2005, Bay Area Flamenco produces numerous events, film screenings, lecture/demos, workshops and master classes throughout the year, including the annual Bay Area Flamenco Festival/Festival Flamenco Gitano, now in its 15th year. The 
BAY AREA FLAMENCO FESTIVAL 
has grown into a popular and vital annual Bay Area cultural event. Celebrating Spanish Gypsy music and dance as a living culture and a legacy of world stature, the Festival has presented some of the most important figures in the history of flamenco such as Manuel Agujetas, Farruquito, Manuela Carrasco, Angelita Vargas as well 

as prodigies from today's generation of artists. 



"The San Francisco Bay Area has become a major U.S. conduit for Spain's greatest flamenco artists. Over the past decade no one has done more to build bridges between Andalusia and the Bay Area than Nina Menendez and the organization she founded and directs: Bay Area Flamenco." (KQED, The California Report)
Serving as a bridge between our local community and the flamenco community in Spain, we foster cultural exchange opportunities that allow our community of outstanding local flamenco artists and the region's large number of student and apprentice flamenco practitioners to interact in meaningful ways with master artists and tradition-bearers from Spain's flamenco communities, creating a context for sharing cultural traditions and experiencing flamenco in a genuinely interactive and spontaneous environment.
Artistic Director Nina Menéndez's unique curatorial vision distinguishes the work of BAF and its particular focus on grassroots flamenco from the Gitano communities of Spain. Our programming aims to increase awareness of the culture, traditions and history of the Gypsy/Romani people of Spain, and to illustrate the way music and dance traditions are key to cultural resistance, serving as a vessel for the transmission of cultural identity and oral history across the generations.
"These artists are bringing the Gitano essence of flamenco into the 21st century,"
 explains Festival director Nina Menéndez. 
"They have an ease for improvisation that comes from living the art as a part of everyday life. No choreography is required, only an intimate connection among the dancers and musicians who interact freely on the basis of a shared legacy and an insatiable hunger to find the spark of 'duende' that transforms the mundane into the sublime."