About this Event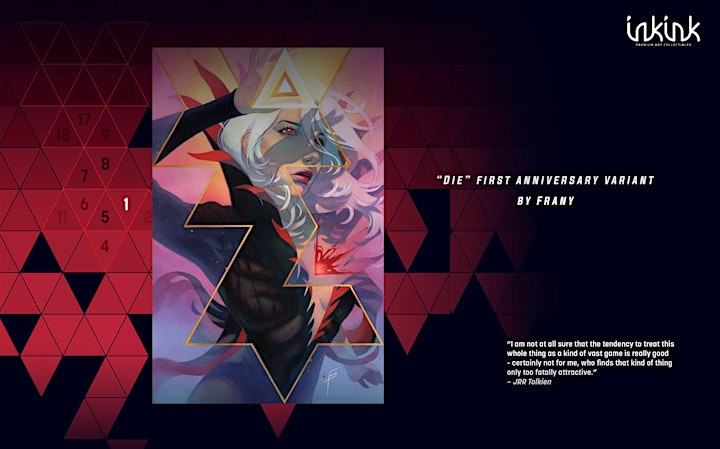 BLiNK-ArtFest (Comics. Art. Mayhem) @ The Substation, 7th & 8th Dec 2019
Die #1 was published on 5 December 2018 by Image Comics. It will soon be a year since its release. In that year Die has garnered a huge following, becoming a fan favourite with its fantasy and action themes. It also has a nostalgic feel with the "Dungeons & Dragons" based story line.
Artist and co-creator of Die, Stéphanie Hans created her first cover for Marvel in 2009. She never imagined the trajectory that her career would take. Now she is a mainstay artist for most mega American publishers. To say that she is a fan favourite is an understatement.
InkInk Collectibles has been a long time supporter of Stéphanie Hans, and Die has been a favourite series at InkInk. It only seems appropriate that we celebrate our favourite comic series in grand fashion at Inkink.
InkInk Collectibles and Stéphanie Hans has come together to bring you a very special variant cover for this Die anniversary. The art for this exclusive store variant was hand drawn and painted by InkInk Collectibles' artist Frany.
Frany is a visual artist who specialises in watercolour. She is a Tropa Entertainment alumni, having worked previously on various entertainment titles as a game designer/artist. The Die #1 anniversary variant will be Frany's debut into the world of variant covers.
In addition to the anniversary variant, there will be a special signing session with Stéphanie Hans and Frany at BLiNK ArtFest where the 2 artists will be attending. More details will be published soon !
Stay Tuned!