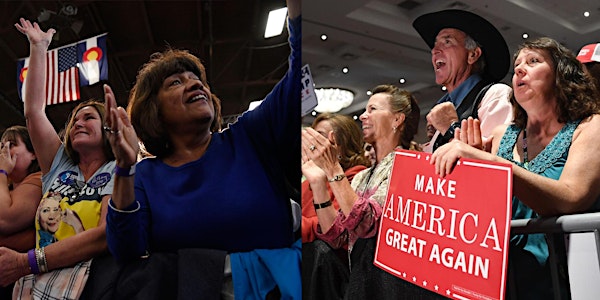 Did the media do their job in informing voters? A #TapTheVote discussion
When and where
Location
The Denver Post Auditorium 101 W. Colfax Ave. Denver, CO 80202
Description
As part of the #TapTheVote election series featuring communications leaders from the Denver Metro area, join us for a discussion that takes a look back at the highs and lows of Colorado politics coverage. It will be followed by a reception at the Denver Press Club.

Join moderators
Laura Carno
(founder, I am Created Equal) and
Jason Salzman
(blogger, bigmedia.org)
for a wide-ranging discussion on the outcome of the elections and how the national political landscape helped shape what happened locally.
Panelists include:
Greg Moore, an instructor at the University of Colorado-Boulder and former editor of The Denver Post

Hope Elizabeth, a University of Denver student, with the Roosevelt Institute

Marshall Zelinger, political/investigative reporter at Denver 7 news

John Frank, politics reporter for The Denver Post

Lisa Cutter,

former president of the Public Relations Society of America, Colorado Chapter, and president of Cutter Communications
Moderators will field questions that you send to our Facebook event page or if you tag them with #TapTheVote on Twitter, as well as take questions from the attendees and streaming video audience.

SPECIAL THANKS to Paul Teske, Dean of the University of Colorado Denver School of Public Affairs, who is delivering introductory remarks and providing post-forum food at the Denver Press Club, where the conversation can continue.