Description
After such a great success and hugely positive response from our first Dice Throne Con, we are super excited to be hosting once again!

DT Con Season Two Highlights:
• Get a chance to play the Season Three co-op and heroes
• Dice Throne World Championship 2019 (with 14 heroes to pick from)
• A chance to challenge Nate and Manny in a 2v2
• Swag bags for all attendees
• Hourly raffle prizes
• Box signing
• Secret reveals
• Meet & play games with other Dice Throne fans!

The following shirts may be added to your cart for $25 at checkout and can be picked up at the con: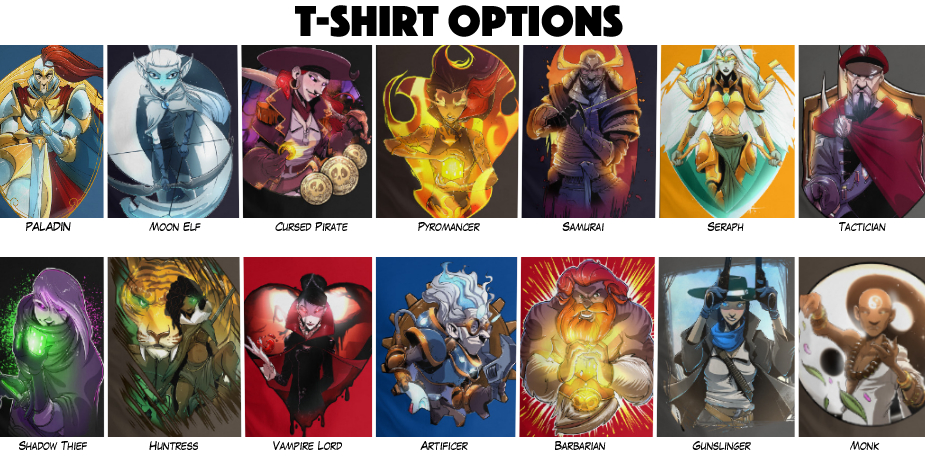 You can see bigger images of the shirts on our PAX Unplugged Shirt pickup form (scroll down on that page).
FAQ
Q: Can I pay for a ticket + shipping and just have the super awesome swag bag mailed to me?
A: No. We want the swag bags to be very special and rare. You must physically attend the show in order to receive the swag bag.

Q: Are children welcome?
A: Children 8+ are welcome to participate (please use your own judgement when considering if your 8 year old can be successful spending all day at a Dice Throne convention). However, due to limited seating and room capacity (fire codes), a ticket must also be purchased for them unfortunatley.
Q: Will food be provided?
A: No, but there are fast food & restaurant options within walking distance.

Q: Will there be a prize for winning the tournament?
A: Yes! Stay tuned for details.