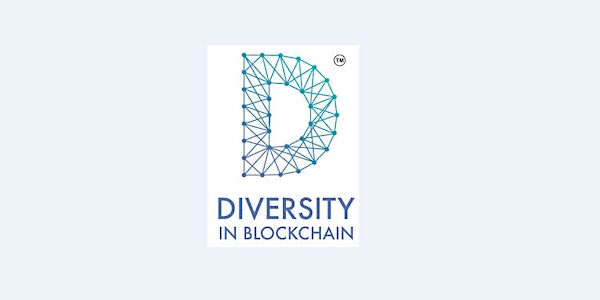 DiB: Blockchain-Based Technology to Enhance Global Insights Past COVID-19
Diversity in Blockchain Event
About this event
Co-Sponsored by Blockchain in Healthcare Today
As we look to evolve after COVID-19, there grows an underlying need to understand more deeply the physical, digital and remote telehealth services that our medical records create. Blockchain technology has the ability to provide the utilization of data of where our pharmaceuticals, test kits, face masks and devices have come from and the true credentials they have beyond the barcode. Today we bring together experts in the health care and life science fields to discuss how this is properly being done, along with the technical and regulatory challenges that need to be addressed along the way.
Our presentation is key for our working groups to understand the utility of blockchain technology for health care, life science and their corresponding industry partners to see how you can benefit the adoption of distributed, privacy preserving technology.
Agenda/Topics:
Jennifer Zegel: Introduction/Moderator
Hasshi Sudler: Blockchain-Based COVID-19 Contract Tracing Connectivity Apps
Andrew Bonner: Healthcare Vertical Mechanisms for Medication Adherence
Mike McCoy: Privacy-Enhancing Technology: Creating a Utility for Health Data Cooperation
Hasshi Sudler: Founder, Chairman and CEO of Internet Think Tank, a global technology firm focusing on cybersecurity and blockchains. He holds over 25 years of technology management and consulting experience at Fortune 500 companies spanning the U.S., Europe and Asia. He also serves as an Adjunct Professor at Villanova University in the Department of Electrical and Computer Engineering teaching in cybersecurity and blockchain technologies, and sits of the Board of Advisors of the Rutgers University Big Data Program.
In 2003, Sudler was awarded best paper by the International Applied Business Research Association for distance learning studies, and is the founder of the Sudler Research Grant Program promoting research in technology, regional markets and business processes. In 2013, he was the recipient of the MIT Leadership award from the MIT Sloan School of Management; and in 2016, was the distinguished recipient of the Villanova University School of Engineering Alumni Professional Achievement Award.
Jennifer Zegel: Practice Leader for the Trusts and Estates Group and a partner in the Business and Finance Department at Kleinbard LLC. At Kleinbard, Jennifer handles a wide range of estates and trusts matters, including drafting wills, trusts, special needs trusts, powers of attorney, and health care powers of attorney. Along with a concentrated practice in digital asset planning for individuals and businesses.
Working with two other Philadelphia attorneys, she recently co-created the Digital Planning Podcast, which is dedicated to exploring all things digital in connection with estate planning, business planning, and estate administration.
Andrew Bonner: Co-Founder and Director of Instant Access Medical, LTD, a healthcare software technology company utilizing Blockchain in their applications. Andrew is responsible for strategic mission, product development and education of clients. He is a proven leader of start-up operations, new product rollout and implementation. Instant Access Medical, LTD has operations in the UK, US, Australia and South Africa.
Mike McCoy: Director of Platform Integration & Technical Partnerships at ConsenSys Health working on building an digity-preserving platform based on blockchain, machine learning and privacy enhancing technology for health care, life science and public sector partners. Previously at Accenture and the ConsenSys parent company, Mike works in technical strategy, development, integration and growth models for people to use and scale emerging technologies to industry standards. He is also an Adjunct Professor at Thomas Jefferson University's Institute of Emerging Health Professions as a lecturer and course developer for emerging technology graduate certificate courses.
https://consensyshealth.zoom.us/j/92711775614?pwd=b0pSMzlxZUhvNjUwMXRaN1JQTjUwdz09
Joining notes Password: 038326