Description
Whether you've been naughty or nice this year, make sure you get on the list for the most anticipated LABIC event this holiday season!
On Wednesday, December 20th, join the LA Black Investors Club (LABIC) as we takeover Sip & Sonder for our second annual DIASPORA holiday event. Started in 2016, this event highlights and celebrates organizations, companies, and individuals that contribute to the South Los Angeles DIASPORA:
Development. Innovation. Acceleration. Sustainability. Politics. Opportunity. Relationships. Action.
DIASPORA will feature . . .
~ Two guest speakers on stock market trading, Breanna Hendersen and Ike Ikeme
~ Special guest performance by singer songwriter Itanza Lawrence
~ Music courtesy of dj.shErOck*!
~ Great drinks courtesy of Heritage Link Brands and Gala Unlimited, a food truck, surprise giveaways, and more!
Plus, you'll also have a chance to fundraise for our host Sip & Sonder, a truly inspired and inspiring organization opening in Inglewood in early 2018!
Get your tickets now as this event is guaranteed to fill up fast! $15 Presale Tickets are now available until December 13th. $20 General Admission until December 20th. More at the Door. Tickets include one complimentary drink!
For more information about LABIC, please visit: www.lablackinvestorsclub.org.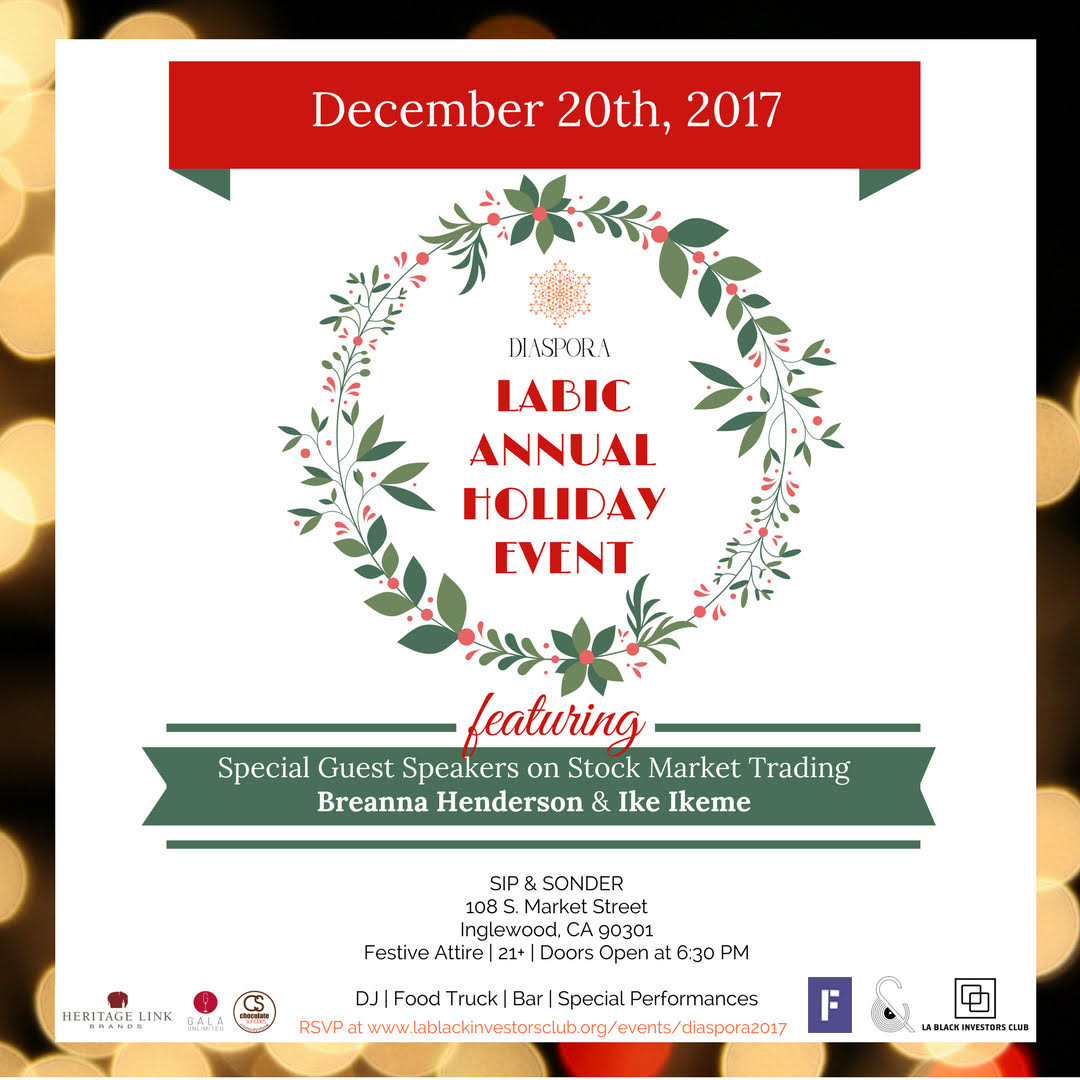 Sponsors: Heritage Link Brands, Gala Unlimited, Chocolate Sundaes Comedy Show, Fusicology
Spotlight on Heritage Link Brands!
In 2005, Selena and Khary Cuffe founded Heritage Link Brands upon learning that South Africa had a $3 billion wine industry, yet less than 2% of the industry was owned by blacks, who make up over 85% of the country's population. Today, Heritage Link Brands is the #1 producer, exporter, and importer of indigenous African wine in the world, serving a client base that includes the Smithsonian, Whole Foods Market, the World Bank, and United Airlines. At DIASPORA, Heritage Link Brands will be serving wines from Don Guerino winery in Serra Gaucha, Brazil.