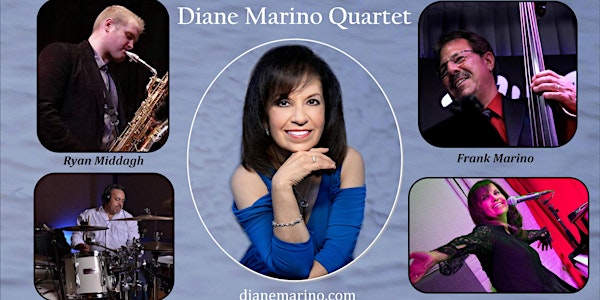 Diane Marino Quartet
Diane Marino Quartet
When and where
Location
Rudy's Jazz Room 809 Gleaves Street Nashville, TN 37203
About this event
"Diane Marino is an unusually unique relent - great pianist, vocalist and arranger" -Les Davis, Real Jazz Sirius/XM
"Diane's personal style provides the ultimate in cool for jazz listeners of all stripes. Her pacing is pure perfection, and her tones are full of the energy of life …A superb jazz vocal ("Soul Serenade" -The Gloria Lynne Project) that you will treasure for years to come" - Dick Metcalif, Contemporary Fusion Reviews
Diane Marino (Piano/Vocals)
NYC native & M&M Records Recording Artist Diane Marino has recorded, performed, and shared the stage with jazz legends Houston Person, Ralph Lalama, Joe Henderson, Rickey Woodard, Clayton Cameron, Wycliffe Gordon, Kirk Whalum, and more. She has recorded seven CD's- all of which have received widespread airplay and critical acclaim. Diane has performed Great American Song Book, traditional jazz, Latin and Brazilian jazz to captivated audiences at festivals, performing arts centers and national jazz venues. www.dianemarino.com
Frank Marino (Bass)
An accomplished bassist of vast diversity and a NY native, Frank Marino has performed /recorded with Houston Person, Wycliffe Gordon, Clayton Cameron, Harry Allen, Ralph Lalama, just to name a few. As founder of M&M Records and The Piano Den Recording Studio, he has produced, recorded and appears on all Jazz pianist/vocalist Diane Marino's CD's.
Ryan Middagh (Saxophone)
Ryan Middagh is the Director of Jazz Studies at the Blair School. An accomplished jazz composer and arranger, Middagh has received numerous commissions for high schools, colleges and professional musicians and ensembles throughout the country, and currently arranges music for Grammy-winning saxophonist Jeff Coffin. His music has been featured at the International Jazz Composers Symposium, been recorded by professional and collegiate ensembles, and several of his works are published by UNC Jazz Press. As a saxophonist, Middagh is endorsed by Conn-Selmer as a Yanagisawa Artist. Notable performances include performing with the Cab Calloway Orchestra (2013), Nashville Jazz Orchestra (2009-11), and the Colorado Jazz Orchestra (2014). He was also a featured artist at the 2013 North American Saxophone Alliance regional conference. Leading his own jazz octet, Middagh has released two albums, Colorado Brew: Featuring Jeff Coffin and Tom Giampietro and To Somewhere and Back Again (both albums currently available on iTunes). Prior to his appointment at Vanderbilt, Middagh served on the faculty at Middle Tennessee State University, where his primary responsibilities were directing the Commercial Music Ensemble and teaching Introduction to Music. During his tenure at MTSU he also taught applied improvisation, jazz theory and applied saxophone. Middagh received his Doctor of Arts degree in Jazz Studies with a secondary emphasis in Music Composition at the University of Northern Colorado, where he was the doctoral fellow in music technology. During his time at the University of Northern Colorado, he earned three Downbeat awards as a member of UNC Jazz Lab Band One and sang in the Grammy-nominated Northern Colorado Voices. In 2014 the University of Northern Colorado named him "Graduate Student of the Year."
Neil Tufano (Drums)
NYC native, drummer Neil Tufano has spent most of his drumming career in New York freelancing with a multitude of artists, he carved out a successful career, covering a variety of musical genres. He has toured with famed Jazz Piano Giant Monty Alexander as well as Dave Liebman, Joe Lavano, Dizzy Gillespie, Fred Hersch Ralph LaLama and more. You can find Neil today at his state of the art recording studio where he writes, teaches and produces music for many artists.

This show is all ages. All sales are final and we unfortunately cannot offer any refunds. Additional tickets may be available at the door on the day of the show even if it is sold out online.
Please try to arrive 15 minutes prior to the show start time. If you do not arrive within 45 minutes after the show start time on your ticket your seat may be resold to other patrons at the door. If you arrive after 45 minutes from the start time of the show and your ticket has been resold, although we cannot guarantee it, we will try our best to make space for you to attend the show.