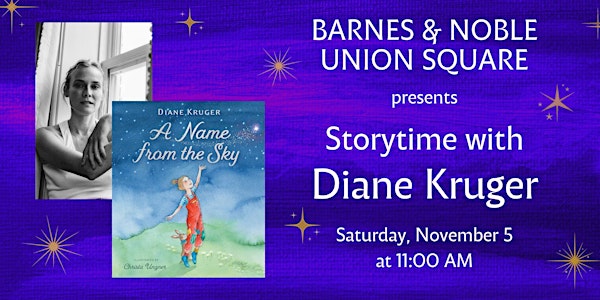 Diane Kruger reads A NAME FROM THE SKY at Barnes & Noble - Union Square
Barnes & Noble Union Square welcomes actress Diane Kruger for a special storytime for A NAME FROM THE SKY on November 5, 2022 at 11 AM ET!
When and where
Location
Barnes & Noble 33 East 17th Street New York, NY 10003
About this event
**PLEASE BE AWARE THAT THESE GUIDELINES ARE SUBJECT TO CHANGE DUE TO CHANGING COVID-19 REQUIREMENTS**
"Diane Kruger is celebrating the power of a name." — People Magazine
Join Barnes & Noble - Union Square on Saturday, November 5, 2022, as we welcome actress and mom, Diane Kruger, for a storytime and signing to celebrate the release of A NAME FROM THE SKY, an enchanting story about how learning the meaning of her name changed her life—and how our names can help us find our own special powers.
**Have a favorite stuffed animal? Bring it along to join in the storytime fun!
*Author image credit: Mason Lane.
....................................................................................................................
**If you are not vaccinated, masks are strongly recommended.**
To make this event safe and enjoyable for all attendees, please read the below guidelines ahead of buying a ticket, so you know what to expect on the day. To avoid disappointment, we must stress that there will be no access to the event for non-ticketholders.
Barnes & Noble reserves the right to make new rules and orders in its sole discretion with regard to COVID-19 at any time and any person not abiding by the Barnes & Noble directives will be refused entrance or directed to leave the premises.
TICKETING INFORMATION
General Admission - FREE (Admission): **LIMITED QUANTITY AVAILABLE**: A ticket PER PERSON includes:
Socially distanced selfies with Diane will be allowed at the event.
Masks are strongly recommended if you are not vaccinated.
Following the reading, Diane will be signing and personalizing, name only, copies of A NAME FROM THE SKY. A purchase of the book from Barnes & Noble Union Square is required to join the signing line.
Any gifts for the author will be collected prior to the signing line.
Other books by the author will be available for purchase at Barnes & Noble Union Square.
Due to health and safety and space limitations, those without a ticket will not be permitted into the event space.
Please arrive by 11 AM in order to secure your seat in the event space. Late arrivals may only have access to standing room and may not have the opportunity to meet the author.
GUIDELINES
No memorabilia will be signed at the event.
No large bags will be permitted into the event.
Ticket holders will be admitted into the event beginning at 10:30 AM the day of the event. Please have a copy of your ticket available (either printed out or on your phone) for check in.
In order to attend this event, ticket holders should:
Have not had any contact in the last 14 days with a confirmed COVID- 19 patient.

Not be subject to a quarantine order.

Not traveled in the past 14 days to any state or country that New York has designated as an area requiring isolation upon returning to the state.

At the time of the event, have not experienced in the last 72 hours any body temperature above 100 degrees Fahrenheit or any new symptoms associated with COVID-19. People with COVID-19 have had a wide range of symptoms reported – ranging from mild symptoms to severe illness. Symptoms may appear 2-14 days after exposure to the virus. People with these symptoms may have COVID-19: fever or chills; cough; shortness of breath or difficulty breathing; fatigue; muscle or body aches; headache; new loss of taste or smell; sore throat; congestion or runny nose; nausea or vomiting; and/or diarrhea..
Due to health and safety and space limitations, those without a ticket will not be permitted into the event space.
All event guidelines are subject to change.
If you have any additional questions, please call the store directly at: 212-253-0810.
Please note that Eventbrite is the only authorized dealer for this event. Each person must have a ticket to enter.
REFUNDS
Attendees can receive refunds up to 1 day before your event start date.
If you are unable to attend the event, Barnes & Noble - Union Square will hold your book for seven days after the event. Please contact the store to arrange your pickup.
Should this event be canceled due to changing COVID-19 concerns, all customers will be refunded their ticket price to the original method of payment per Eventbrite's refund policy.
Event guidelines are subject to change.
_______________________________________________________________________________________
ABOUT A NAME FROM THE SKY:
Do you know where your name comes from? Growing up in Germany, like so many children around the world, Diane Kruger felt like she stood out from the other kids. There was the pet bunny she talked to like a friend, her love of books, and even her name, which was unusual for her country. But then Diane's mother tells her the origin of her name, and everything changes! Inspired by Diana, goddess of the hunt and magical protector of animals, Diane learns that she, too, will find her own special powers someday. On a trip to England, Diane and her mother visit the theater, and she is spellbound, realizing she's meant to be an actress. This warm and relatable autobiographical story comes full circle when Diane explains how she chose her own daughter's name, and invites readers to learn the meaning behind their own name and discover their own special powers. Illustrated in a classic storybook style by fine artist Christa Unzner, this book is sure to instill wonder as it inspires children to follow their dreams and passions.