Event Information
Refund Policy
Refunds up to 7 days before event
Description
Join us for an intimate concert event at World Music's Concert Hall in Nashville, Tennessee. Diane Higgins, former Creator & Host of Nashville Unleashed TV Show, gathers friends for a special evening of music.
Bring a "Table Picnic": A picnic basket or cooler filled with your favorite wine & spirits, cocktail shrimp, cheese & crackers, whatever you like, to enjoy at your table. Free & Plentiful Parking.
DOORS OPEN AT 6:30PM - SHOWTIME IS 7pm-9pm
We will enjoy an evening full of beautiful music among an intimate audience of music lovers. This is the perfect date night as we'll enjoy the night around a sea of candles and low lighting. Come see us!
Confirmed Guests: Julie Forester, EJ Ford, Chip Martin, and Eric Haines
CLICK HERE for video: Julie Forester from the TV Show
CLICK HERE for video: Diane Higgins, Julie Forester and EJ Ford from the TV Show
CLICK HERE for video: Eric Haines from the TV Show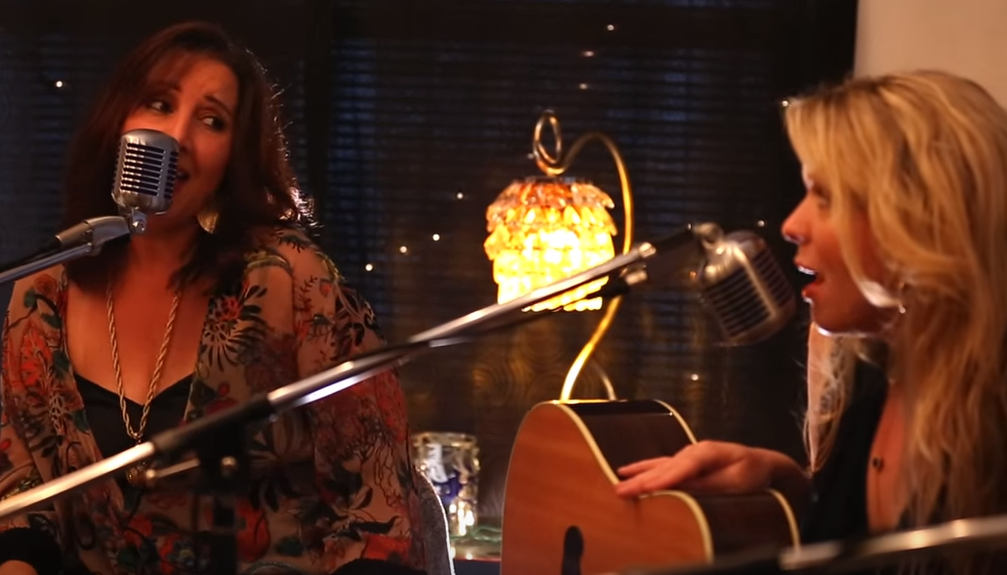 DIANE HIGGINS: Diane instinctively puts an audience at ease and engage listeners as family. Originally from Atlanta, she was heavily involved in songwriting in the early 90's and would make pilgrimages to Nashville to write with award-winning songwriters. She moved to Nashville in 2001 and became immersed in the songwriting community. She felt is was almost criminal that so many of the songs she had grown to know and love so much, and that were incredible secrets among the Nashville music community, would likely never see radio in the current market trend. So, she found a way to bring these amazing songs and their creators into the hearts of America and abroad in a heartwarming way.
Nashville Unleashed® toured to consistently sold-out audiences in picturesque settings around the country. Several celebrities have played with Diane on this show: Linda Davis, Richie McDonald (Lead Singer of ACM award-winning band Lonestar), Eric Paslay, among others. Garnering rave reviews around the country as a touring live show, Nashville Unleashed® evolved and debuted its inaugural National Television Season in October 2014. The show aired in over 100 million US households, and furthered it's broadcast popularity in the UK, Australia, and New Zealand.
JULIE FORESTER: Julie is a professional writer for Starstruck Entertainment (Reba McEntire's Company). Her latest CD, Plus 6 Live, has met with rave reviews. She wrote pop icon Tiffany's radio hit "Feel The Music". Julie won the coveted lead role in the Off-Broadway Production and European tour centered around the life of Eva Cassidy, toured Ireland & Scotland last fall with Joey & Rory, and performed on the West End stage in the Olivier Award winning production of "Ragtime" in London, England. Julie's voice will stop you in your tracks, no doubt, but her heart and kind spirit is what makes her a truly beautiful entertainer.
ERIC HAINES: Eric is a compelling Recording Artist and Songwriter, most recently releasing the impeccable CD American to critical acclaim. It is evident when you hear him sing that he formerly recorded for a major label. Now enjoying the success he has had as a Nashville songwriter, he continues to perform and write. Audiences are always in for a surprise treat when Eric is on stage. One of the most humble, yet talented souls to grace the Nashville music scene.
CHIP MARTIN: Singer, songwriter, guitarist, drummer, bassist, engineer, producer, Chip Martin wears many hats well. He cut his teeth on the classic pop sounds of the 60's- the Beatles, the Rolling Stones, and other British invasion bands as well as American performers like the great Motown acts. Later it was the sounds of bands like the Eagles, Crosby Stills and Nash, and America that caught the attention of the already traveling singer-songwriter. This becomes evident, as his wildly popular band Vinyl Radio, plays the biggest local stages in Nashville frequently. Chip is fun-loving, mega talented, and one of the kindest people you could meet.
Chip has an RIAA certified gold record for his song "Forget About Love" recorded by country star Mark Wills, has a song that is the title track ("Love Me or Leave Me Alone") on Randy Meisner's (formerly of The Eagles) latest CD, a tune placed on Billy Paul's record "Wide Open" (of "Me and Mrs. Jones" fame), and a cut by Grand Ole Opry star Billy Dean. The song that Billy Dean recorded was used on the popular Turner Broadcasting TV Show "Live at the Bluebird Cafe" shot here in Nashville at the famous songwriter venue. Chip is a voting member and has served on the Board of Governors of NARAS (the Grammy Organization), is active in the Nashville Songwriters Association International (NSAI), and is on the Board of Advisors for the Ga. Music Industry Assn.
EJ FORD: Diane's musical "right arm", and someone so beloved in the Nashville music circles, EJ hails from Bessemer Alabama. In 1997 he moved to Nashville, Tennessee to attend college at Tennessee State University, continuing his musical education by marching as a snare drummer with the Aristocrat of Bands and playing bass guitar with the TSU Gospel Choir. During a short stint back in Birmingham he played keyboards & sang tenor for the Christian singing group Disciples for Christ, headed by Prince Emmanuel Yelder. He also played bass guitar for Christian singing group God's Gift, which had a young Reuben Studdard (American Idol) as one of its members.
He never left his roots, continuing to play piano for churches in the Nashville area. Over the next 10 years, he would work with some of Nashville's who's who of soul, blues, and R&B including Herschel Bailey, Clarence Dobbins, Scat Springs, and Johnny Jones to name a few. E.J.'s persistent drive to grow musically landed him further work with Southern Soul singer Charles Wilson, Damian Horne from the Muzik Mafia, country music writer and singer Erin Ashleigh, and Maria Howell from the movie "The Color Purple." He began recording in 2005, co-producing the "Your Reflection" album for R&B singer Justice. The album landed in the top 40 of independent albums in the United States, and in the top 10 in Japan. It was also nominated for Best R&B Album of 2008 by the Southern Entertainment Awards. He did a live recording in 2007 with worship leader Paul Flemming, which was recorded on the island of St. Maarten in the Western Caribbean. He also co-produced and cowrote a song for spoken word artist J. Ivy, which was released nationwide in an Allstate Insurance Black History Month awareness campaign.
Today he continues his pursuit of musical excellence with the same formula that has brought him to this level. He instructs private piano and guitar lessons at Oak Hill School in Nashville and the Franklin School of Rock, serves his church as music director, performs regularly with blues, soul, R&B and funk bands around town, & is the band leader for the up and coming alt-country band Koriander. He was a featured musician in the cast of the television series "Nashville Unleashed" which aired in the United States, Europe, and New Zealand.
Date and Time
Location
Refund Policy
Refunds up to 7 days before event