Diana Ross 1983 Central Park Concert - Music History Livestream Now Aug. 5
Diana Ross 1983 Central Park Concert - Music History Livestream Program with Robert Kelleman, Washington, DC History & Culture, 8:00 PM EDT
About this event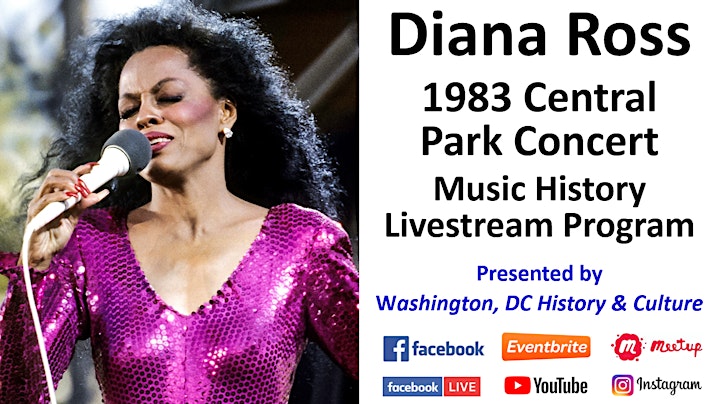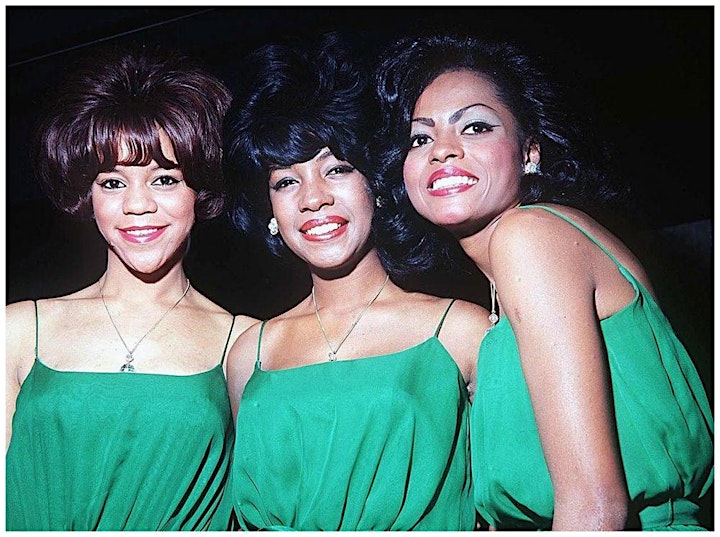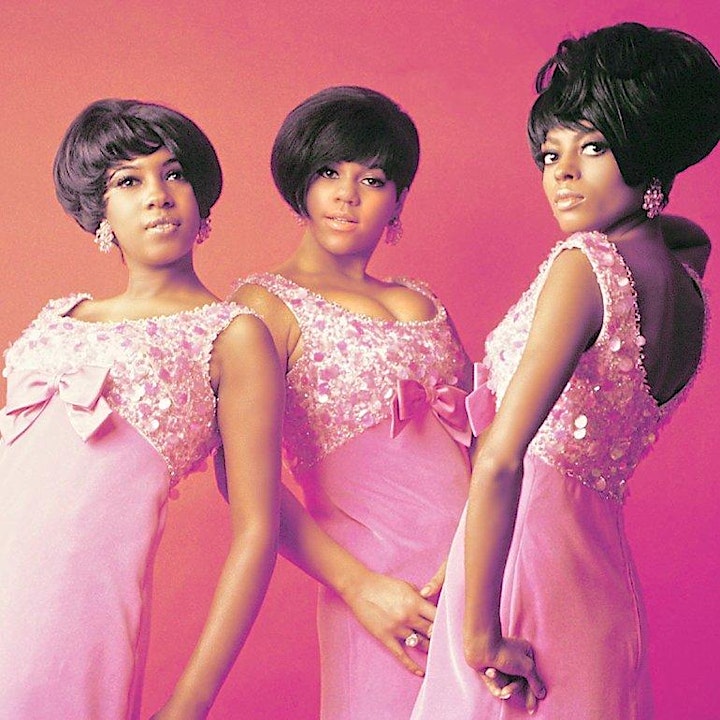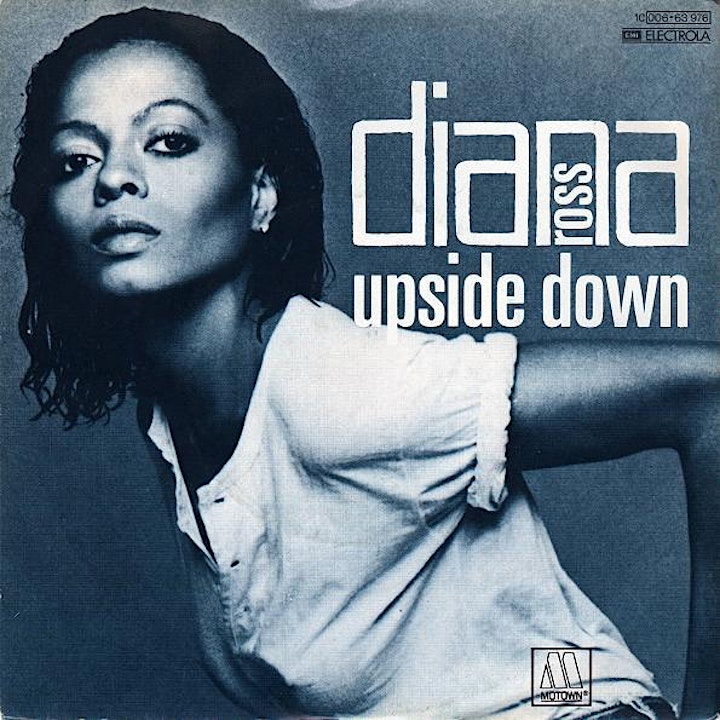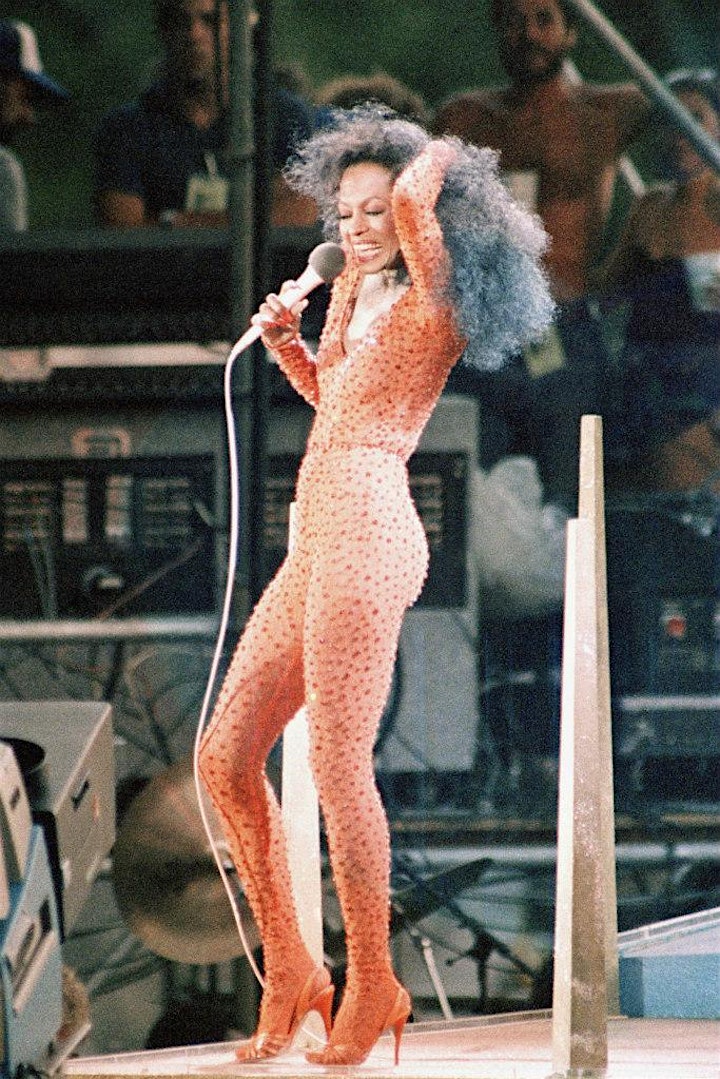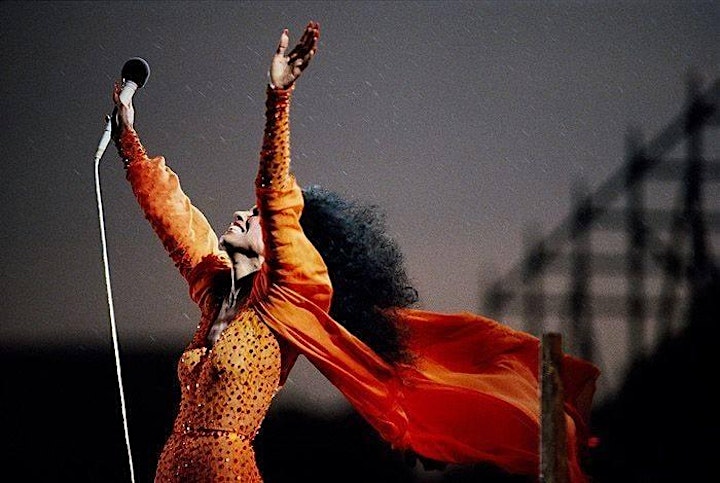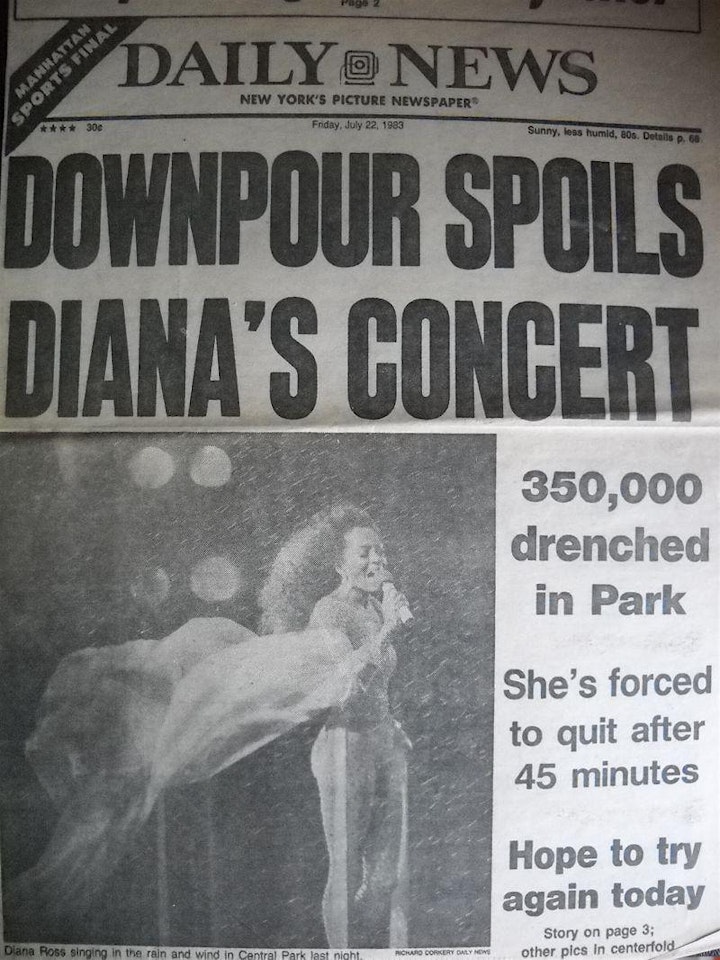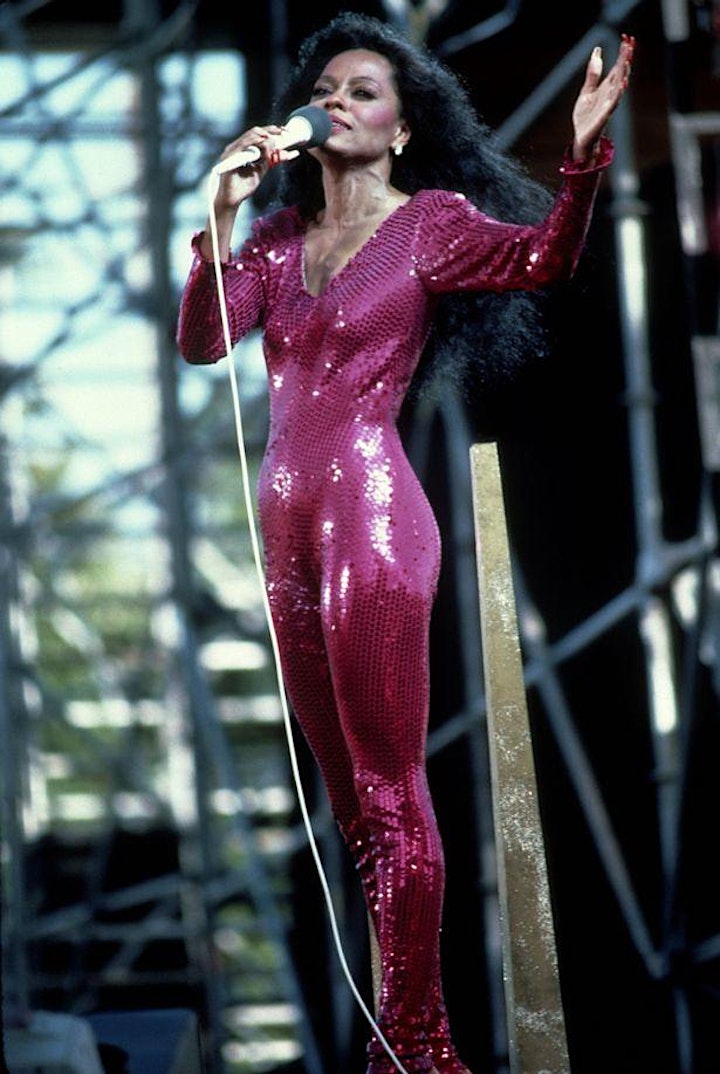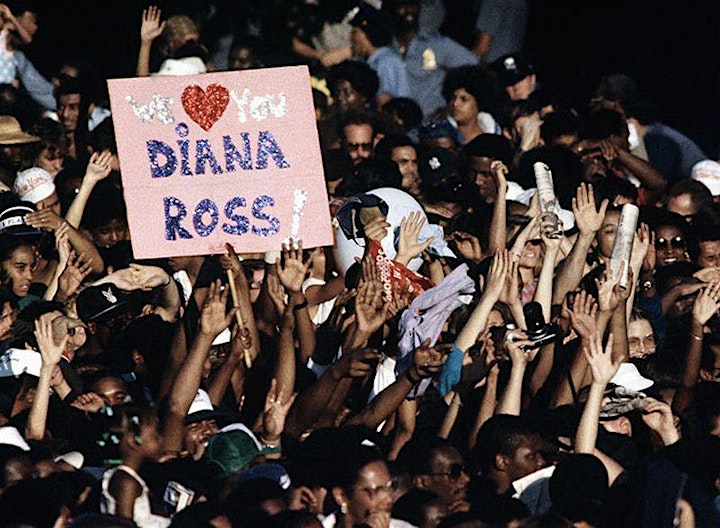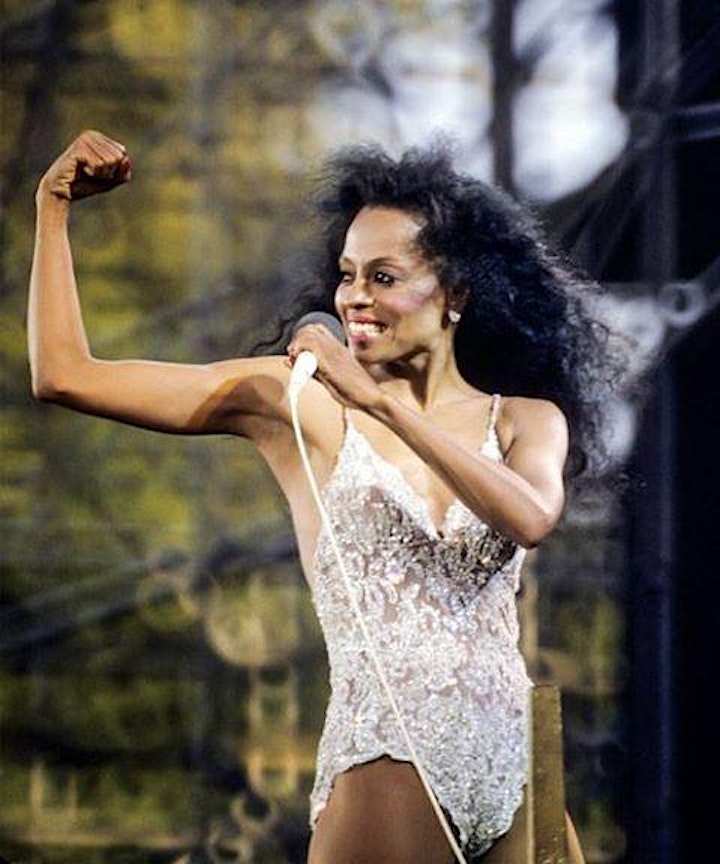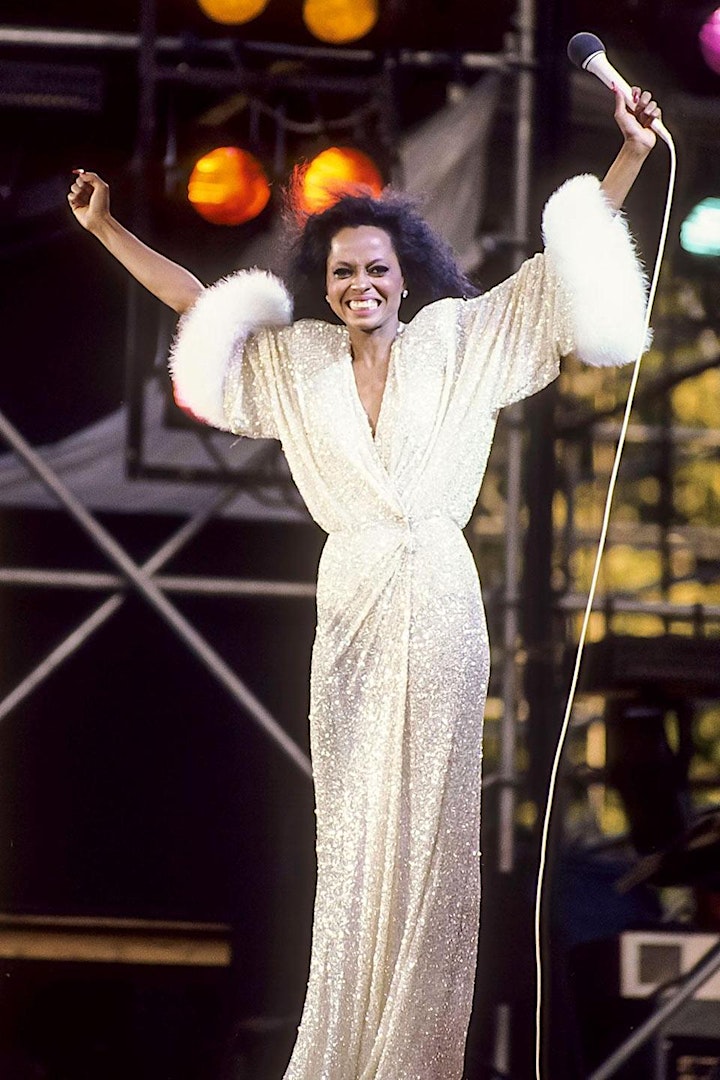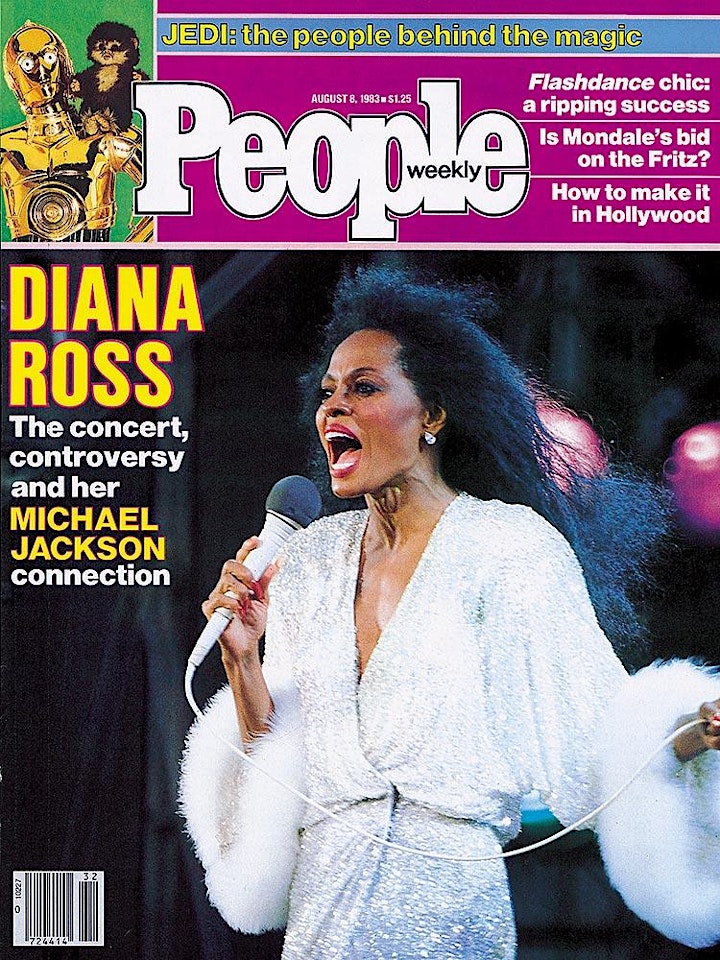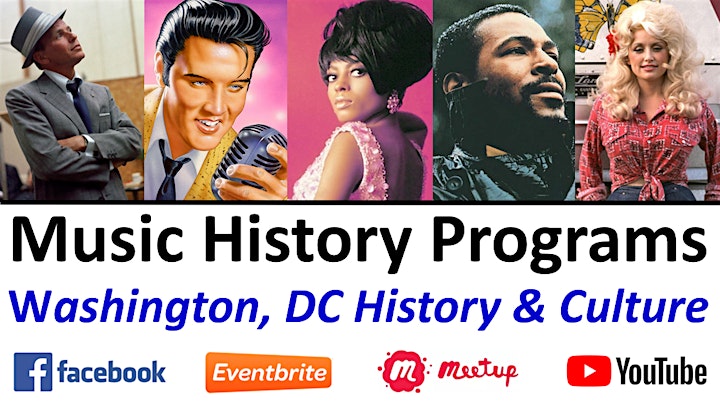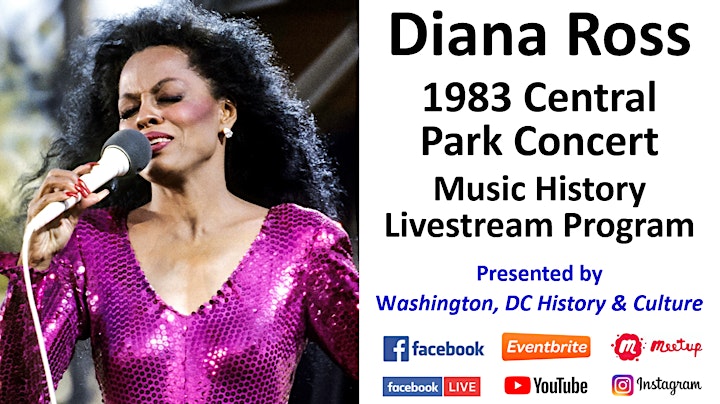 Please note that this program has been rescheduled from Thursday, July 22 to Thursday, August 5. If you are able to make the new August 5 date then no action is required on your part - we'll see you then. If you're not able to make the new August 5 date this program will be offered on an additional TBD future date.
Thank you.
Let's travel back in time to New York City in July 1983 to hear some of the amazing songs Diana Ross performed during her two concerts in Central Park.
Our program will include a brief introductory overview of Diana's inspiring life growing up in Detroit and her career with The Supremes and as a solo artist with Motown Records. Then we'll watch several of the thirty songs she performed in Central Park over two nights (the initial July 21 concert was rained out but Diana returned the following night, July 22).
During our online/virtual presentation there will also be an opportunity to discuss the music with other participants via Zoom.
Please note that there are two separate times for this program.
Thursday, July 22 at 12:00 PM EDT & 8:00 PM EDT (Washington, DC times).
Diana Ross (born March 26, 1944) is an American singer, songwriter and actress from Detroit. She rose to fame as the lead singer of the vocal group the Supremes, who became Motown's most successful act during the 1960s and one of the world's best-selling girl groups of all time. They remain the best-charting female group in US history, with a total of twelve number-one hit singles on the US Billboard Hot 100, including, "Where Did Our Love Go", "Baby Love", "Come See About Me", and "Love Child".
Following her departure from the Supremes in 1970, Ross embarked on a successful solo career in music, film, television and on stage. Her eponymous debut solo album, featured the U.S. number-one hit "Ain't No Mountain High Enough" and music anthem "Reach Out and Touch (Somebody's Hand)". It was followed with her second solo album, Everything Is Everything, which spawned her first UK number-one single "I'm Still Waiting". She continued her successful solo career by mounting elaborate record-setting world-wide concert tours, starring in a number of highly watched prime-time television specials and releasing hit albums like Touch Me in the Morning (1973), Mahogany (1975) and Diana Ross (1976) and their number-one hit singles, "Touch Me in the Morning", "Theme from Mahogany" and "Love Hangover", respectively. Ross further released numerous top-ten hits into the 1970s, 80s and 90s. She achieved two more US number-one singles, "Upside Down" (1980) and "Endless Love" (1981), as well as UK number-one hit "Chain Reaction" (1986) and UK number-two hit "When You Tell Me That You Love Me" (1991).
On July 21, 1983, Ross performed a free concert on Central Park's Great Lawn, aired live worldwide by Showtime. Proceeds of the concert would be donated to build a playground in the singer's name. Midway through the beginning of the show, a torrential downpour began. Ross tried to continue performing, but, the severe weather required that the show be stopped after 45 minutes. Ross urged the large crowd to exit the venue safely, promising to perform the next day.
The second concert held the very next day was without rain. The funds for the playground were to be derived from sales of various memorabilia. However, they were destroyed by the storm. When the mainstream media discovered the exorbitant costs of the two concerts, Ross faced criticism from New York City's then-mayor Ed Koch and the city's Parks Department commissioner and poor publicity. During a subsequent mayoral press conference, Ross handed Koch a check for US$250,000 for the project.[36] The Diana Ross Playground was built three years later.
__________________________
This is a musical history program where we will provide the historical context of various topics with an emphasis on pop culture (as opposed to music theory) including selected video recordings from various artists.
The historical items will be provided via pictures and video so viewing the presentation on-screen is recommended, but you are also free to just listen to the music via audio-only.
Your host for this program is Robert Kelleman, the founder/director of the non-profit community organization Washington, DC History & Culture.
Donations Support Our Non-Profit Community Programs - Thank You!
PayPal: DCHistoryAndCulture@gmail.com
Venmo: @DCHistoryAndCulture
__________________________
Zoom Connection:
This educational and entertaining program is open to all regardless of age, geographic location, etc. and since it is an online/virtual event via Zoom you can connect from anywhere in the world.
Zoom events have a limit on the number of people that can participate and therefore the event may "sell-out" once a certain number of registrations has been reached.
Zoom Connection Link Will Be Emailed:
Login info will emailed several times beginning 24 hours prior to the event.
If you haven't received the Zoom connection 8 hours before the event please contact us.
Zoom Connection Suggestions:
Connecting a few minutes early is strongly recommended.
To join the event simply click the Zoom link and follow the instructions.
If clicking the link doesn't work try copying and pasting it instead.
Password not required.
Zoom may work better in some browsers/devices than others - if one doesn't work try another.
When all else fails please read and follow the directions. : )
Didn't Receive the Zoom Connection Info?
Check your spam folder, make sure you didn't sign-up with your other email address (personal vs. work, etc.), and also review the email settings on your Eventbrite account (you may have turned off our notifications)- link below:
https://www.eventbrite.com/account-settings/email-preferences
Additional Eventbrite Troubleshooting Link:
https://www.eventbrite.com/support/articles/en_US/Troubleshooting/did-my-email-send-invitations-order-confirmations-reminders?lg=en_US
_________________________
This program is presented by the non-profit community organization Washington, DC History & Culture:
"bringing people together to experience the history and culture of Washington, DC - and the world!"
For more entertaining and educational programs visit us at:
https://www.Facebook.com/DCHistoryAndCulture
https://DCHistoryAndCulture.Eventbrite.com
http://www.youtube.com/c/WashingtonDCHistoryCulture
https://www.Meetup.com/DCHistoryAndCulture
We look forward to seeing you - thanks!
Robert Kelleman
rkelleman@yahoo.com
202-821-6325 (text only)
History & Culture Travels / Washington, DC History & Culture
Organizer of Diana Ross 1983 Central Park Concert - Music History Livestream Now Aug. 5