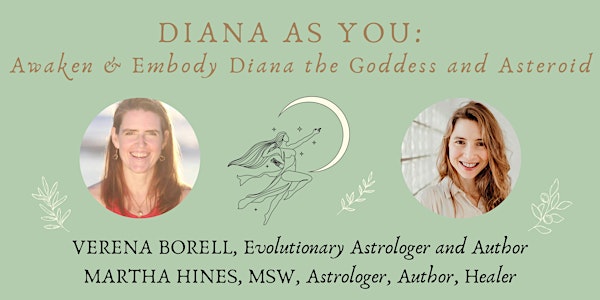 Diana As You: Awaken & Embody Diana the Goddess and Asteroid
Join us to find the healing and wisdom of the goddess asteroid, Diana, as she dances as YOU.
Refund Policy
Refunds up to 30 days before event
Eventbrite's fee is nonrefundable.
About this event
Verena Borell and Martha Hines, both astrologers and authors about the goddesses, will hold a special workshop to dive deeply into the archetype, story, energy, astrology, and personal experience of the goddess asteroid, Diana.
The workshop will be live and also available to watch recorded any time. Join us live or enjoy the recording whenever you like.
*This workshop is wonderful for astrology students and practicing astrologers who want to encorporate the asteroid Diana in their work. However, no astrology experience is required to attend this workshop! ALL ARE WELCOME TO ATTEND!*
Diana holds a special place in our selves and in our world. She brings a remembering of our "true nature," our wildness, and the passion we have for protecting that which we care about.
Diana, and all archetypes, are manifestations of the infinite forms of the divine. She represents a part of ourselves and a part of existence that is healing and empowering to remember and to reclaim.
Join this workshop to:
Find the healing and wisdom waiting for YOU in the archetype and energy of Diana
Learn about the asteroid, Diana, and the significance of that asteroid in the the various zodiac signs, including in your own chart
Explore the areas of yourself and your life ready to find freedom and wildness
Gain a better sense of your "true nature" and what you are here to manifest in the world
Have a sense of opening yourself to more of who you are, what is true, authentic, and alive in you
Feel held, seen, known, and loved by the Earth, the spirit world, soul community, and your own deep soul
This two hour workshop will have three parts:
1) Learning About Diana (will be live and recorded)
The mythology of Diana in Hellenic and pre-Hellenic stories
The gifts and themes that Diana brings into our lives and our world
The astrology of the goddess asteroid, Diana
The personal meaning of the asteroid, Diana, through the 12 signs of the zodiac
Chart examples of some Diana placements in the natal chart
2) Re-Becoming and Remembering Our Own Wisdom and Healing as Diana (will be live and recorded)
Martha will lead a channeled experience of re-becoming Diana as YOU
We will feel into the healing and wisdom that the energetic of Diana feels like and means for YOU in this moment and in each moment moving forward
3) Sharing (LIVE only, not recorded)
We will have time to share, if you like, your own experience of the energetic of Diana
If you are unable to be present live, we would love for you to share your experiences of Diana with us by email, if you like
Attendance at this event also comes with an excerpt from Verena's book on Diana and Martha's book, Goddesses Speak.
*Choose to attend this workshop on its own or also add a discounted personal, special Diana astrology reading with either Verena or Martha. See pricing for more details and to sign up.*