Event Information
Location
Riley Center
4040 W. 71st Street
Indianapolis , IN 46268
About this Event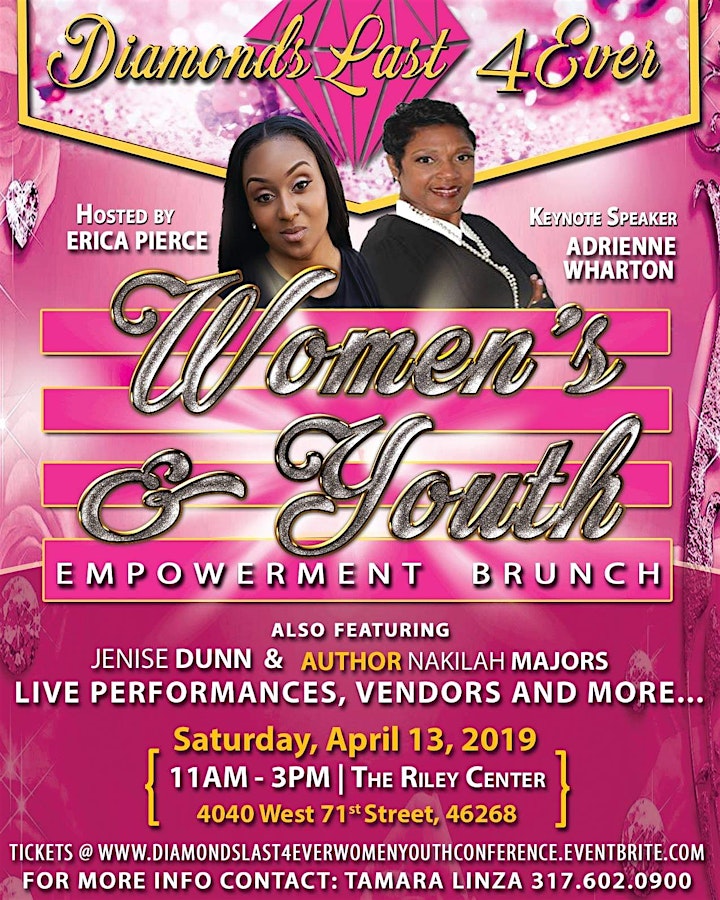 Please join us at the 3rd Annual Diamonds Last 4Ever Women & Youth Empowerment Conference & Brunch. Meet professional women who have created a blueprint for their own success by persevering despite adversity, trials and tribulations. This event will feature a lineup of women sharing their personal journey and how they overcame obstacles that get in the way when finding your place in the world. Allow us to lay the outline that both promotes dreaming beyond our current situation and lays the foundation of support to achieve our goals. We will laugh, some may cry but the ultimate goal is to inspire young adolescents and women to never give up on their dreams and to not allow their short comings to define who they are in anyway. We encourage becoming the change you want to see.
Expect to hear from our Keynote Speaker, Author, Founder and CEO of I Luv My Hubby who is also the COO of Brother Pass It On Inc. Adrienne Wharton. Also expect to hear messages from Jenise Dunn, CEO of Lil Glam Party Bus and Nakila Majors; Literary Midwife, Author and Host of Speak on It.
All of these women despite their different walks of life have one thing in common and it is that they did not stay down when their losses got in the way; instead they got back up and fought harder to become the very great women that they are today.
Hosted by Erica Pierce "Ms. EKlass" this is an experience that you do not want to miss!
Vendors Welcomed
Date and Time
Location
Riley Center
4040 W. 71st Street
Indianapolis , IN 46268