Dialogues and Action for Earth Summit 2012: We Canada Tour Saskatoon

Monday, 12 March 2012 from 4:00 PM to 7:00 PM (CST)
Event Details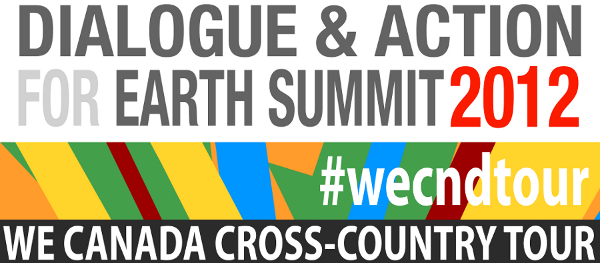 Starting in Corner Brook, Newfoundland, and touring to Vancouver, British Columbia, youth leaders and sustainability veterans will bring communities together to discuss the role of Canadians at the Earth Summit 2012 (United Nations Conference on Sustainable Development, Rio+20).
In each city, interactive lectures will be held in universities, elementary schools, middle schools and high schools. This a unique opportunity to learn about the Earth Summit 2012, Canadian participation in and contributions to the global initiatives, and Canadian civil society's submission to the official United Nations' Zero Draft for the conference. The participants will have an opportunity to participate in dialogues, and take action to ensure proper representation of Canadians at the global stage.

The goal of the tour is to empower civil society by offering an analysis of current trends in sustainable development and to hold the microphone to Canadian voices as the world accelerates to the Earth Summit 2012.
University of Saskatchewan, Saskatoon
March 12th 2012 | 4:00pm - 7:00pm | Room: Arts 241, Neatby-Timlin Theatre - Arts & Science Building  
SPEAKERS:

Aleksandra Nasteska
is the co-founder of We Canada. The Macedonian native first became outspoken in the women's rights movement at the age of fourteen. Her career in media began as a correspondent for youth culture shows on the national network. In Canada she created Vancouver Heartbeat, a multimedia project profiling environmental and social justice leaders. She was Youth Steering Committee Member at the United Nations International Children and Youth Conference - Tunza 2011.
"As Canadians we have a legacy dating back to the Earth Summit 1992. It is Canadians who led the world in sustainable development. Today we are obstructionists, not leaders, on the global stage. Civil society was not consulted in the development of the official Canadian position for Rio+20. We are taking matters into our hands now. The people of this world need us to participate in progressive thinking, collaboration and action to ensure equity, and transition towards a green economy. We can't keep turning our back on the world. We won't."

Victoria Wee is the Youth Engagement Director of We Canada and the lead organizer of We Canada's cross-country tour. She is a member of the Jane Goodall Institute's Youth Leadership Council and the Canadian Environmental Network's Youth Advisory Board. An Arctic sustainability advocate, Victoria coordinated an international youth declaration to the Arctic Council in 2011, and currently chairs the Students on Ice Arctic Youth Working Group working to widen youth engagement opportunities in the Arctic Council. Victoria was a facilitator at the United Nations Tunza Children and Youth Conference in Bandung, Indonesia and is the initiative's focal point to the Road to Rio+20 Coalition."We don't have to choose between economic prosperity and environmental health. We can do both. Canada was once a leader on the international stage, but in recent years has forgotten its role as steward of a balanced world. Let's bring Canada back."
WHY CANADIAN LEADERSHIP? WHY NOW?
In difficult economic times, our collective attention has seemingly shifted away from environmental and social concerns. The government of Canada has seized this opportunity to firmly place environment, climate, and sustainability concerns on a back-burner, despite the continued demonstration by many Canadians that we do care about these issues. Sustainable development is about more than just environmental protection; it is also about creating meaningful and equitable lifestyles for everyone. 
In comparison with past Earth Summits, our government has not held consultations with Canadians to provide input on what our country's position at Earth Summit 2012 should be, a step away from the consistent praise that Canada has received as a world leader in democracy. Canadian voices need to be brought back into focus. What do we want our future to be?
WHAT IS WE CANADA?
We Canada is a nation-wide civil society movement for Canadian leadership for sustainable development at the Earth Summit 2012. Founded and run by more than fifty young adult and veteran sustainability advocates from across the country, who are volunteering their time, We Canada creates an enabling platform for civil society participation in the Earth Summit 2012's processes.

We are about spreading knowledge and empowering people to make the change in their own lives and participate in systemic change. We foster dialogue and consultation among the public, responsible business networks and NGOs. We have forged a nation-wide civil society coalition and are developing relationships with similar initiatives in other countries. We are working to make the upcoming Earth Summit 2012 the tipping point for the sustainability movement.
THE UNITED NATIONS CONFERENCE ON SUSTAINABLE  (UNCSD)
The United Nations Conference on Sustainable Development  will be held in June of 2012 in Rio de Janeiro, Brazil. The Conference is milestone commemoration of the 20th anniversary of the 1992 United Nations Conference on Environment and Development, also known as the Rio Earth Summit.

The Rio Earth Summit was one of the largest gatherings of heads of state, civil society leaders, individuals and organisations in human history. These stakeholders met with the purpose of charting a course for a more sustainable future. From the Summit emerged agreements, most notably Agenda 21, which began the creation of a framework for developing global, national, and regional plans for sustainability. The Rio Earth Summit has since stood as an example of what is possible when governments and civil society work together.
Have questions about Dialogues and Action for Earth Summit 2012: We Canada Tour Saskatoon?
Contact We Canada
When & Where

University of Saskatchewan
Neatby-Timlin Theatre (Arts 241), Arts & Science Building
9 Campus Drive
Saskatoon, Saskatchewan S7N 5A5
Canada

Monday, 12 March 2012 from 4:00 PM to 7:00 PM (CST)
Add to my calendar
Dialogues and Action for Earth Summit 2012: We Canada Tour Saskatoon