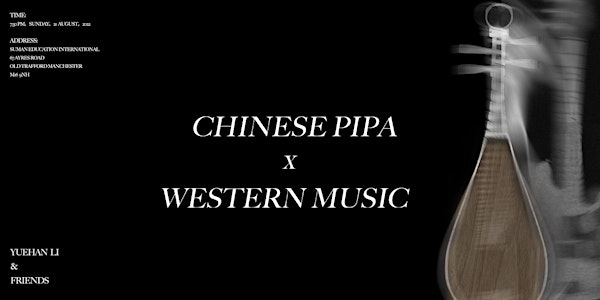 Dialogue between History and Modernity——Pipa and Western Band
Dialogue between History and Modernity——Pipa and Western Band
When and where
Location
Suman Education International 67 Ayres Road Stretford M16 9NH United Kingdom
About this event
This concert is a fusion of Chinese and Western classical and popular works adapted by young pipa player Yuehan Li from China together with her friends from the UK. The band includes a new form of chamber music: the Chinese pipa and an electric band. In this way the group explores new situations in more cross-cultural music.
For example, the Chinese Chinese classic ''Jasmine Flower'' - pipa and electric music; ''Hotel California'' - a trio of pipa, guitar and drums; ''LA LA LAND'' series of music - Pipa with piano and cello. There will also be more famous music from China and abroad, which will be shared with you on the day of the performance.
The concert will also include solo performances of classical pipa pieces, as well as a performance by Chinese erhu player Mr Frank. All the pieces were adapted and transposed by Chinese composers commissioned by Yuehan in 2022 and are very interesting.