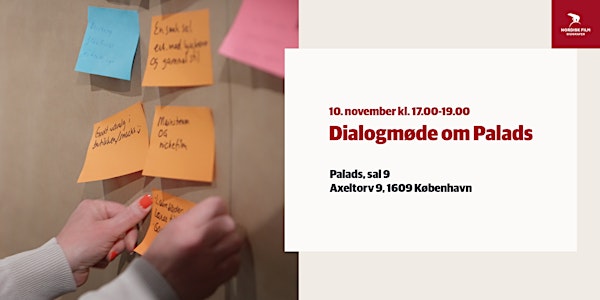 Dialogmøde om Palads
Nordisk Film Biografer er nu klar til at præsentere de tre første skitseforslag til fremtidens Palads. Dem vil vi gerne have dine input til!
When and where
Location
Palads Teatret sal 9 Axeltorv 9 1609 København Denmark
About this event
Vi vil gerne tale videre med dig om fremtidens Palads!
I maj 2022 inviterede vi til dialogmøde i Palads, hvor alle interesserede kunne dele deres idéer med os om fremtidens Palads. Det blev en idérig aften, og vi fik mange nye perspektiver og input med os.
For selvom Københavns ældste biograf på Axeltorv har mange loyale gæster, har vores gæster længe efterspurgt bedre forhold i Palads. Derfor skal biografen gennem en omfattende fornyelse, så biografen bliver mere tidssvarende.
Nogle vil gerne bevare Palads' nuværende udtryk. Andre ønsker at gå nye veje. Nogle ønsker at kombinere det gamle med et mere moderne udtryk. Mens andre ikke går så meget op i det ydre, men er optaget af at få en bred palet af oplevelser indenfor.  
Vi har arbejdet videre med alle de gode input og er nu klar til at præsentere tre forskellige skitseforslag til fremtidens Palads.
Derfor vil vi endnu engang invitere alle interesserede til dialogmøde i Palads torsdag d. 10. november kl. 17.00-19.00, hvor I kan komme med jeres inputs til skitseforslagene, som vi vil arbejde videre med. På den måde kan vi i fællesskab skabe et nyt og levende Palads – til glæde for hele København. 
Aftenen vil foregå i sal 9 i Palads. Adressen er Axeltorv 9, 1609 København. Der vil være både mad og drikke til arrangementet, og aftenen rundes af med en gratis film.
Program for aftenen: 
Introduktion til fremtidens Palads ved Asger Flygare Bech-Thomsen, administrerende direktør i Nordisk Film Cinemas.
Præsentation af de tre skitseforslag ved Dan Stubbergaard, grundlægger og arkitekt, tegnestuen Cobe.
Idéudvikling og dialog om skitseforslagene i temagrupper.
Opsamling. 
Efter dialogmødet vises en gratis særforestilling for alle fremmødte. Vi viser 'Fædre og Mødre'. 
Der er et begrænset antal pladser, så tilmeld dig allerede i dag og senest søndag d. 6/11. Vi glæder os til at se dig!  
Du kan desuden læse mere om fremtidens Palads og det første dialogmøde på fremtidenspalads.dk