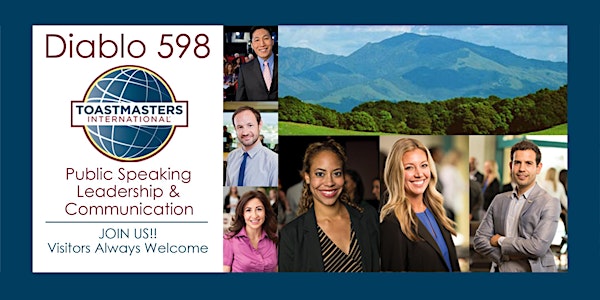 Diablo Toastmasters 598, Concord, CA - Improve Your Public Speaking Skills!
Location
MEETING ONLINE AS OF 03/2020
Denny's Restaurant
1313 Willow Pass Road
Concord, CA 94520
Description
WE ARE MEETING ONLINE as of MARCH 2020 due to the Shelter in Place / Social Distancing for the Coronavirus pandemic.
Does your mind go blank when speaking in front of more than two people?
Do you freeze up when asked to speak spontaneously?
Do you want to improve your performance at job interviews?
You have come to the right place at the right time!
Toastmasters offers a proven way to improve your communication skills. By participating in a fun and supportive Toastmasters group, you'll become a better speaker and leader and gain confidence to succeed in whatever path you've chosen in life.
Deliver great presentations
Ace job interviews
Easily lead teams and conduct meetings
Give and receive constructive evaluations
Be a better listener
We welcome visitors every week and look forward to meeting you. Also, we are a dinner club so feel free to dine with us!
Visit us at: http://diablotoastmasters.org/
Note: Visiting us is free, to join minimal dues.