Diabetes Technology

Monday, December 3, 2018 from 12:00 PM to 1:00 PM (PST)
Event Details
** MCHRI SEMINAR SERIES **
Diabetes Technology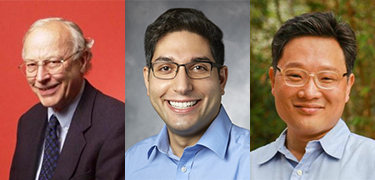 Monday, December 3, 2018, 12:00-1:00PM
Li Ka Shing Learning and Knowledge Center, Room #130
Recent, rapid changes in the treatment of type 1 diabetes have allowed for commercialization of an "artificial pancreas" which is better described as a closed-loop controller of insulin delivery. Drs. Bruce Buckingham, Rayhan A. Lal and H. Tom Soh will review the current state of closed-loop control systems and present their research advancing automated glucose control.

Bruce Buckingham, MD - Professor of Pediatrics (Endocrinology & Diabetes), Lucile Packard Children's Hospital Stanford. Dr. Bruce Buckingham is a Professor of Pediatrics (Endocrinology & Diabetes) at the Lucile Packard Children's Hospital Stanford. His major interest is in type 1 diabetes mellitus, continuous glucose sensor, and the development of an artificial pancreas. Other research interests include using continuous glucose monitoring and algorithms to control blood glucose levels in intensive care units.
Rayhan A. Lal, MD - Postdoctoral Medical Fellow in Endocrinology & Metabolism; Fellow in Pediatrics (Endocrinology & Diabetes). Dr. Rayhan A. Lal has been living with diabetes for several decades and studied electrical engineering and computer science at U.C. Berkeley. During his work in engineering his two younger sisters developed type 1 diabetes and he decided to become an adult and pediatric endocrinologist to take care of those with diabetes. He currently works with Dr. Bruce Buckingham on new diabetes technology.
 H. Tom Soh, MS, PhD - Professor of Radiology, of Electrical Engineering, and, by courtesy, of Chemical Engineering. Dr. H. Tom Soh is a Professor of Electrical Engineering and Radiology at Stanford University and his laboratory develops synthetic reagents and biosensor systems for measuring biomolecules in complex environments. He is a Chan-Zuckerberg Investigator and a Member of the National Academy of Inventors.
---
The MCHRI Seminar Series highlight compelling clinical topics, innovative research, and the latest developments in maternal and child health. The series provides a unique platform for engaging in conversations and collaborating with other researchers across the community.
The seminars series is open to all, including faculty, staff, trainees, postdocs, and all members of the research community. Seats are limited, and reservation is required. Limited lunch will be provided on a first come, first served basis. Attendees are welcome to bring their lunch to the event.
Check out more MCHRI Seminar Series!
Questions about registration? Please contact Roxanna Van Norman.
When & Where

Li Ka Shing Learning and Knowledge Center
Room #130
Palo Alto, CA 94305


Monday, December 3, 2018 from 12:00 PM to 1:00 PM (PST)
Add to my calendar
Organizer
Advancing Research in Maternal and Child Health. The Stanford Maternal and Child Health Research Institute (MCHRI) accelerates Stanford discoveries to improve the health of pregnant women and children by fostering transdisciplinary research in the pre-clinical, clinical, and basic sciences. The CHRI works in partnership with the Stanford Children's Health - Lucile Packard Children's Hospital Stanford (LPCH), the Lucile Packard Foundation for Children's Health (LPFCH), and the Stanford School of Medicine (SOM).