Dia De Los Muertos Scholarship Fundraiser
Description
We believe in better.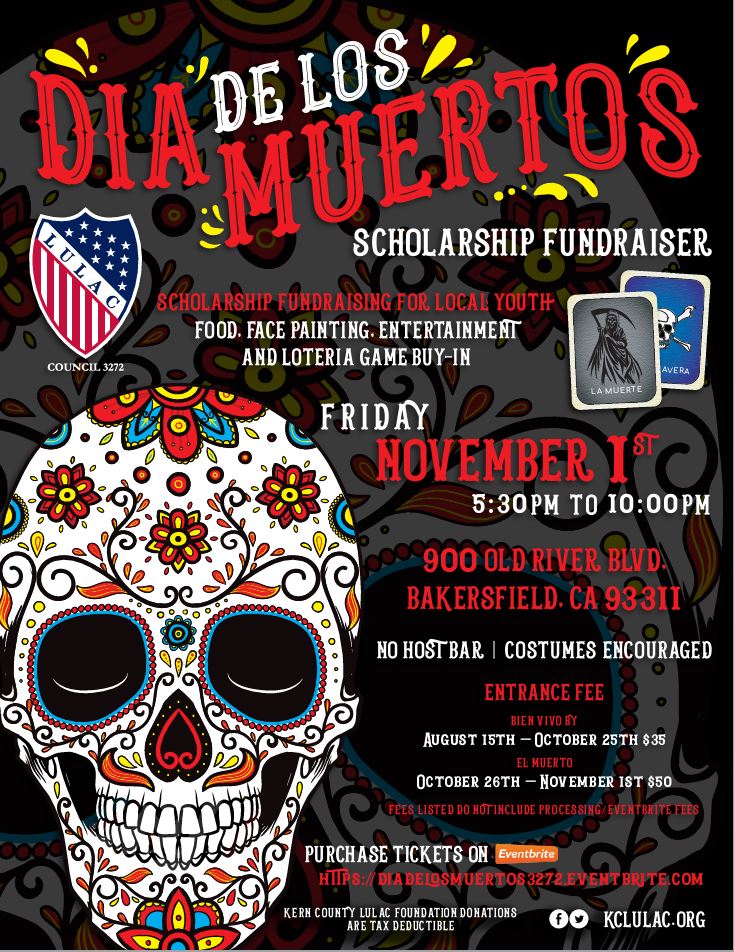 ---
Kern County LULAC 3272 believes in the power of education. Education can transform lives by creating opportunities for those with limited means - exemplifying the American Dream.
Completion of a four-year degree typically boosts income and wealth for socio-economically disadvantaged households far above the levels they would have achieved without a degree. (The Demographics of Wealth 2018).
The focus of our fundraising efforts is to increase the educational attainment of socio-economically disadvantaged households in Kern County. Your participation in our fundraiser helps us to bring programs to life and make a difference in the lives of others.
When you support the Foundation you are part of something special: an organization that is committed to making Kern County a better place.
Your donation to Kern County LULAC 3272 Foundation are tax-deductible and may be matched by your employer.
Join us to support a great cause, the event includes:
Face painting

DJ + Photobooth

Food and drinks

Raffle prizes

Loteria game buy-in - pre-order Loteria cards by emailing KCLULACFoundation@gmail.com: $50 for 1 card or $85 for 2 cards (for the night)
There are sponsorship opportunities still available. Please email kclulacfoundation@gmail.com for more information.