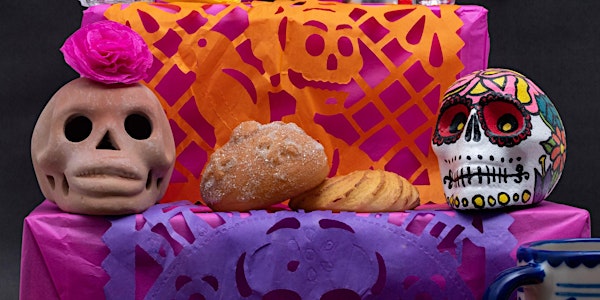 Dia de los Muertos Route 91 Altar
A remembrance event and altar for the loved ones we lost • Un evento y un altar de conmemoración para nuestros seres queridos que perdimos
When and where
Location
Winchester Cultural Center 3130 McLeod Drive Las Vegas, NV 89121
About this event
English
Day of the Dead (Dia de los Muertos) is a holiday observed on November 1 and 2 throughout Latin America, but mostly in Mexico. It is a celebration of the lives of people we loved who have passed away.
One of the most common traditions during this time is the altars (ofrendas/altares de muertos); this is a tradition originating with the Aztecs as they believed that souls continuously live and enter different realms. The altar is presented in order to commemorate the souls of loved ones and let them know that they are not forgotten and will always be welcome back home.
This November, the Vegas Strong Resiliency Center will be presenting an altar to honor the lives of our Route 91 angels at the 20th Annual Life in Death Festival held on November 1 and 2 at the Winchester Cultural Center and Park.
Admission is free but there will be traditional food and craft vendors. If you would like to, you are more than welcome to bring a special item to be put on the altar.*
We invite you and your family to join us during this remembrance event for the loved ones we lost on October 1, 2017, and to view the other altars that will be displayed. The Winchester Cultural Center will be open from 5 to 9 p.m. on Monday, November 1, and Tuesday, November 2.
*There will be someone present at the altar from 5 to 9 p.m. but we cannot be responsible for the items brought. We will do our best to make sure that what you bring is kept safe and returned back to you.
Español
El Día de los Muertos es una celebración tradicional que se lleva a cabo el 1 y 2 de noviembre en Latinoamérica, pero principalmente en México. Es una celebración de la vida de nuestros seres queridos que han fallecido.
Una de las tradiciones más comunes durante este tiempo son los Altares de Muertos u Ofrendas; esta es una tradición que se originó con los Aztecas ya que creían que las almas estaban continuamente viviendo y entrando en diferentes dimensiones. El altar se presenta para conmemorar las almas de nuestros seres queridos y para demostrarles que no les hemos olvidado y que siempre serán bienvenidos en casa.
Este noviembre, el Vegas Strong Resiliency Center va a presentar un Altar, en honor de las vidas de nuestros angeles de Ruta 91, en el 20o Festival Anual de Vida en la Muerte que se va a llevar a cabo el 1 y 2 de noviembre en el Winchester Cultural Center and Park.
La entrada es gratuita, pero se va a contar con vendedores de comida tradicional y manualidades. Si le gustaría, puede traer un objeto especial para que sea colocado en el altar.*
Le invitamos a usted y su familia a acompañarnos durante este evento de conmemoración para nuestros seres queridos que perdimos el 1 de octubre de 2017, y para visitar los otros altares que van a estar en exhibición. El Winchester Cultural Center va a estar abierto de 5 a 9 p.m. el lunes 1 y martes 2 de noviembre.
*Una persona va a estar presente en el altar de 5 a 9 p.m. pero no nos podemos hacer responsables por los objetos que sean llevados, haremos lo posible por asegurar que lo que traiga se mantenga seguro y le sea regresado.