Dholrhythms Free Bhangra Classes in SF & Berkeley - Kickoff of 2019!

Saturday, January 12, 2019 at 9:00 AM

-

Tuesday, January 15, 2019 at 9:00 PM (PST)
Event Details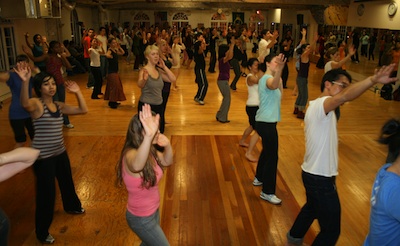 ADD A LITTLE BOUNCE TO YOUR LIFE IN 2019
DHOLRHYTHMS FREE BHANGRA DANCE CLASSES
NEW YEAR CELEBRATION
January 12th, Berkeley | January 15th, San Francisco

Looking for something fun and healthy to kickstart 2019? Come try out one of our Free Bhangra Dance classes-our annual ritual to welcome a new year! Get a taste of the energy and experience our classes offer--high energy, positive, fun, culturally enriching, and a great cardio workout. We'll be teaching easy to learn moves to fun and contagious dhol driven Bhangra Beats that will get your feet stomping, shoulders bouncing, and leaving you with ear to ear smiles. Put on your dancing shoes, grab some friends, and come celebrate a new year with some happy feet! 

Space is limited so you must register online to reserve a spot. Open and accessible to everyone but recommended for ages 13 & up. Under 13 allowed if accompanied by an adult.
DETAILS:::::::::::::::::::::::::::::::::::::::::::::::
BERKELEY
Saturday, January 12th | 9:00am-10:00am
Ashkenaz Music & Dance Community Center
1317 San Pablo Ave. (at Gilman) | Berkeley

 SAN FRANCISCO
Tuesday, January 15th | 7:45pm-8:45pm
ABADA Studio | 3221 22nd Street | San Francisco
What to Wear/Bring
Basic Workout type clothing
Barefeet or any comfortable dance shoes
bring a bottle of water
Smiles & Positive Vibes

 MORE INFO
For detailed info on our classes, visit our website: http://www.dholrhythms.com
If you have any additional questions, please email us at inquiry (at) dholrhythms.co
When & Where
San Francisco and Berkeley



Saturday, January 12, 2019 at 9:00 AM

-

Tuesday, January 15, 2019 at 9:00 PM (PST)
Add to my calendar
Organizer
~Move to the rhythm of your soul and you'll never miss a beat~


Dholrhythms Dance Company is a SF Bay Area dance company dedicated to promoting the artistic and cultural heritage of India through the rhythms of Punjab with classes, workshops, performances, and events, providing a unique platform for people of diverse backgrounds to come together and dance in a positive and fun environment. 
 Dholrhythms also hosts the monthly event, Non Stop Bhangra, now in its 14th year of production and voted "Best Dance Party" in The Bay by Readers Poll in 2017. Non Stop Bhangra is a unique cultural experience creating sold out nights and write-ups as one of the best dance floor nights in San Francisco. 

Weekly Bhangra Dance Classes
High Energy, Culturally Enriching, Fun, and A Great Cardio Workout
Easy to learn movements & open to all levels
Drop-ins are always welcome

San Francisco | Tuesdays | 8:00pm-9:00pm
Abada Capoeira Art Center | 3221 22nd Street (at mission) 

Berkeley | Saturdays | 9:00am-10:00am
Ashkenaz | 1317 San Pablo Ave. (at gilman)