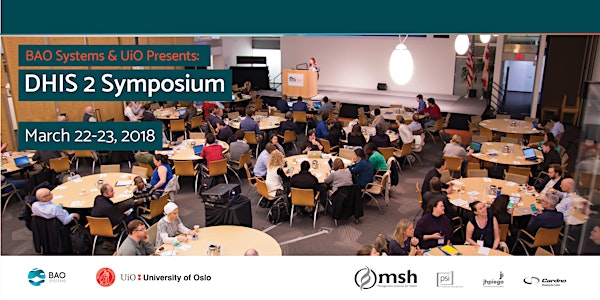 DHIS 2 Symposium
When and where
Location
FHI 360 1825 Connecticut Avenue Northwest Washington, DC 20009
Refund Policy
Refunds up to 30 days before event
Description
Join Us!
The annual DHIS 2 Symposium will be held on March 22nd and 23rd, 2018 at the FHI360 Conference Center in Washington, DC.
What is the DHIS 2 Symposium?
DHIS 2 is a web-based, free and open source platform running in more than 60 countries globally. It provides a wide range of possibilities for building integrated yet customized information systems.
The system is developed and managed by the Department of Informatics at the University of Oslo (UiO) and supported by the Health Information Systems Programme (HISP) network. The software is backed by a large and growing implementing community.
Since 2013, DHIS 2 has become the management information system of choice for many international NGOs working across a variety of sectors. The DHIS 2 symposium brings together experienced DHIS 2 users, technical experts, implementers and trainers across the public and NGO sectors in order to share best practices and lessons learned in the implementation and use of DHIS 2.
The symposium is the only DHIS 2 US-based event. It is an opportunity for participants to learn about the development roadmap of the software, meet the development team and learn about UiO initiatives in advancing the DHIS 2 learning environment. The event will showcase use cases that have adopted DHIS 2 in creative ways to solve data management challenges.
2018 Symposium Themes
The global digital health space is moving at a rapid pace, making exponential gains within the last few years. It's hard to imagine that after only 10 years of development, DHIS 2 is being implemented in 87 countries and Indian states, with 53 operating at national scale. This kinetic global expansion of DHIS 2 has led to exciting collaborations and partnerships that are working to improve LMIC health systems.
And yet we know that there is still work to be done to improve these systems.
In our 4th DHIS 2 Symposium, we'll look closely at how international partnerships between NGOs and governments are supporting national systems strengthening through technical support that ultimately improves the use of DHIS 2 and how this work is bringing us closer to harmonized data.
But beyond national systems, there is still exciting innovation happening all around us. We'll spend time looking at Android mobile applications and hear from the UiO about efforts to overhaul and re-develop the applications. Biometrics are making concrete gains in development work and we'll hear how they can be incorporated into DHIS 2.
2018 Agenda info, speakers and attendee list here.
Other topics to be explored include:
What work is being done around using DHIS 2 for the Sustainable Development Goals and how can we move that work forward?

How is data used in concrete ways to drive decision-making, course-correction and drive impact of your programs?

How is integration with other systems like LMIS and EMRs improving national systems?
Who should attend?
We encourage international development M&E specialists, project and program managers, IT staff, consultants and others who are interested in learning more about DHIS 2 implementation to attend.
The two-day event will provide an opportunity for participants to meet users, implementers, and developers and learn about how DHIS 2 could be utilized to support their specific use case. Participants will have first-level access to the University of Oslo development team to provide feedback and requests for new features.
If you attended the symposium in previous years, you should consider attending again to learn about the latest developments in the community, the software, and resources available to the community.
FAQs
How can I contact the organizer with questions?
Please e-mail your question to dhis2symposium@baosystems.com
I will be traveling from overseas, how can I obtain a visa?
Delegates from outside the US are responsible for determining whether they need visas and applying for their own visas but can obtain a visa invitation letter from us to support the application process.
What's the refund policy?
Tickets are transferable to other participants. Please send an email to dhis2symposium@baosystems.com to update the participant information. Tickets are fully refundable up to 30 days prior to the event. After that period tickets are not refundable.
Accommodation an travel
Participants are responsible for making hotel reservations and travel arrangements.
DISCLAIMER
Please be advised that BAO Systems reserves the right to use any photograph taken at the symposium without the expressed written permission of those included within the photograph. BAO Systems may use the photograph in publications or other media material produced, such as brochures, invitations, newsletters, websites etc. To ensure the privacy of individuals, images will not be identified using full names or personal identifying information without written approval from the photographed subject. A person attending the symposium who does not wish to have their image recorded for distribution should make their wishes known to the photographer, and/or the event organizers. By registering for the symposium you hereby acknowledge this disclaimer and consent to BAO Systems photographing and using your image and likeness.