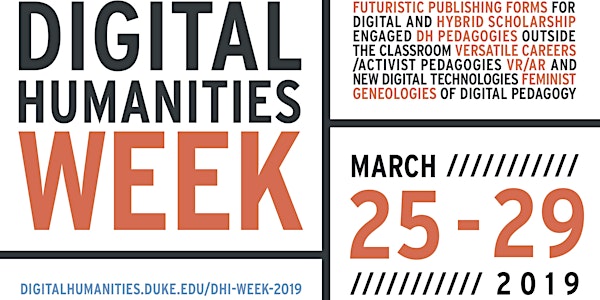 DHI Week | Becoming a Versatile Humanist: Lessons from Duke PhD Alumni
By Franklin Humanities Institute at Duke University
Date and time
Thursday, March 28, 2019 · 12 - 1:30pm EDT
Location
Ahmadieh Family Lecture Hall Smith Warehouse, Bay 4, C105 Durham, NC 27708
Description
Please join the Digital Humanities Initiative at the Franklin Humanities Institute for this event!
________
12:00 | Becoming a Versatile Humanist: Lessons from Duke PhD Alumni
Speakers: Elizabeth Baltes, Assistant Professor of Art History, Coastal Carolina University; Mitch Fraas, Curator, Special Collections, Kislak Center for Special Collections, Rare Books and Manuscripts, University of Pennsylvania Libraries; Sandra van Ginhoven, Head, Project for the Study of Collecting and Provenance, Getty Research Institute; Andrew Ruoss, Faculty, Hotchkiss School.
1:00 | Lunch
________
Full descriptions and schedules for our DHI Week events can be found here: https://digitalhumanities.duke.edu/dhi-week-2019
The Duke Digital Humanities Initiative (DHI@FHI) promotes new ways to engage in and learn about the use of technology in humanities scholarship. Our goal is to connect scholars, teachers, librarians, technologists, and practitioners from around campus.
Our expanded idea of "digital humanities" includes digital transformations of scholarly practice and dissemination within the humanities, opportunities for interdisciplinary collaboration and innovative teaching made possible by digital tools and methods, creative and experimental uses of technology for scholarly communications, and critical study of computational media and digital culture globally.
About the organizer
Founded in 1999, the Franklin Humanities Institute (FHI) is built on a fundamentally collaborative model fitting Duke's emphasis on facilitating interdisciplinary cross-fertilization. Through an array of innovative programs, we seek to encourage the conversations, partnerships, and collaborations that are continually stimulating creative and fresh humanistic research, writing, and teaching at Duke.
For more information about the FHI, visit http://fhi.duke.edu