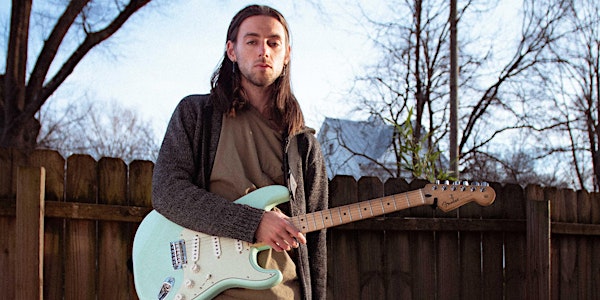 Location
DC9 Nightclub
1940 9th St NW
Washington, DC 20001
About this event
Proof of Vaccination REQUIRED
DC9 will require proof of vaccination for entry. Physical card or digital photo will be accepted. Proof of vaccination must match name on photo ID and will be checked at the door.
You can find more information HERE.
Things change quickly and we are all in the same boat trying to navigate and do our best to keep our concerts and communities safe. We appreciate your patience and understanding with our staff as we navigate this together. Thank you for your cooperation & continued support!
This is an ever changing situation and we reserve the right to change these policies at any time.
Dhemo

FACEBOOK | INSTAGRAM | SPOTIFY | BANDCAMP | SOUNDCLOUD

Dhemo (pronounced demo) is an artist based in Richmond, Virginia. Their music can be described as a unique blend of indie, jazz, and rock that emphasizes vulnerable vocals over top dynamic instrumentals. The band consists of guitar, bass, and drums that hold together a tight groove underneath virtuosic saxophone solos. Lyrically, the music is a display of hope to push through difficult times. Below is a link to their newest music video, promoting their most recent album "Spinning in Place".

Sunstoney

FACEBOOK | INSTAGRAM | TWITTER | SPOTIFY

In March, as the pandemic swept across the country with frightening speed, Eman El Saied was laid off from her job at a Washington, D.C. music venue. She didn't know what to do with herself during a turbulent period of endless job-searching. Her ego and sense of self had been shattered. "I had to face the fact that my identity was music and work," says El Saied. "And then I lost the thing that made me money. All I had was the thing that I did when I struggled."

This was certainly a period of struggle, but also a creative rebirth for El Saied, who creates lo-fi R&B under the name Sunstoney. It was a breaking point. "I already had so many songs in me," El Saied says. It was time to get them out there.

In Your Apartment, Sunstoney's diaristic new album—the first to feature her own vocals, and the first to be released on major streaming platforms—is the cathartic outpouring of music that emerged from that time. Drawing on influences as far-flung as the spacious soul of Nai Palm, the maximalist jazz-funk maelstrom of Flying Lotus, and the soft-focus chillwave of Washed Out and Toro y Moi, El Saied has crafted a slice of raw, emotionally intimate R&B steeped in a journey of self-reflection. The songwriter describes it as a therapy project she happened to love.

Pockets

FACEBOOK | INSTAGRAM | TWITTER | SPOTIFY | SOUNDCLOUD

DC-based producer and songwriter Pockets is all about creating through the craziness. Their distinctive brand of introspective, melodic pop music was crafted from years spent coming up in the eclectic Richmond DIY scene playing alongside artists such as Alfred., Crumb, and Shormey before honing his sound in DC. Pockets debut EP, Medium Dream, was recorded almost entirely during the lockdown stage of 2020 and allowed an escape from all the chaos that came with the early days of the pandemic. The project is a reminder that even when we're having trouble making sense of the world, there is still much in life to marvel at.