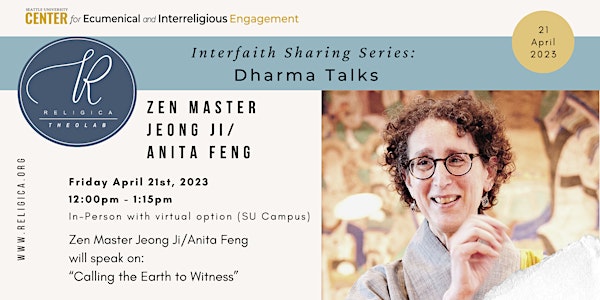 Dharma Talk with Zen Master Jeong Ji/Anita Feng, Blue Heron Zen Community
Zen Master Jeong Ji/Anita Feng speaking in-person on "Calling the Earth to Witness" Seattle University-Sinegal 200 - Online option available
By Center for Ecumenical & Interreligious Engagement
Date and time
Friday, April 21 · 12 - 1:30pm PDT
Location
Sinegal Center for Science and Innovation -SINE 200 (Oberto Commons) 901 12th Avenue (And On Zoom!) Seattle, WA 98122
About this event
1 hour 30 minutes

Mobile eTicket
Zen Master Jeong Ji/Anita Feng will be speaking in-person on "Calling the Earth to Witness." There will be time for Questions and Answers after her talk in-person and online.
About the talk:
What does awakening look like? And to whom does it apply -- to human beings, to all sentient beings, to the cosmos? To none, or all of the above? Calling the earth to witness, I would suggest, is where the work begins. This is where we give our full attention, without the intervening clouds of popular opinion and politicized verbiage. Then what? That is the creative, visionary work that lies before us all.
About our speaker:
From a NW Dharma News article: Zen Master Jeong Ji brings her perspective as an artist, both visual and written, to her practice and teaching. She describes her approach to art, especially pottery, as mirroring her approach to Zen practice: combining technique with the artistry of not knowing, being open to what appears.
"I always felt that clay was my first Zen master," she said. "Making pottery is a perfect metaphor for practice. It requires centering an unruly mass on a spinning wheel."
While she makes beautiful raku Buddhas for her business Golden Wind Raku, she continues to write poems and stories infused with Zen.
Zen Master Jeong Ji - Anita Feng's website, with links to her books, sculpture, and Zen: http://www.anitafeng.com/wp/
Explanation of Buddhist Tradition and the Blue Heron Zen Community:
Blue Heron Zen Community exists solely for you. We offer group practice, retreats, talks, and other activities with the simple goal of inspiring and supporting your own efforts to perceive your true nature. The programs at Blue Heron Zen Community can help you begin and sustain a rewarding Zen meditation practice.
Blue Heron Zen Community is a lay community and residential center in the lineage of Zen Master Seung Sahn, the first Korean Zen Master to live and teach in the West. We are a successor organization to Dharma Sound Zen Center of the Kwan Um School which was founded by Zen Master Seung Sahn in 1980. In 2006 Zen Master Ji Bong, our guiding teacher for 22 years, established the independent Golden Wind Zen Order, and asked interested members of Dharma Sound Zen Center to join him in making the ancient principles of Zen Buddhism available in new ways to American lay students. This direction is being extended to the next generation by our current guiding teacher, Zen Master Jeong Ji. Our warm-hearted community encourages dialogue and creativity as a way to continuously re-discover the gifts of Zen training. The Blue Heron Zen Center is a beautiful residential house located in North Seattle.
Co-Sponsoring Organizations: (Thank you!)
Seattle University Eco Sangha
Seattle Koyasan Shingon Buddhist Temple
Mindfulness Community of Puget Sound
For more information on the CEIE's Religica Theolab Interfaith Sharing Series: Dharma Talks, and to view past recordings, see:
About the organizer
CEIE explores themes and topics such as: Lay Ministry in a Catholic Context, Marginalized Communities and Being Church, Ecumenical Ministry in a Challenging Age, Religious Literacy, and more. CEIE convenes conversations and creates interactive curriculum for community and classroom and further refines its forthcoming certificate programs.