DHARMA COLLEGE | Six-Week Courses begin January 16 through January 30, 2013

Daily Event - Monday through Friday: 9:00 AM to 5:00 PM (PST)
Event Details
A NEW WAY OF UNDERSTANDING THE HUMAN MIND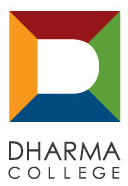 Six-Week Courses begin January 16, 2013
The curriculum at Dharma College offers an intelligent, healthy, creative way to study the operations of the mind, based on a gently detached method of observation. The habitual patterns that shape our lives and choices are so basic that we may not even notice them. We often function in a stale, pre-constructed reality. Are we ready to ask how these patterns get set up and how they operate? Once we appreciate how much we are captive of recycled modes of thinking, we can examine the relationship between mind and time to deepen and enrich our lives. Using both eastern and western methods of inquiry, Dharma College courses cannot be categorized as philosophy, psychology, religion or science. But blend aspects of all these disciplines with a focus on practical application. The format of classwork is interactive, promoting discussion, readings and exercises that emphasize experience, not abstraction. We invite your involvement in this exciting pursuit of self-knowledge as we continue our unique educational activities throughout 2013.
"There probably aren't too many colleges whose sole purpose is to make its students happier, more peaceful and less less-stressed out. But Dharma College…is definitely one of them. It might even be the only one."– Oakland Tribune, September 2012.
 Six-Week Courses begin January 16, 2013
Exploring Mind & Self 

Confused Mind is Not my Friend

Practicing Revelations of Mind

Five Key Questions to Keep in Mind

Mind in Real Time
For information and registration please call (510) 809-2010, walk in to 2222 Harold  Way, Berkeley, CA 94704  or visit www.dharma-college.com
Dharma College | A New School in Berkeley
Have questions about DHARMA COLLEGE | Six-Week Courses begin January 16 through January 30, 2013?
Contact DHARMA COLLEGE
Where

Dharma College
2222 Harold Way
Berkeley, CA 94704


Daily Event - Monday through Friday: 9:00 AM to 5:00 PM (PST)
Add to my calendar
Organizer
Dharma College is a new school of higher learning open to inquiring adults of all backgrounds. With your participation, we will develop fresh perspectives on the transformative potential of the human mind.
In 2014, we are offering a variety stimulating courses. Please click here for details.