DHARMA COLLEGE | OPEN HOUSE

Monday, April 15, 2013 from 1:00 PM to 4:00 PM (PDT)
Event Details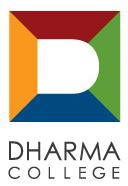 1-3pm: Dharma College Open House, explore the facilities of the school that offers ways to make friends with your mind. Tour at 1 pm; mini-class 'Caring about Knowledge' at 1:30; refreshments and meet the faculty at 2:00; mini-class 'Does Mind Belong to Me?' at 2:30.
(510) 908 2010, dharma-college.com; Dharma College, 2222 Harold Way. Free.
Organizer
Dharma College is a new school of higher learning open to inquiring adults of all backgrounds. With your participation, we will develop fresh perspectives on the transformative potential of the human mind.
In 2014, we are offering a variety stimulating courses. Please click here for details.