Actions and Detail Panel
DFWBIUG - Texas Design-U Conference
Mon, Jun 5, 2017, 7:30 AM – Tue, Jun 6, 2017, 5:30 PM CDT
Description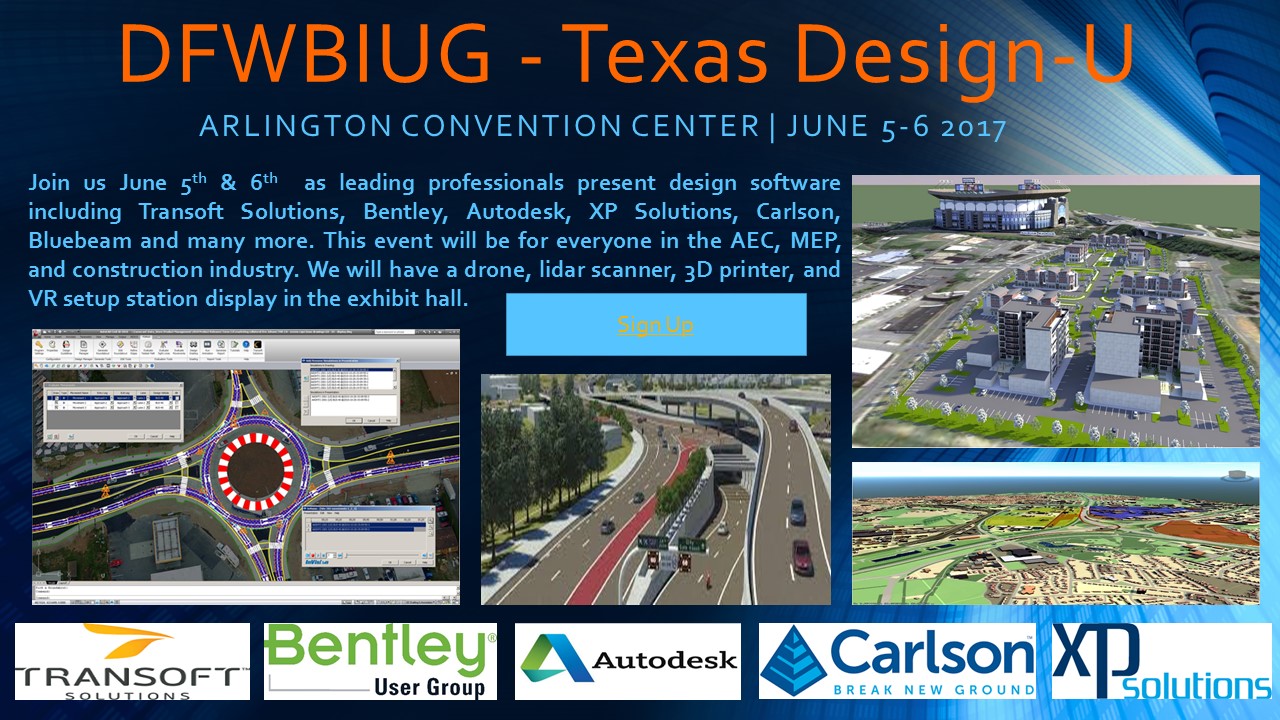 DFW industry leading professionals will be speaking about Transoft Solutions, Bentley, Autodesk, Carlson, XP Solutions, Bluebeam, and various other design software at our annual summer event. We will have classes for AutoCAD Civil 3D, Vehicle Tracking, InfraWorks 360, Revit, Carlson Survey & Civil, SITEOPS, OpenRoads Designer, AutoTurn Pro, Torus Roundabout, Bluebeam, XPDrainage, and many more. This will be a two day event which will be catered for everyone in the AEC, MEP, and construction industry. In addition, we will have other specialized classes over various software, with roughly 50-60 class options to choose from! We will also have a live drone and VR presentations, with classes dedicated for the construction industry. Come learn a few new tricks & tips in design and collaboration workflows from professional designers. Attendees will also have the opportunity to meet industry vendors and network with other design professionals at our exhibit hall. Morning Coffee and Lunch will be provided. We will also be giving away a few prizes throughout the day. Doors open at 7:30 am.
Questions & Answers:
Can we buy tickets at the door? No, all tickets need to be purchased online.
Will lunch be provided? Yes
Will there be new classes on the second day? Most of the classes will be repeated on the second day because you can only take 8 classes at most. This will allow you to take additional classes the second day. Yes, we will have new classes on the second day.
Will there be lab classes? I am currently working on creating a few lab classes.
Do any classes count as continued education classes? Yes.
Does registation cover both days? Yes
Will there be any live demostrations? Yes, we will fly a drone and also use a lidar scanner for class data.
Is there hotel close by? Yes, please checkout a few of the close by hotel below listed below.
Do we need to print out our registration? No, we will be handing out badges at the door.
For more information about current sponsors, classes, and speakers please checkout our new user group website below.
Class Schedule: https://dfwbiugdesignu2017.sched.com/
Close by hotels: Sheraton Arlinton Hotel / Howard Johnson Express Inn / Holiday Inn/
Springhill Suite-Marriott / Coutyard Marriott
---
---
Arlington Convention Center