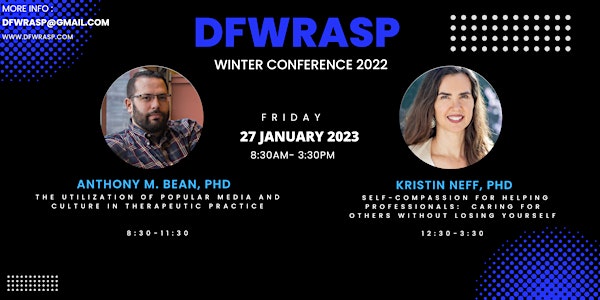 DFW RASP 2023 Winter Conference
The Dallas-Fort Worth Regional Association of School Psychologists membership runs September 1 - August 31.
About this event
The Dallas-Fort Worth Regional Association of School Psychologists membership runs September 1 - August 31. Membership Dues: The annual membership dues are $10. The annual Graduate Student membership dues are $5.
Conference Registration: The conference registration cost is $20 for non-members; this includes the $10 dues. For a Graduate Student, the conference registration cost is $10 for non-members; this includes the $5 dues. Once membership dues have been paid, the conference registration cost is $10 for members and $5 for graduate students.
The dues and conference registration cost can be paid through Eventbrite. There is a processing fee and attendees will receive a Eventbrite ticket.
Members of DFW RASP who pay dues and prepay for all three conferences ($40 - member; $20 - Grad Student) at the fall conference registration will still need to register again for the Spring 2021 conference, but will not be required to pay an additional fee.
LATE REGISTRATION
There will not be an opportunity to complete a late registration for the Fall, Winter, and Spring Conferences. For the Winter 2023 conference , the registration link will close on January 25, 2023 at 7:00 PM.
SCHEDULE FOR WINTER 2023 CONFERENCE
Session 1: January 27, 2023 at 8:30 AM
Presenter: Anthony Bean, PhD
Topic: The Utilization of Popular Media and Culture in Therapeutic Practice
12:30 PM - 12:55 PM Business Meeting
Session 2: January 27, 2003 at 12:30 PM
Presenter: Kristin Neff, PhD
Topic: Self-Compassion for Helping Professionals: Caring for Others without Losing Yourself
SPEAKER BIO
Dr. Anthony Bean is a Licensed Clinical Depth Psychologist, video game researcher, the Executive Director at The Telos Project, and the Executive Director of Geek Therapeutics, the leading agency in continued education with a dynamic focus on geek culture including evidence based practices and treatments in Geek Therapy and culture. He has been consulted as an expert for CNN, Inverse, Polygon, and internationally for Gehirn & Geist, while also appearing on Radio, Podcasts, and being a sought after Keynote Speaker and conference speaker in the United States, Canada, and Russia. He holds a Doctorate in Philosophy in Clinical Depth Psychology from Pacifica Graduate Institute and specialize in the therapeutic implications of video games and gaming, working with children and adolescents, and the use of video game character identification as a therapeutic technique. He has also authored multiple academic articles, book chapters, and the six books Working with Video Gamers and Games in Therapy: A Clinician's Guide (Routledge, 2018), The Psychology of Zelda: Linking Our World to the Legend of Zelda Series (Ben Bella, 2019), The Psychology of Final Fantasy: Surpassing the Limit Break (2020, Leyline Publishing), Integrating Geek Culture Into Therapeutic Practice: The Clinician's Guide to Geek Therapy (Leyline Publishing, 2020), The Psychology of Pokémon: The Power to Catch 'Em All (Leyline Publishing, 2022), and Checkpoints and Autosaves: Parenting Geeks to Thrive in the Age of Geekdom (Leyline Publishing, 2022).
Kristin Neff is currently an Associate Professor of Educational Psychology at the University of Texas at Austin. She is a pioneer in the field of self-compassion research, conducting the first empirical studies on self-compassion nearly twenty years ago. She has been recognized as one of the most influential researchers in psychology worldwide. She is author of the bestselling book Self-Compassion. Along with her colleague Chris Germer she developed the empirically-supported Mindful Self-Compassion program and co-wrote The Mindful Self-Compassion Workbook. Her latest book is Fierce Self-Compassion: How Women Can Harness Kindness to Speak Up, Claim Their Power, and Thrive. For more info go to www.self-compassion.org.