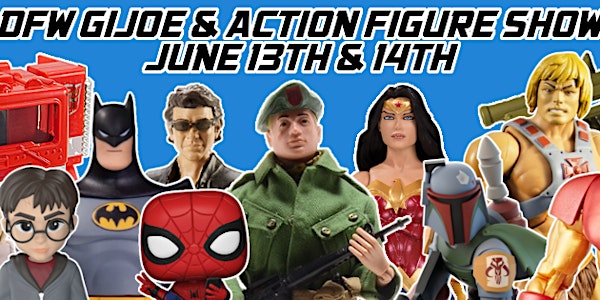 DFW GI Joe and Action Figure Show 2020
2020 DFW GI Joe and Action Figure Show 9th Annual Show
When and where
Location
Grapevine Convention Center 1209 South Main Street Grapevine, TX 76051
Refund Policy
Contact the organizer to request a refund.
About this event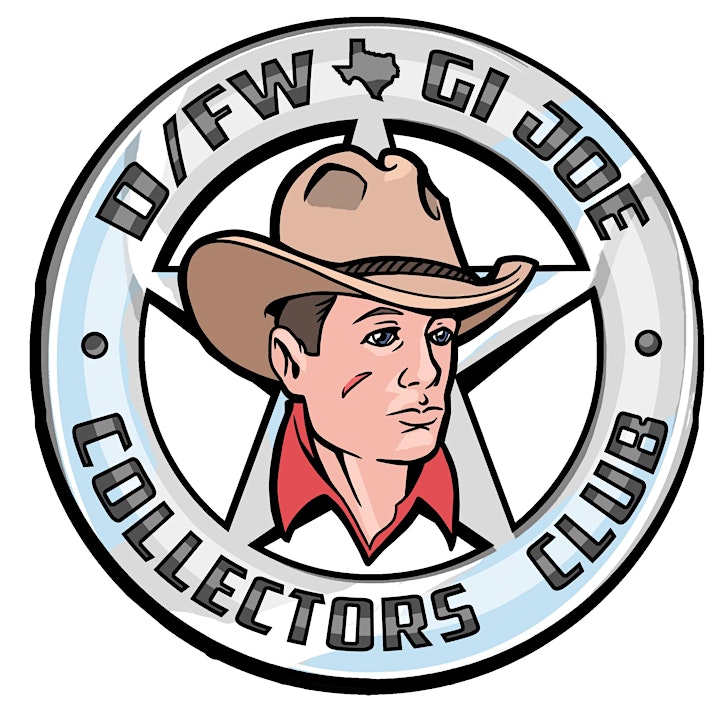 The Dallas/Fort Worth GI Joe Collectors Club is proud to present:
The 9th Annual GI Joe & Action Figure Toy Show
For the last 9 years, action figure collectors and enthusiasts from across the United States come to browse one of the largest action figure shows in Texas. The show features more than 11,000 square feet of dealer space, featuring action figures and accessories – both vintage and new. Collectors track down rare pieces and uncover an arsenal of fun and fascinating toys, including G.I. Joe, Star Wars, Masters of the Universe, Marvel Comic figures, and many more.
Special Industry Guests/Hasbro Design Legends - Greg Berndtson & Kurt Groen
Greg Berndtson
Greg Berndtson, former Design Director Plus, began working on the G.I. Joe brand by doing the accessory details for the figures during its earliest days of development. He later went on to work on such things such as the Jump Jet Pack, Wolverine, Tomahawk, Cobra Maggot, Amphibious Personnel Carrier (APC) carry case, and many other Joe vehicles. Greg is largely known for his involvement in developing the U.S.S. Flagg Aircraft carrier and helping convince upper management to approve this massive playset! In mid-1985, he became Design Director for the G.I. Joe brand and was in this position until August, 1994.
Kurt Groen
A graduate of the Joe Kubert School of Cartoon and Graphic Art, Kurt Groen joined the G.I. Joe Design Team in January 1989. Kurt's first day on the job led to him designing his first G.I. Joe action figure, Vapor, the Cobra Hurricane Pilot. Kurt joined the team just in time for the company to start producing spring-loaded launchers, enhancing the play value of G.I. Joe. Kurt designed and developed all sizes of GI Joe, from the 3 ¾" to the 12" Hall of Fame and Classic Collection, including Sgt Savage and G.I. Joe Extreme.Kurt was lucky to work on numerous other popular Hasbro Toy lines including Jurassic Park, Starting Lineup, Winner's Circle, WWF, Tonka, Playskool, Dinosaurs to name a few.
Convention Packages & Exclusives:
The first Texas Rangers were formed in 1823 where each man had to "provide his own horse, rifle, pistol and 100 rounds" of ammunition. From 1823-1865, the Rangers patrolled the Texas frontier providing protection from Indians and Mexican raiders. After the Civil War, the Rangers were reformed into two distinct battalions; the Frontier Battalion which operated along the western frontier and the Special Force which patrolled the Nueces Strip to stop incurring Mexican bandits. By the 1870s, the Rangers transitioned from Indian fighters to hunting the numerous outlaws within Texas. This tradition continues today as the Texas Rangers are one of the premier law enforcement organizations in the world.
Modern Figure Exclusive Package:
This year we are pleased to offer our first 3.75 inch scale shared action figure exclusive in conjunction with Chicken Fried Toys from their new and original Dime Novel Legends Western lineup! This figure is available to pre-purchase for delivery at the show and comes bundled with a weekend pass to the show and "Early Bird" privileges on Saturday morning!
This new figure package is ALSO available to order even if you are not able to travel to the show, and will be shipped out after the event. This includes all items in the attendee package. There will be a small additional charge (exact costs) for USPS postage and materials with tracking to your door. This additional charge will be requested as we work through the orders after the show.
The price for this bundle is $55
(image is digital representation of finished product)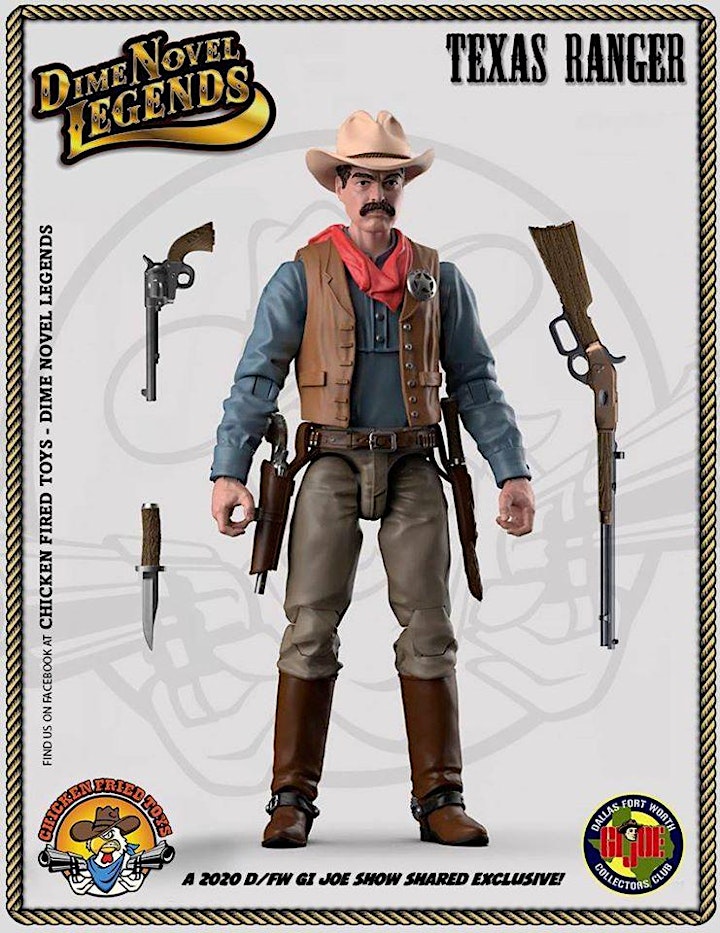 Exclusive Vintage Style 12 inch/1:6 Gear & Accessory Set Bundle:
As in years past, we are again offering a themed vintage style 12 inch/1:6 boxed gear and accessory set as a show exclusive for 2020. This years theme is uniquely "Texas", and is a 1870's style Texas Ranger gear & accessory set!
Bundled with this exciting set is a weekend pass to the show that includes "Early Bird" privileges on Saturday morning! The 2020 exclusive set will include a long box with original artwork & graphics by esteemed artist and frequent collaborator: David Howard. Inside the box will be:
• Styled Brown Felt Cowboy Hat w/ Band
• Faded Blue Denim Style Pull Over Shirt with Collar
• Red Pattern Bandanna w/ Slide Closure
• "Rough Out Leather" Colored Open Vest
• Dark Brown Trousers w/ Fly Closure
• Highly Detailed Leather Cowboy Boots
• Leather Strap Die Cast Metal Spurs
• Tooled Leather Gun Belt, Holster, and Knife Sheathe and Working Buckle
• Die Cast Metal Colt Style Pistol
• Die Cast Metal Hunting Knife
• Die Cast Lever Action Saddle Rifle
• Die Cast Cartridges on the Belt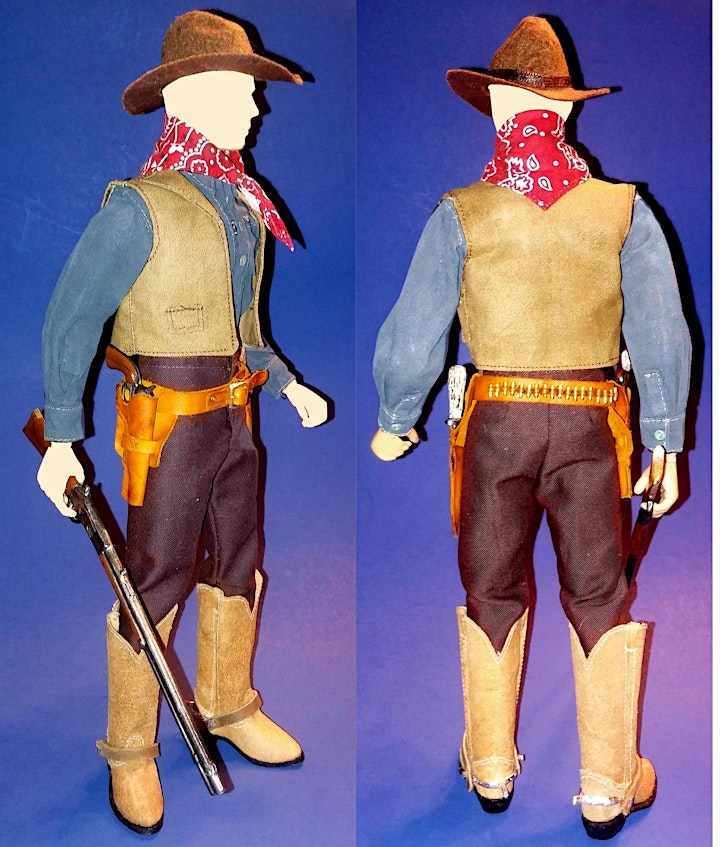 The price for this bundle is $150
We would also like that thank the following vendors for their participation in assembling this 1:6 scale show exclusive this year. Please visit their sites and support their endeavors.
Old Days of Yore
Stevo Toys
AJ Clothiers
New Line Miniatures