dfree Live: Say Yes to the Next Level West Coast Regional Conference
Description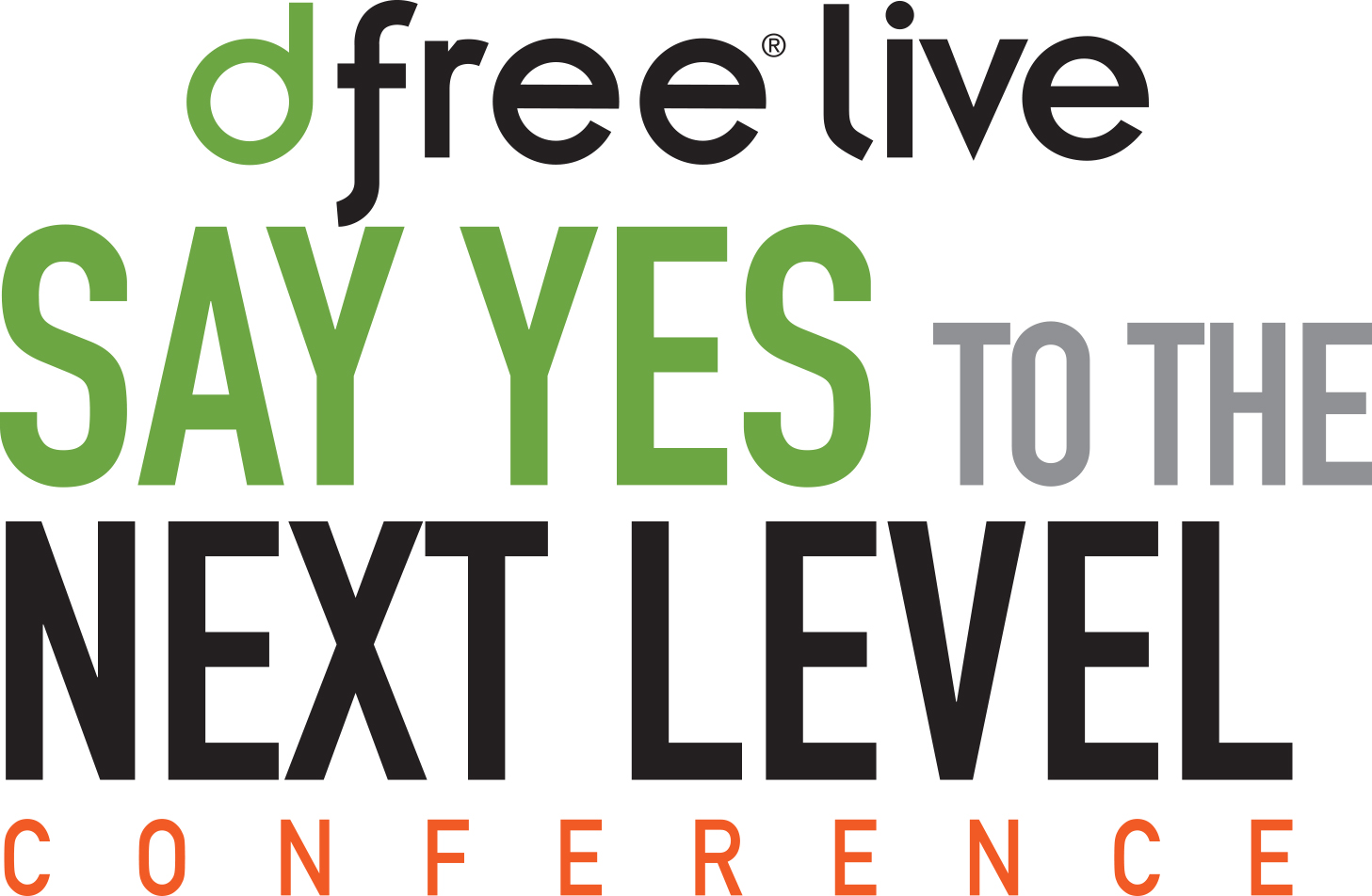 This March, the dfree® Global Foundation, Inc., Mount Calvary Baptist Church in Fairfield, CA and Prudential (the dfree® Title Sponsor) will partner to host, Say Yes to the Next Level, a conference intended to challenge participants to take existing dfree tools & strategies to the next level of financial freedom and wellness. This great conference will include over 1,000 church, community and corporate leaders working together to build a financial freedom movement among economically challenged populations. This informative, uplifting, and celebratory financial freedom conference will furthermore encourage attendees to re-evaluate personal values, habits, attitudes & relationships in order to prepare themselves to move towards financial wholeness.
The weekend will kick off on Friday with an Empowerment, Employment & Financial Resource Fair that will promote financial literacy to residents of the community, followed by a dfree® Live Concert featuring Multi-award winning gospel artist/producer, Fred Hammond. Saturday will focus on dfree® NEXT LEVEL panel discussions and interactive workshops where you will hear from leading experts from the financial empowerment field and have networking opportunities. Lunch will be included!
FOR GROUPS OF 10+ PLEASE EMAIL KADAMS@MYDFREE.ORG FOR A SPECIAL DISCOUNT.
REGISTRATION IS LIMITED!!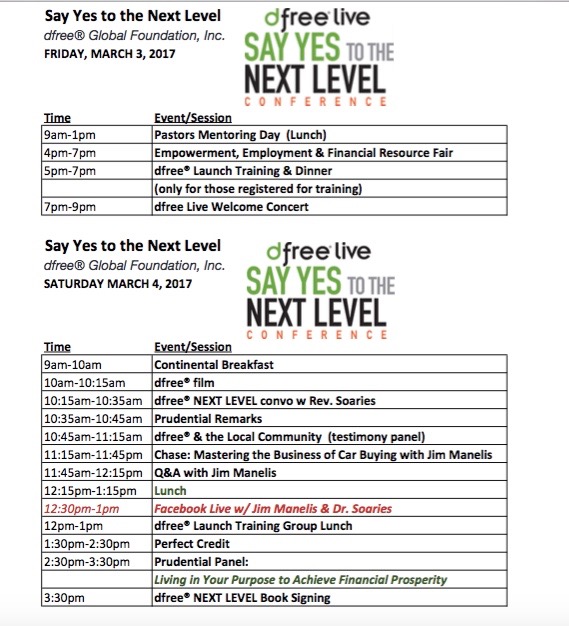 SATURDAY SESSIONS DESCRIPTION:
dfree Film: This short documentary describes the dfree® movement through the experiences of a young couple, a young single mom and a young businessman.
dfree® NEXT LEVEL conversation w/Rev. Soaries: Dr. DeForest B. Soaries, Jr. will discuss the dfree® movement, a transformational, lifestyle movement that promotes financial freedom through values-based principles and practical approaches to financial management.
dfree® & the Local Community: A panel that will feature local Pastors, congregants and people from the local community and how the financial freedom movement has affected their lives.
Chase: Mastering the Business of Car Buying with Jim Manelis: Jim Manelis (Direct Lending Executive, Chase Auto Finance) will discuss important things to consider when buying a car.
Perfect Credit w/Lynette Khalifani Cox: Lynnette Khalfani-Cox,The Money Coach®, is a personal finance expert, television and radio personality who will discuss improving your credit score and credit rating.
"Living in Your Purpose to Achieve Financial Prosperity" w/Prudential: A chat with two of Prudential's leading experts on financial success.
dfree® NEXT LEVEL Book Signing: Dr. DeForest B. Soaries, Jr. will sign his latest books, Say Yes to No Debt: 12 Steps to Financial Freedom and Meditations for Financial Freedom (Vol 1 & 2)
For those of you coming from out of town, below are nearby hotels.
Hilton Garden Inn
2200 Gateway Court
Fairfield, CA 94533
Hampton Inn and Suites
2 Harbor Center
Suisun City, CA 94585
Courtyard by Marriott
1350 Holiday Lane
Fairfield, CA 94533
_____________________
THE FOLLOWING LINKS ARE FOR THOSE WHO ARE ALREADY REGISTERED FOR THE DFREE CONFERENCE:
If you are a church or organization interested in dfree® LAUNCH Training, please click here to register for our training that will be taking place during the conference: https://www.eventbrite.com/e/dfree-launch-training-registration-west-coast-regional-conference-tickets-31879537555
If you are a Pastor or Minister interested in participating in our Pastor's Mentoring Day Session, please click here: https://www.eventbrite.com/e/pastors-mentoring-day-tickets-31879661927
For more information about dfree® visit
www.mydfree.org



Fred Hammond




Multi-award winning Gospel Artist/Producer

Dr. Claybon Lea, Jr.

Mount Calvary Baptist Church

Senior Pastor

DeForest Soaries, Jr.

dfree® Global Foundation, Inc.

Founder of the dfree® Global Foundation, Inc.

Lynette Khalfani-Cox




The Money Coach®

Pastor Dante Quick

Friendship Missionary Baptist Church

Senior Pastor