DexCon2010: 1st Chicago Neighborhood Digital Excellence Conference & Technology Fair

Friday, October 29, 2010 from 8:00 AM to 6:00 PM (CDT)
Event Details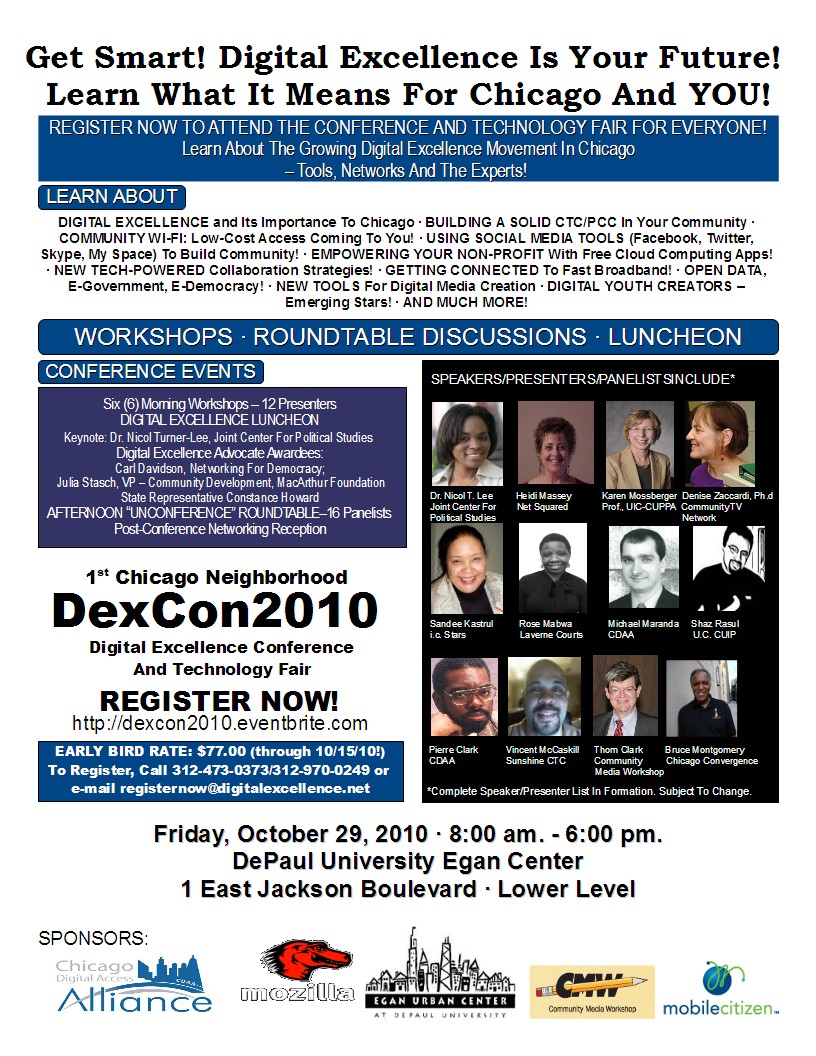 LEARN ABOUT TECHNOLOGY TOOLS! ATTEND WORKSHOPS ON EMPOWERING YOUR NON-PROFIT WITH GOOGLE APPS AND OTHER CLOUD APPS AND BUILDING A HIGH-IMPACT WEBSITE! CONNECT TO LOW-COST BROADBAND INTERNET ACCESS! FIND OUT ABOUT A MULTI-MILLION-DOLLAR TECHNOLOGY GRANTS FUND! AND MUCH MORE AT THE CONFERENCE AND TECHNOLOGY FAIR FOR EVERYONE!
Technology and digital tools have already changed the way we work, learn and communicate! From conducting on-line meetings on Skype to e-blasting thousands with e-newsletters and SMS text messages, if you and your organization are not maximizing your online effectiveness, you are behind the times.
GET SMART NOW AT THE CONFERENCE AND TECHNOLOGY FAIR FOR EVERYONE!

On Friday, October 29, 2010, you are invited to meet, network with and learn from the community experts who are training and helping others master these new tools at the first-of-its-kind one day conference, DexCon2010: 1st Chicago Neighborhood Digital Excellence Conference and Technology Fair, Friday, October 29, 2010, from 8:00 a.m to 6:00 p.m., at DePaul University's Egan Urban Center , 1 East Jackson Boulevard, Lower Level, in downtown Chicago.
DIGITAL EXCELLENCE. GET SMART ABOUT WHAT IT MEANS FOR YOU!
Digital excellence. It's the standard for the transformation of Chicago and its residents into a digitally-literate city of digitally-connected neighborhoods. And it's generated millions in federal dollars from agencies who see Chicago as the emergent digital excellence model.
GET SMART ABOUT 600+ CTC/PCC's,100+ Technology Training Programs In Chicago!
Chicago is the leader because of the 20-year movement of  hundreds of activists in neighborhood technology that built 600+ technology centers, created 100+ training programs, spearheaded two wi-fi networks at the neighborhood level, and educated tens of thousands in basic digital literacy, technology troubleshooting, and e-mail connectivity.
GET SMART ABOUT THE NEIGHBORHOOD EXPERTS LEADING THE WAY  TO CHICAGO'S DIGITAL FUTURE!

These same activists are leading the way in bringing residents up to speed on the new tools - cloud computing apps, tablet and netbook computers, mobile broadband  and more - which promise to connect everyone everywhere in Chicago and elsewhere to information, jobs and development opportunities.
LEADING NEIGHBORHOOD/DIGITAL TECHNOLOGY EXPERTS SHARE KNOWLEDGE, INSIGHTS TO EMPOWER YOU AND YOUR ORGANIZATION

Some of the leading neighborhood technology and digital media experts in the Midwest - Michael Maranda, Lowry Taylor and Pierre Clark of the Chicago Digital Access Alliance, Denise Zaccardi of Community TV Network, Sandee Kastrul of I.C. Stars, Salome Chasnoff of Beyond Media Education, Rose Mabwa of Illinois Consortium of Neighborhood Network Sites, Vincent McCaskill of Sunshine Gospel Ministries, Justin Massa of Movesmart.org and the Metro Chicago Information Center, Heidi Massey of NetSquared Chicago and Chicago Counts, Thom Clark and Demetrio Maguaid of the Community Media Workshop, Bruce Montgomery of the Chicago Convergence and Technology Access Television (TATV), along with more than a dozen other speakers/presenters/panelists - will be leading info-packed workshops designed to provide you with info and insights you can take away from the conference and use immediately.
WHAT'S HAPPENING AT THE CONFERENCE?
Registration and continental breakfast are between 8:00 and 9:00 a.m. on the 29th. There will be six (6) morning conferences, a keynote luncheon and Digital Excellence Recognition Awards presentation, four (4) afternoon roundtable sessions and a networking mixer. The day will be packed with information sharing, skill building, networking and more! 24 speakers/presenters will be involved in the workshop/roundtable sessions.
WHO SHOULD ATTEND THIS CONFERENCE?

If you are into the neighborhood technology movement, are a resident of Chicago neighborhoods who wants to get connected to digital resources, are running a non-profit and want to build your organizational capacities, or are interested in networking with movers and shakers in one of hottest fields in community development, this is the one-day conference you'll want to be at.
REMEMBER: Only 200 registrations will be accepted, so as they say, don't sleep on this one, GET YOUR REGISTRATION IN NOW! Use the  handy links above to order your registration tickets. See you on the 29th of October!
Attendee List
Sort by:

Date

|

First Name

|

Last Name
When & Where

DePaul University Egan Center
1 East Jackson Boulevard
Chicago, IL 60601


Friday, October 29, 2010 from 8:00 AM to 6:00 PM (CDT)
Add to my calendar
Organizer
The Chicago Digital Access Alliance (CDAA) is a coalition of more than 40 communities, 70 non-profits, 50 churches, 100 small businesses, and 1000 individuals, and it is pointing the way toward a more digitally equitable future.