Location
Doral Legacy Park Community Center
11400 Northwest 82nd Street
CC: Dance Room
Doral, FL 33178
DEWINC® Wellness & Martial Arts for the Special Needs and General Population
About this event
DEWINC® W&MA Program offers traditional martial arts training in pursuit of a better quality of life for its participants.
DEWINC® WELLNESS & MARTIAL ARTS PROGRAM
DAYS: TUESDAYS and THURSDAYS
TIME: (a) Karate-do / Kobudo from 7:00PM to 7:55PM
(b) Tai Chi for Health from 8:00PM to 8:50PM
WHERE: IN-PERSON at the DORAL LEGACY PARK COMMUNITY CENTER - Ground Floor (Dance Room) 11400 NW 82 Street, Doral, FL 33178
PAYMENT ENTITLES REGISTRANT TO ONE (1) MONTH OF W&MA INSTRUCTION AT DLPCC for Okinawan Karate-do and/or Tai Chi for Health activities at scheduled times and dates. Location under management by City of Doral and they shall determine blackout dates.
MISSION
Promote a peaceful and welcoming environment for personal empowerment, self-expression and inner strength through the instruction of traditional Martial Arts; imparting martial arts instruction, to the Special Needs Community and the General Population that can transcend to their daily routines, improving their quality of life.
VISION
Provide for the Special Needs and General Population, between the ages of nine through ninety-nine (9-99), a setting for Wellness, Education and Improvement of their Quality of Life through the many transformative benefits of becoming a practitioner of traditional Martial Arts.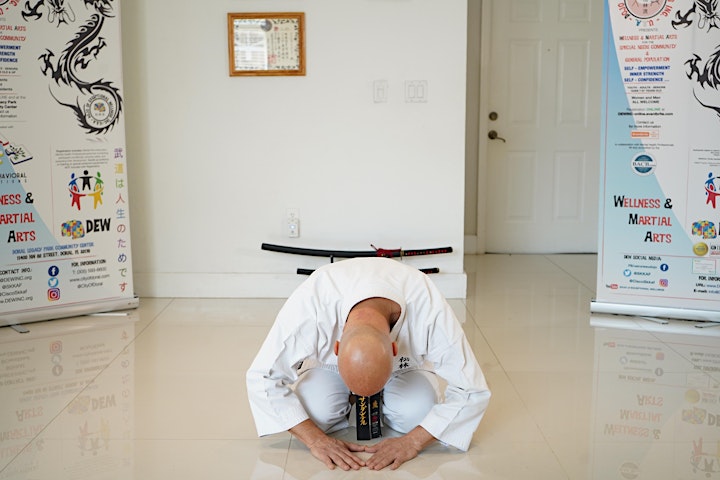 Monthly registration payment must be submitted alongside the Participant Application Forms, filled-in and signed, prior participation in the first class of the session. The necessary documents may be downloaded from the website at: www.DEWINC.org under REGISTER
Thank you,
Sensei F. Santander, Executive Director