Description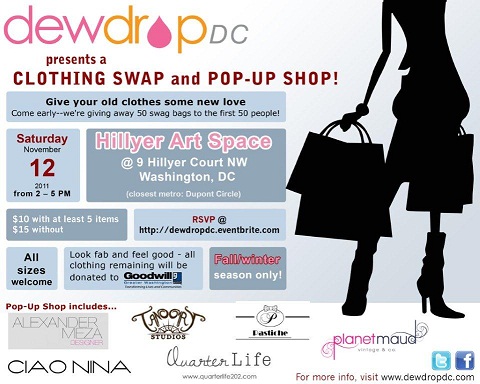 THE SWAP:
Give your old clothes some new love! Join us for a stylish and fashionably green afternoon of clothing swapping! Go home happy with a new outfit. . . or two . . . or three!
Bring at least 5 pieces of like-new clothing, shoes, and/or accessories. You walk away with the same number of items as you walked in. So ladies, more is better! And please remember the #1 swapping etiquette--no soiled clothing, or clothing with holes, tears, or pilling! All sizes welcome! Fall/winter season only!
Look fab and feel good--all clothing remaining will be donated to Goodwill. Goodwill's mission is to help people earn a living, improve their lives, and strengthen their families and their communities.
THE POP-UP SHOP:
Still can't get enough? Shop at our pop-up shop full of indie designers and vintage vendors! They include Alexander Meza Jewelry, Ciao Nina, Pastiche, Planet Maud Vintage & Co., Quarter Life, and Tanoory Studios.
FREE SWAG BAGS!
You can come in anytime to swap and shop, but come early--we're giving away swag bags to the first 50 people!
For more info, visit www.dewdropdc.com.
Organizer of dewdropDC Swap and Pop-Up Shop!
Dewdrop is an event organizer of fashion-forward swaps, where stylish locals gather in a fun environment promoting sustainable living. We give back to the community by teaming up with charitable organizations. Most of our events come with pop-up shops, where DC's local talent get to showcase and sell their unique handcrafted or handpicked wares. Check out our blog,www.dewdropllc.com, to learn more.