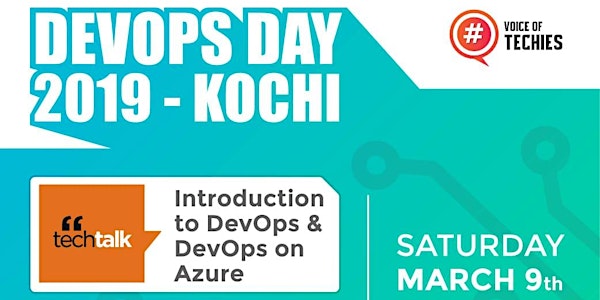 Devops Day Kochi - Tech Talk
When and where
Location
Infopark campus Mini Convention Center Athulya Infopark Kochi, kerala 682030 India
About this event
Voice of Techies, The Welfare organization of IT employees, is conducting a free tech talk, aiming at improving the technical expertise of Infopark employees.
Is DevOps just a hype, or reality? This session will walk you through the basic concepts,
tools, platforms and will give you an idea on how you can improve your project implementation and
delivery process with a DevOps way. You be a Manager, Developer or Tester,
you have definite role in the DevOps roadmap because DevOps is not a single tool,
but it is a cultural shift.
Azure DevOps is everything you need to build your software product from beginning to end.
Learn how Azure DevOps helps you plan your project with Agile tools, manages your code using Git,
and deploys your code through the best CI/CD system on the planet.
Get full traceability and visibility across all your development activities
Trainers Details
Orion Business Innovation,
Sr.Manager,Technology
Technical Analyst,
UST Global, Microsoft MVP
Expected Audience: IT professionals who are working anywhere in Kerala.