DevOps Culture Simulation + Certified Trainer workshop
Description
***
Prepare for DSCP and DSCT certification exams
Experience one of the most popular DevOps culture simulation as seen at 40 conferences in 15 countries: game compilation video
***
Unique opportunity to get trained by Dana Pylayeva - the author of one of the most effective DevOps Culture simulation, prepare for DevOps Simulation Certified Trainer exam (DSCT) from CertiProf© and gain competitive advantage in DevOps training marketplace.
The simulation is designed for a broad audience, enabling participants to gain the insights into the "Why" and the "What" of the DevOps before jumping into the "How".
Through this powerful role-based simulation, participants experience the benefits of cross-training, learn to eliminate silos, "shift left" on security, adopt systems thinking and practice optimizing the flow of value from business to development and to IT operations.
This simulation uses cognitive neuroscience principles, game design theory and elements of "Training from the Back of the Room" framework.
---
Pick from the following two options:
Option 1 (3.5 hours) - DevOps Culture - experience the simulation (with Lego and Chocolate) + receive 50% off DSCP exam ($75 value)
Option 2 (6 hours, includes lunch) - Train-the-Trainer Class + free access to DSCT exam($200 value) + Role Cards

---


Option 1: Unique simulation that makes DevOps topic accessible to all!
Organizations today can no longer afford to deliver new products or new features to their respective markets once a year or even once a quarter.
While not everyone can reach the rate of change that Amazon reports, adopting DevOps can help an enterprise significantly shorten their lead time and increase the deployment frequency. All while achieving much
lower change failure rate, higher availability and better security.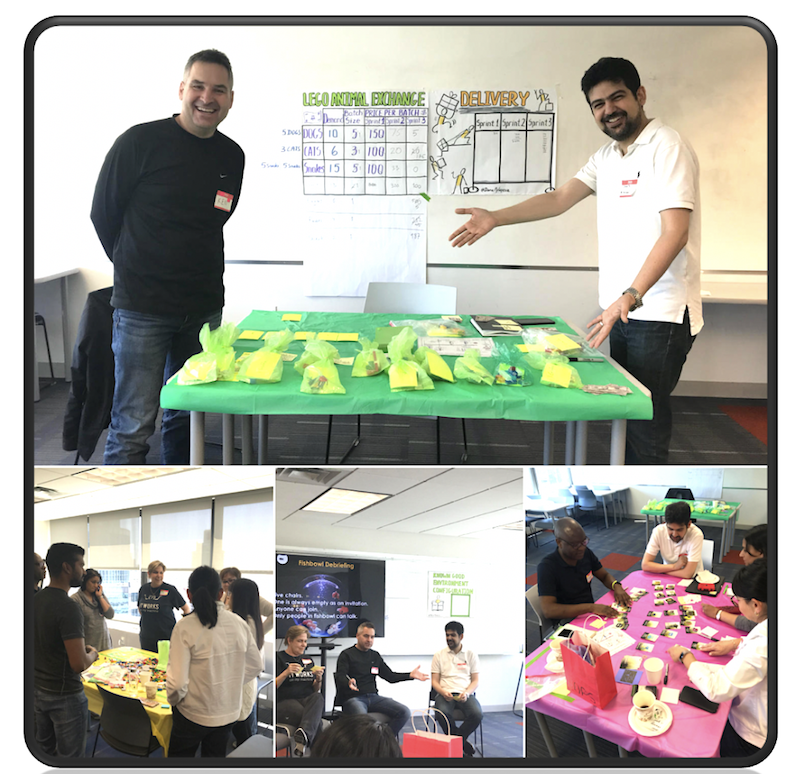 The Introduction to DevOps (with Lego and Chocolate) Simulation workshop enables everyone in an organization to gain a solid understanding of foundational principles of the DevOps culture and experience the
benefits of DevOps transformation even before initiating one in their company.
Unlike some other simulation, this one is
1) short ( you can run it in 2 - 4 hours),
2) effective (received rave reviews from over 2000 participants in 15 countries!
3) accessible to technical and non-technical folks. Yes, your business stakeholders will love it too!

Ideally designed for organizations that are

Evaluating their approach to DevOps transformation

Making their first steps in adopting DevOps practices

Noticing the gaps left by "automation only" approach to DevOps.
This course

Is based on real-life examples from medium to large size organizations

includes the latest findings from the State of DevOps 2019 report

delivers key ideas from "The Phoenix Project" by Gene Kim

provides gamified experiential learning in a short and effective format

facilitates a number of debriefings to draw parallels between the issues highlighted in the simulation and some of the similar issues the learners may have in their organizations.
What people say about DevOps with Lego and Chocolate Game:
"I attended this course on a whim … I had the time open and the email notice tickled a problem my team has been experiencing recently with on time deployment delivery. This was my first detailed exposure to the DevOps concept. The game was a very powerful, fast, and effective way to learn and experience the pain and opportunity of better understanding DevOps. I made 3 changes in my team's workflow the 2 weeks following this event. Within 30 days my team experienced increased throughput, better predictability, and less stress with our clients and stakeholders. It was almost like magic. Highly recommend this game, the facilitator Dana, and the books she recommended to me following the game."
"Dana's facilitation training for the DevOps chocolate and LEGO game was extremely valuable. The game makes the WHY of DevOps very obvious and is super engaging. Dana's experience in this space along with her facilitation skills made for an extremely rich learning experience and gave me a very useful tool to help inform clients on their Agile and DevOps journey."
Read more: https://www.agileplayconsulting.com/kudos
---
Option 2: Facilitator Training Option
This train-the-trainer workshop will prepare you for many successful facilitations of DevOps Culture simulation and give you access to the licensed training material (PowerPoint slides, handouts, flipcharts design etc). You will learn to run effective debriefing with your groups and help them connect learning from the simulation with solutions to the real-life challenges in their organization.
Become one of the DSCT holders - DevOps change agents who are able to create the DevOps Culture simulation experience, providing participants with additional insights into taking the next steps to embracing DevOps mindset and leading organizational change. Guide your workshop participants through the experiential discovery of the following practices: optimizing flow, amplifying feedback loop and growing safety culture. Deliver real-life examples from medium to large size organizations, latest findings from the State of DevOps report and key ideas from "The Phoenix Project" by Gene Kim.
Learn from the game creator, prepare for DSCT exam from CertiProf© (included in your registration) and help make DevOps culture experience accessible to all – business stakeholders, C-level executives, IT management, techies and non-techies alike.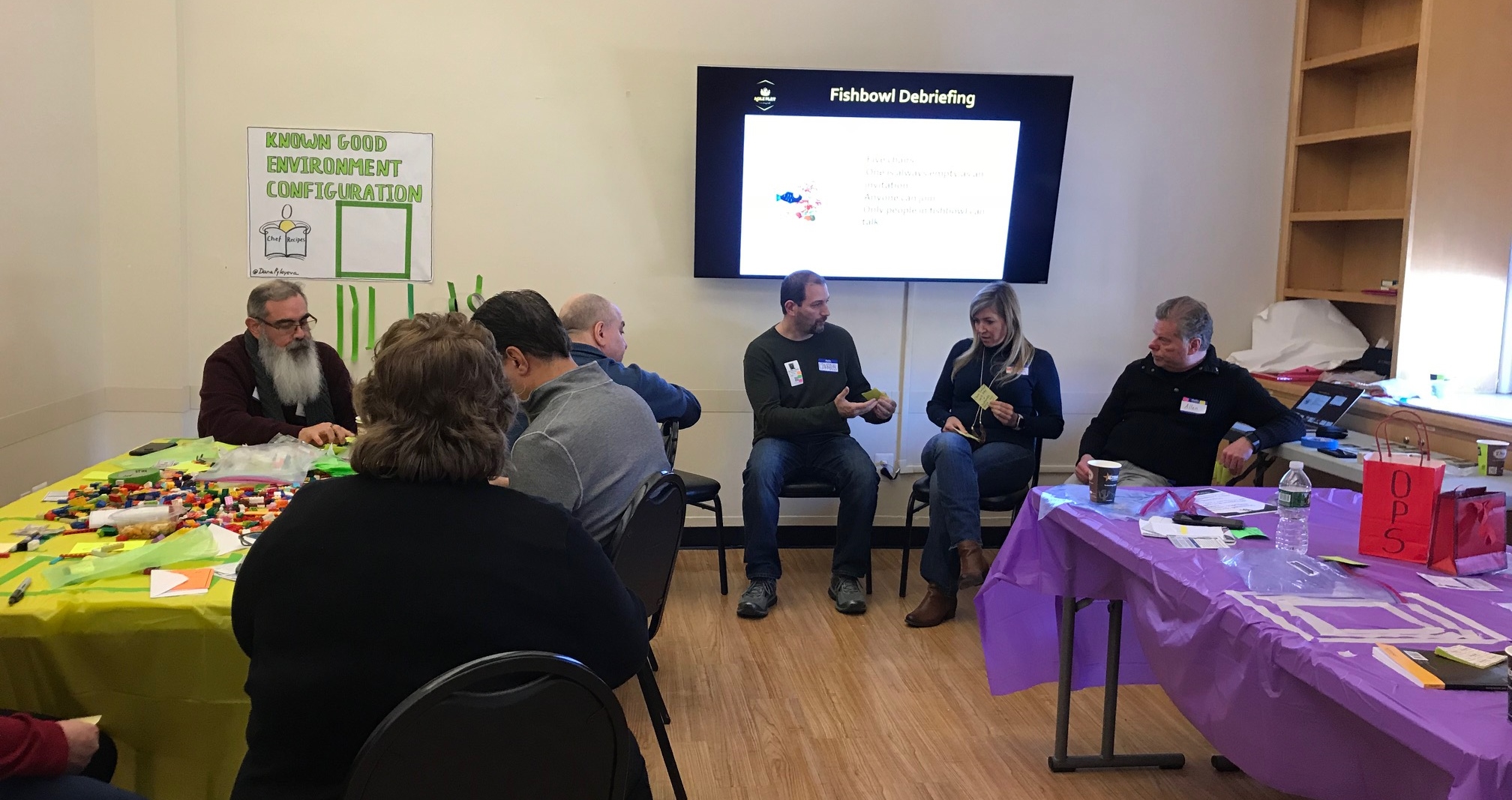 What will you take home with you:
1) DevOps Simulation Role Cards for up to 21 players
2) A signed copy of Dana's "Introduction to DevOps with Lego and Chocolate" book
3) Latest 2020 version of the simulation introduction slides (Power Point)
4) A printed handout with the content covered in facilitator training
5) Free access to DSCT certification exam ($200 value) via CertiProf
6) Fear in the Workplace card deck
7) Up to 6 SEU (Category C) with Scrum Alliance
About Introduction to DevOps with LEGO and Chocolate game:
Inspired by "The Phoenix project" as well as Dana's hands-on experience (10 years on the Dev side and 2 years on the Ops side). Developed using principles from Game Design, Gamification and Training from the Back of the Room.
Originally created in 2014, the game has been delivered to over 2000 people in 15 countries. Facilitators in other countries helped translate it to Spanish, French, Russian and Chinese. Check it out on YouTube.