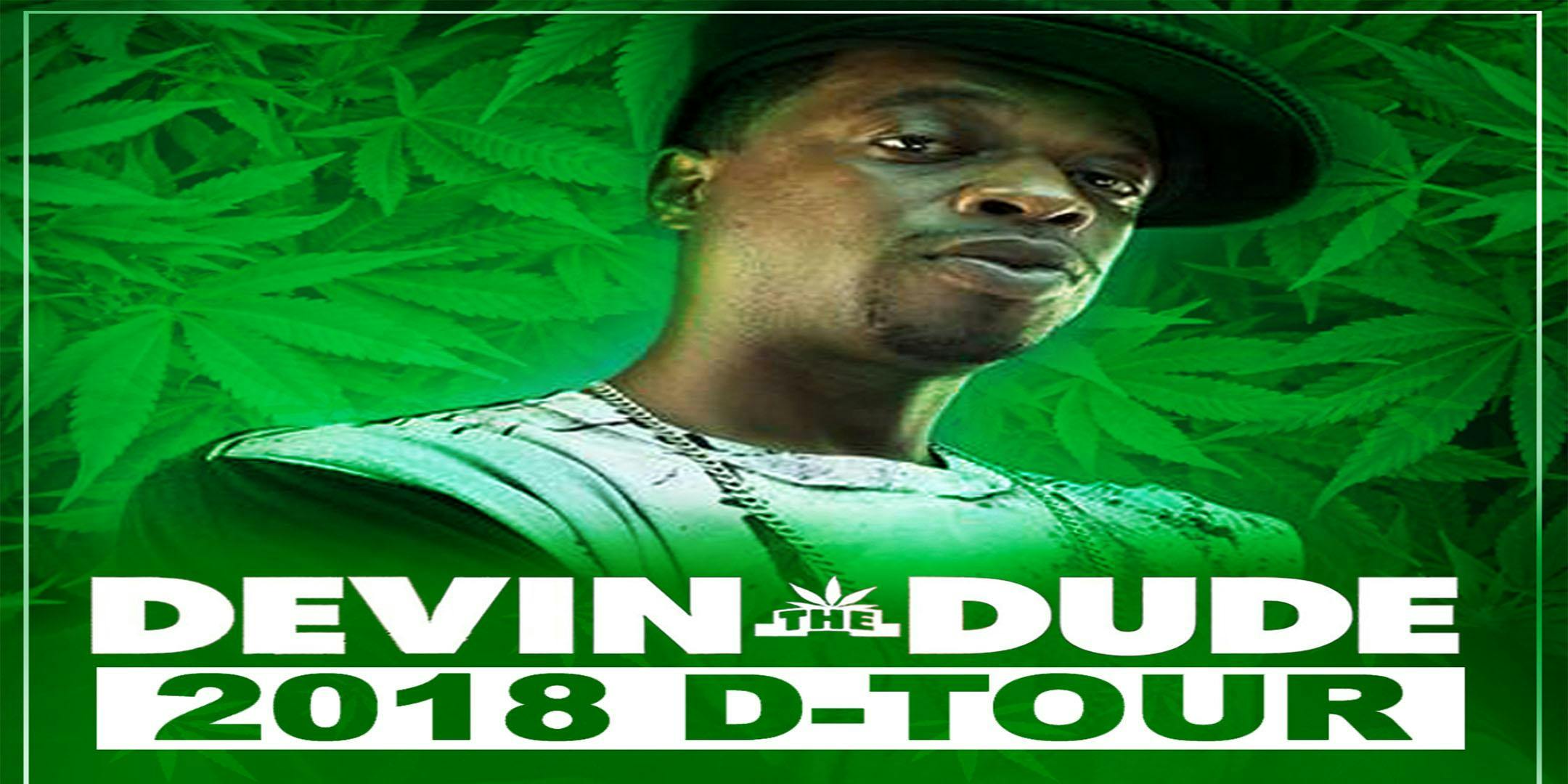 About this Event
Devin Copeland (born June 4, 1970),better known by his stage name Devin the Dude, is a Houston hip hop artist who started out as a member of the Odd Squad, later known as the Coughee Brothaz, a group of rappers signed to Rap-A-Lot Records. 
The label is notable for being the home of hip-hop artists such as Geto Boys, Scarface, and Too Much Trouble. Devin Copeland moved on to become part of Scarface's Facemob, who is also a member of the Coughee Brothaz, before going solo in 1998. 
Copeland has released six solo albums: "The Dude" 1998), "Just Tryin' ta Live" (2002), "To tha X-Treme" (2004), "Waitin' to Inhale" (2007), "Landing Gear" (2008), and "Suite 420" (2010). He also made a number of guest appearances, including on Dr. Dre's "Fuck You" in 1999, and De La Soul's "Baby Phat" in 2001, and on Tech N9ne's "After Party" 2010 off of The Gates Mixed Plate. 
In 2008, he ended his 15 year relationship with Houston based Rap-A-Lot Records after he decided not to renew his contract. Later that year, he signed with indie label Razor & Tie. Devin is currently being distributed by E1 Entertainment, formerly Koch. Despite being a critical success, Devin the Dude has not achieved success in the mainstream but continues to be a well-known underground hip-hop artist. The "New York Times" has called him "A brilliant oddball with a spaced-out flow." 
In addition, he has been called "Rap's best-kept secret" and "Your favorite rapper's favorite rapper." In 2007, he appeared in a documentary titled "Screwed In Houston" produced by VBS/Vice Magazine that details the history of the Houston rap scene.
Devin The Dude
• Complex is an ALL AGES (6+) venue.
• No refunds or exchanges are permitted, except in the case of headliner cancellation or date change. Opening acts are subject to change.
• There is an 8 ticket limit per customer unless otherwise stated.
• NEVER buy third party tickets (Craigslist, StubHub, etc.) for over face value. Scalped tickets may not be honored.
• Once you purchase, you will receive an order confirmation email from Eventbrite on behalf of Complex.
• IMPORTANT: If you do not see your order confirmation in your inbox, make sure to check your junk/spam folder. If you still do not see your order confirmation, click here to access the Eventbrite help center.
• If you are having any other technical ticketing-related issues with your order, click here to contact Eventbrite. For general show info, click here.
The Complex Oakland is a general admission standing room only venue for most events, unless otherwise noted.
For your own safety, lining up outside of the venue for entry is not permitted more than one hour prior to the scheduled door time. Any General Admission ticketholders who arrive at the Complex prior to this time will be asked to leave the venue/line-up area and return at the designated time. If applicable, VIP and/or Pre-Show Meet and Greet ticket holders may have permission to access the venue at various earlier times depending on their package. Please refer to your point of purchase for more info.
Large bags, backpacks and professional cameras will not be admitted to the venue, so we encourage you to leave them at home or in your car.
COMPLEX OAKLAND is not a theater and therefore most shows have limited seating options. Purchasing a ticket never guarantees a seat for the concert. Our late Kitchen (opens with at 10 pm) which has seats and smoking area for reservations call (510) 394-2780. Our later shows have VIP booths available for purchase at that same number. All other seating (if any) is available at a first come, first served basis.