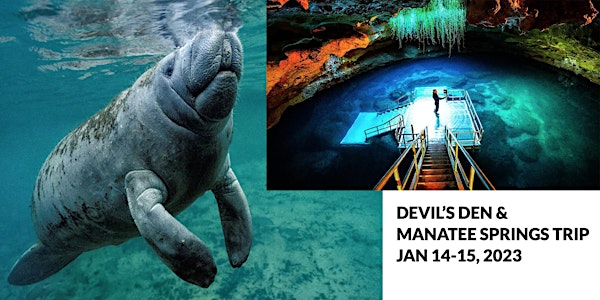 Devils Den & Manatee Springs Trip
Come explore north Florida with Force-E Scuba Centers Jan 14-15, 2023!
About this event
Snorkel with playful manatees and do a freshwater cavern dive in Devil's Den with your Force-E friends and trip leader Rachel Sorensen.  
This two day package includes: Entrance to Devil's Den with unlimited dives during the first day, overnight stay in cottages that sleep 4 people, then second day morning manatee snorkel tour (5mm wetsuits available for the cooler spring water). ONLY $249 per person! This trip will sell out fast, book online here with name and email and Rachel will get back to you. *Note: transportation and food/drinks not included. 
About Devils Den:
One of North America's most prehistoric places, an underground spring inside a dry cave in central Florida. The remains of many extinct animals from the Pleistocene Age (2 million - 10,000 years ago) were discovered at Devil's Den, including the bones of early man, dating back to 7,500 B.C. The pleasant year-around temperature of 72 degrees in the Den allows comfortable diving, winter or summer. On cold winter mornings you can see steam, like smoke, rising from the cave's chimney. Hence, the early settlers called the place Devil's Den. You'll find open water and cavern diving at its best & will be fascinated by the rock formations with stalactites and 33 million year old fossil beds, truly a natural wonder.
About the manatee tour:
You will begin at the tour facility, where you will be educated about the animals and receive tips for your snorkel tour to make the most of your day. You will be taught the in's and out's of 'passive interaction' as this ensures that the animals enjoy the experience as much as we do! You will then be suited up and transported to the dock, where a Coast Guard certified covered pontoon will be waiting for you. This rich estuary will amaze.....birds, fish and wildlife abound! Then submerge yourself in the manatee's world! The Florida manatee is a playful and friendly animal by nature and they often show a great deal of curiosity when it comes to humans. Up close and personal encounters with the manatee is what you'll participate in but simply observing them in their natural habitat is an experience you will remember for a lifetime! You'll connect with these amazing animals and let us share our love for this spring-fed eco-system with you. Once you experience this unique and amazing privilege, you will almost certainly share our enthusiasm, love and respect for these gentle creatures!