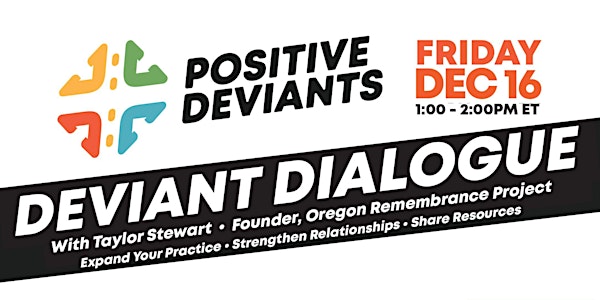 Deviant Dialogue with Taylor Stewart
Join us on Friday, Dec. 16th for a Deviant Dialogue with Taylor Stewart, founder and executive director of the Oregon Remembrance Project.
About this event
DEVIANT DIALOGUE WITH TAYLOR STEWART
How do you reconcile a lynching?
Join us for our fall Deviant Dialogue where Positive Deviant Taylor Stewart will discuss his work in reconciliatory justice which is transforming communities in Oregon.
Taylor Stewart founded the Oregon Remembrance Project in 2018 to help communities unearth stories of injustice and engage in the truth-telling and repair required to reconcile instances of historical harm. His work connects historical racism to its present-day legacies in order to inspire contemporary racial justice action. In what started as simply a way to memorialize a man named Alonzo Tucker, the most widely documented African-American victim of lynching in Oregon, Taylor now uses the power of reconciliation to rectify further instances of historical injustice.
Watch Taylor's TEDx talk here
Watch an overview of the Oregon Remembrance Project here
Positive Deviants for Community Transformation is committed to building a collective of practitioners—a network of support and inspiration—through ongoing national conversations and retreats at the intersection of community transformation and creative expression.