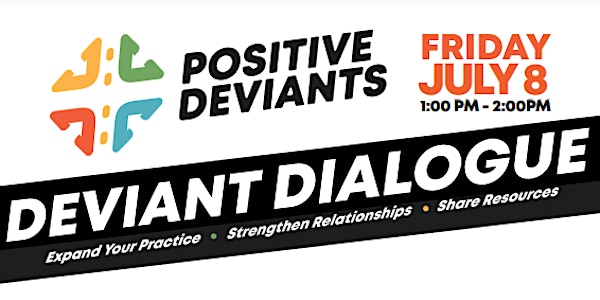 Deviant Dialogue with Dr. Charlie Smith
Expand your practice, strengthen relationships, and share resources at our first Deviant Dialogue event.
About this event
DEVIANT DIALOGUE WITH DR. CHARLES SMITH
Join us on Friday, July 8th at 1pm for a conversation with Dr. Charlie Smith.
A Futurist, Author and Transformation Consultant, Charlie's passion is helping individuals and organizations find the internal courage to imagine a breakthrough and take successful, uncharacteristic action... getting what you want but don't think you can have.
Dr. Charlie Smith holds a Bachelor's Degree in Social Relations from Harvard College, an MBA from the Harvard Business School, a Ph.D in Organizational Behavior from Case Western Reserve University, and a Certificate in Gestalt Methods from the Gestalt Institute of Cleveland. Charlie's special interest is in helping leaders and systems Break Free of the gravitational force that binds them to seemingly unchangeable culture and identity. Clients have been ambitious entrepreneurs and leaders facing big challenges with people, culture, and important transitions.
Learn more about Dr. Charlie Smith's work here.
Positive Deviants for Community Transformation is committed to building a collective of practitioners—a network of support and inspiration—through ongoing national conversations and retreats at the intersection of community transformation and creative expression.