Devi Navaratri - The Nine Nights of the Holy Mother - NY 2013

Multiple Dates
Event Details
"The devotee's relationship with God as the Divine Mother is quite different from the relationship with the absolute in its paternal aspect. Maternal love is unconditional, free of judgment; her acceptance is total. The mother is disposed to sacrifice all for the well-being of her children." ~ Prabhuji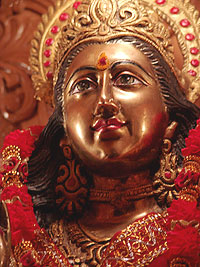 Celebrate the Glory of the Divine Mother!
Join us in celebrating Devi Navaratri -
The Nine Nights of the Holy Mother
We will open and conclude the 9-day holiday with a festive event and auspicious puja:
First night: Sat. Oct. 5th, 6pm - Durga Puja
Tue. Oct. 8th, 8pm - Lakshmi Puja
Last night: Mon. Oct. 14th, 8pm - Durga, Lakshmi and Saraswati Puja
In the program: Devotional kirtan, Vedic puja, and a lecture about Navaratri and the Devi
Click here for the address and directions to our Astoria Center
Suggested donation for each event - $21
We look forward to seeing you there!
Click here to read more about Devi Navaratri
---
Personal Abhishekam:
If you have a personal deity of Durga, Lakshi, Saraswati or any other form of the Divine mother, you are invited to bring the deity along. The pujaris will perform an abhishekam (Vedic bathing ceremony) to her for a small donation of $51.
Personal deities will also be available for purchase at a special holiday discount.
---
Please note: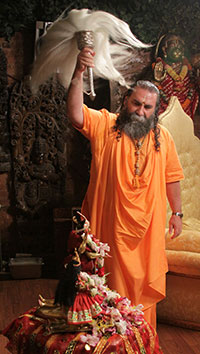 In addition to the two special pujas, we will chant together Vedic Suktams (hymns) of the Devi every evening for the nine nights of celebrations, Oct. 6-14 at 9:30 p.m. You are most welcome to join us!
"During these nine days, three goddesses are worshiped – Durga, Lakshmi and Saraswati – as three aspects of the divine Shakti. Kriya shakti (action) is expressed through Durga, Lakshmi is the expression of Iccha Shakti (will) and Saraswati is the personification of jnana shakti (wisdom). Durga destroys gross obstacles on the physical plane, Lakshmi destroys mental obstacles and Saraswati destroys ignorance about our true divine nature, which is the subtlest of all obstacles." ~ Prabhuji
Navaratri is a Hindu holiday in which nine nights and ten days are dedicated to the worship and glorification of the Divine Mother, or the feminine energy of the Divine.
The nine nights are traditionally divided between the worship of Mothers Durga, Lakshmi and Saraswati. Navaratri is celebrated throughout the year between seasons. The Sharada Navaratri that is celebrated in October is the main Navaratri and therefore is called also Maha-Navaratri, or "The Great Navaratri".
Location: Vimukti Yoga Center of Astoria
Phone: 1(888) 474-1218
Address: 20-29 38th Street, Astoria, NY 11105
Where

Vimukti Yoga Center of Astoria
20-29 38th Street
Queens, NY 11105


Multiple Dates
Add to my calendar
Organizer
The Prabhuji Mission is a nonprofit organization dedicated to preserving Prabhuji's teachings.
The mission provides assistance to people interested in his message, which speaks of a global awakening of consciousness that would radically solve all the problems of human society.
Our main activities are to publish his books, maintain websites, distribute food to people in need, operate anāshram in Upstate New York, and offer Prabhuji's teachings through satsaṅgs, courses, workshops, and retreats. All this is possible thanks to the efforts and collaboration of volunteers. The mission offers spiritual aspirants the opportunity to reside in the Prabhuji Ashram for prolonged periods to deepen their practice.
Devi Navaratri - The Nine Nights of the Holy Mother - NY 2013