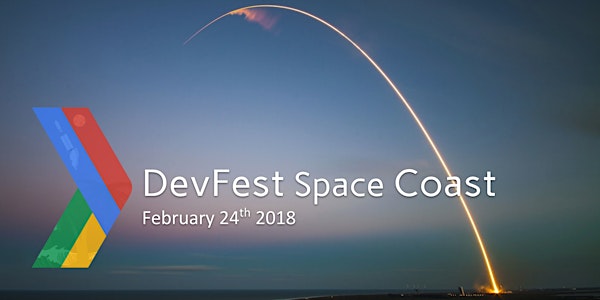 DevFest Space Coast
When and where
Location
Groundswell Startups 2412 Irwin Street Melbourne, FL 32901
Description
Want to get the latest info from experts on Google development technologies like Angular, Android, Google Cloud, Tensorflow and more? DevFest Space Coast is a one-day tech conference in Melbourne, Florida. Learn something new, and have the opportunity to network with cutting-edge developers, designers, and business leaders from around the Space Coast.
DevFest Space Coast 2018 is going to take place on Saturday, February 24th from 1:00 PM to 6:00 PM at Groundswell Startups, Melbourne, Florida. Lunch is included with your ticket and as we attract sponsors we'll add more goodies to what you'll get with your ticket price.
Agenda
12:30pm - Doors open and "day of" ticket sales start
1pm - Lunch, Networking
1:30pm - Introduction
1:45pm - Sponsor Talk - Status: Ethereum-based Open Source
1:50pm - Lightning Talk - Big Data, Better Weather, Leela Watson
1:55pm - Break
2:00pm - Get up and running with RxJS, Christoffer Noring, Angular GDE, Presenting remotely from London.
2:30pm - Intro to Stencil (Web Components), Mike Hartington, GDE in

Web Technologies, Firebase, and Angular. Presenting remotely from Rhode Island.



3:00pm - Break
3:30pm - Angular State Management using ngRx, Loiane Groner, Angular GDE from Sao Paulo, Brazil

4:15pm - Android Things: Quickly Prototype and Develop IoT, Paul Trebilcox-Ruiz, IoT GDE from Colorado
5:00pm - Break
5:30pm - Closing remarks, prize raffle, and Happy Hour Networking
Not interested in every talk? We'll have a wide variety of code labs that you can work on during that time. If you get stuck, we'll have experienced developers on-hand to help you out.
The event is being organized by Google Developer Group (GDG) Space Coast. GDGs are open communities, run by volunteers passionate about Google technology, and look to share their experiences and knowledge with others. The is an inclusive event that works hard to make every attendee feel welcome and engaged. The event is governed by a Code of Conduct. Please review the Code of Conduct and verify that you agree to be bound by it before purchasing your ticket.
This is a non-profit event. All proceeds from ticket sales will be used for event costs like the venue, audio/visual, food, beverages, swag, prizes, speaker travel expenses, etc.
This is the second DevFest event in Brevard County and the 4th that GDG Space Coast has been involved in organizing. Find out more about the global event series called GDG DevFest here.
We're extremely pleased to announce that Status (https://status.im) has joined us as a Gold Sponsor for this event! Status is an Ethereum-based, OSS, SuperApp that gives you the power to communicate, trade cryptocurrency, and run decentralized apps, all from a single chat-based interface. They will be presenting a demo of their platform and have one of their Go developers at the event to answer questions.
If you are interested in sponsoring this event, please review our Event Sponsorship Information. Contact us with questions, and then purchase the sponsorship ticket of the appropriate level on Eventbrite.