DevFest Silicon Valley
When and where
Location
Google Building CL2 1200 Crittenden Lane Mountain View, CA 94043
Refund Policy
Contact the organizer to request a refund.
Description
TELL US WHAT YOU THINK! Please complete this feedback survey:
DevFest Silicon Valley
DevFest is a series of community-led events that have technical sessions centered around Google developer technologies and platforms like Android, Chrome, Google+, and App Engine. This DevFest will have a particular focus on women-inclusion and bringing the female developer community together to teach, learn, code and network.
This is not a women-only event, as is instead an opportunity to encourage diversity within the developer community through female speakers and participants. Both men and women are welcome!
This event is hosted by GDG Silicon Valley, GDG East Bay and GDG San Francisco, and will happen on Google's Crittenden campus in Mountain View, CA.
Need transportation to the event? Complete this form! Sorry! The shuttle is full.
Speakers
We haven't finalized the line-up yet, but we have some great speakers committed to the event. Estelle Weyl, Chiu-Ki Chan, Pamela Fox, Amanda Surya, and Meggin Kearny will be covering topics like HTML5, Android and mobile programming, web performance and Google's APIs.
Pamela Fox
Pamela Fox loves to learn, teach, create, and every combination of those. During the day, she works as a frontend engineer at Coursera, working to improve the future of online education. At night and on the weekends, she teaches web development classes for the GirlDevelopIt San Francisco chapter.. Before that, she worked in Google Developer Relations, and graduated from USC's Computer Science Department (Go Trojans!).
Feature Detection in the Real World
In an ideal world, we would always use feature detection to decide what features to serve our users. Unfortunately, in the real world, there are practical problems with that approach: some features are undetectable, some tests take too long, and sometimes, its just not worth the time to do them. In this talk, I'll introduce the ideas and tools behind feature detection and then discuss where we've tried to use it at Coursera and where we failed.
http://feature-detection-irl.appspot.com/
Chiu-Ki Chan
Chiu-Ki flows between both web and mobile development. At Google, she worked on the javascript frontend for Book Search, and the native Android client for Google Mobile Maps. Afterwards, she went to two different web startups, one with Django the other with Ruby on Rails, both using jquery to build interactive websites. Now she's once again back to mobile, producing her own apps. The first title is Monkey Write, an app for learning Chinese writing.
Beautiful Android on a Shoestring
Want to make your app beautiful, but cannot afford a designer? Fear not, there are many easy ways to prettify your app.
The first part of the talk covers Android techniques. Learn how to use XML and Java to touch up your app with gradients and round corners, tiling backgrounds, custom fonts and much more.
The second part showcases various free and open source resources such as color schemes, graphics, patterns, fonts and icons. You can use them in your apps as well as web sites, flyers, posters, anywhere you need beautiful things.
By the end of the session you will be equipped to prettify your app and make it stand out in the crowded marketplace.
http://chiuki.github.com/beautiful-android
Estelle Weyl
Estelle Weyl started her professional life in architecture and then managed teen health programs. In 2000, she took the natural step of becoming a web standardista. She has consulted for Kodakgallery, SurveyMonkey, Yahoo!, Apple, and many others. Estelle provides tutorials and detailed grids for CSS3 and HTML5 browser support in her blog. She is the author of "Mobile HTML5? (O'Reilly, July. 2013), "HTML5: The Definitive Guide" (O'Reilly, Dec. 2013) and "HTML5 and CSS3 for the Real World" (Sitepoint, 2011)
10 things you didn't know a browser could do
It may feel like the HTML5, CSS3 and ECMAScript specifications are moving along at a snails pace, but browser capabilities are moving quickly, and it is difficult to keep up with all the new feature support. In this session we'll cover some brand spanking new and older but unknown features that make debugging, designing and developing more fun.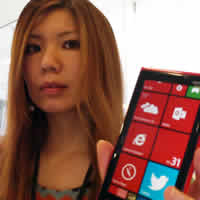 Tomomi Imura
Tomomi (@girlie_mac) is an open web advocate, and front-end engineer with mobile focus. She has been in mobile-space since before it was cool -has been developing mobile apps, platform UI/UX and frameworks at Yahoo! Mobile, Palm, Hewlett-Packard, before the current company, Nokia, to evangelize HTML5. She also writes a technical blog at http://girliemac.com
Mobile Approaches with HTML5
Building a mobile web no longer means dumbing down an existing desktop website. With ever-evolving HTML5 and smartphone capabilities, now you can create amazing web apps running on mobile browsers. In my talk, I will cover the adaptive and responsive design approach to support multiple form-factors from desktop to mobile phones, also the mobile-specific approach with HTML5 APIs, including device APIs that make communication between a browser and hardware possible, and enable web to have "native" like experiences.
http://girliemac.github.com/presentation-slides/html5-mobile-approach/
Kitt Hodsden
Kitt Hodsden is the 47th laziest person in the world, a feat which takes considerable effort. That effort has taken her to Twitter, where she and her team are building out a unified platform for the company's supplementary websites. Before working at Twitter, Kitt co-founded CodingClan LLC, a small web development firm specializing in the rapid development and deployment of Drupal-based community and commerce websites; co-founded Hacker Dojo, a community space for hackers, tinkerers, makers and programmers in Mountain View, California; worked on Shrek and Antz; and built enough websites to lose count. When not organizing a conference or study group, preaching the gospel of lazy productivity or building another website, she can be found playing ultimate, rain or shine.
Automate ALL THE THINGS!
From zen coding to automating commands, from code generation and browser bookmarks through webhooks to text notifications, you can make life much easier by automating parts of your web work, removing tedious, repetitive tasks and creating shortcuts so that you have more time for the interesting stuff. Let's review current techinques you need to automate all the things.
http://www.slideshare.net/kitthod/automate-all-the-things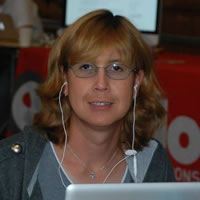 Christie English
Christie is a software developer with 10+ years of experience in the industry. Developing software for her is fun because it is a way to express creativity. Technology is constantly changing so she enjoys keeping pace as the software engineering field evolves and putting new technology to use for people with creative solutions. Christie believes that with change comes new opportunities. Currently she is the founder of a startup creating pioneering NFC software.
NFC Tricks and Traps
NFC (near field communication) is a wireless technology enabling the transfer of data such as text or numbers between two NFC enabled devices such as NFC tags and NFC enabled cell phones. In this technical presentation about developing NFC applications on the Android / PhoneGap platform, we will go into the things to be aware of about NFC tags and how to support features on non-NFC and non-Android phones.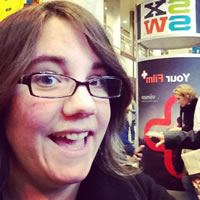 Liz Howard
Liz Howard (@lizthedeveloper) teaches for Girl Develop It, and is currently doing a Hacker-In-Residence program at Hackbright Academy. She loves to explain engineering to people who are excited about it. Her current project is changing the gender ratio in technology.
Gay marriage: the database engineering perspective
Essentially, large databases with referential integrity aren't made to handle gay marriage. We'll look at some of the types of changes we'll have to make to the databases that run the country if we're going to become a progressive society. This talk looks at potential future changes to marriage, and how to establish relationships between humans in a truly nonbiased way. This humorous talk is great for beginners to database schemas and looks at how thinking ahead can save you time later, but can also lead to exploring unexpected areas of life.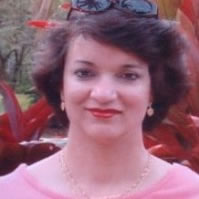 Tasneem Sayeed
Tasneem is Mobile-savvy, Web 2.0, Social Gaming and Social Networking experienced technologist with more than a decade of software development and technical leadership experience. Tasneem is currently Principal Mobile SW Engineer at Intuit within the CTO Dev Mobile Team. Prior to Intuit, Tasneem was a Game Client Architect at Gameview Studios (subsidiary of DeNA), where she helped to optimize their top mobile social games. She has worked in early stage Web 2.0 startups such as Hiplogic (acquired by Zynga) and Bling Software. She also helped to define, implement and deploy Gemini Mobile's eXplo Social Networking Platform with Softbank Mobile (Japan) and Nokia's SNAP Mobile Networking Gaming Platform with SmarTone HK. She spent 10 years at Sun Microsystems as a Technical Lead for Java ME platform and helped to bring the first Billion Java ME handsets to market globally.
Best Practices for Mobile Application Development on Android
This talk will provide an overview on the best practices for developing mobile applications for the Android Platform. It will provide tips for making your apps fast and more responsive including the "Golden Rules of Performance". It will cover the essentials for an effective UX design and user experience. Furthermore, it will cover the benefits of using intents, intent receivers and handling background updates.
http://mymobilecorner.blogspot.com/2013/04/best-practices-for-mobile-app.html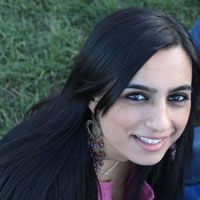 Dee Gill
Dee is a finance nerd / excel ninja turning programming nerd. In finance land forecasting revenue, she's been building up budgets and putting together investor / board presentations. Dee has been working at SurveyMonkey for the last year and a half, and has recently joined their dev team. This spring she'll be in the third ever batch of women learning the art of programming at Hackbright Academy.
Introduction to Chrome Developer Tools
An introduction to developer tools, origination from webkit, documentation / resources, how to open developer tools, etc. We'll cover each of the tabs, including elements, resources, network, sources, timeline, profiles, audits, consoles as we inspect a popular website. You'll also learn how to debug JavaScript through a live demo using the inspector, breakpoints and console, and become a super user as you learn common shortcuts to navigate through this indispensable tool.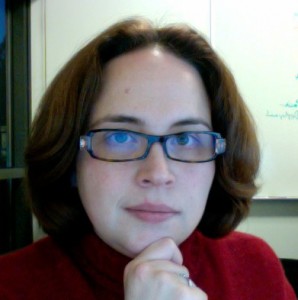 Nadyne Richmond
Nadyne Richmond is a Staff User Researcher at VMware, directing user experience efforts across VMware's product suite. She created and led VMware's first internal user experience conference. Nadyne has also worked as a researcher at Microsoft and IBM. At Microsoft, Nadyne architected the user experience for Outlook:Mac 2011, which won a PC Magazine "Best of" award for 2010, as well as OneNote for iPad and OneNote for iPhone.
An Engineer's Guide to Learning About Your Users
You've got a great idea: maybe for a new feature, or a new application, or a new website. How can you learn whether your idea will gain traction with users? In this 30-minute session, I'll explain how to elicit information from your users (both directly and indirectly). I'll discuss the parallels between good code and good research, and explain how the development lifecycle applies to research
too.
Jenny Murphy
Jenny is a Developer Programs Engineer working on Google Glass. Before joining Google, she worked in a wide variety of software engineering roles -- from robots at NASA to the architect of a social media startup. She is passionate about writing and education, especially on the subjects of technology and science.
Google+ Sign-In
Google+ Sign-In is a simple, trusted way to let people sign in with their Google credentials and build even more engaging experiences across desktop and mobile.
In this presentation, Jenny Murphy and Joanna Smith guide you through the features proofed by this new feature of the Google+ Platform.
Joanna Smith
Joanna is a Developer Programs Engineer working on Google+. Before joining Google she studied at The University of Texas at Austin, focusing on CS Education, Distributed Systems, and Natural Language Processing. She is passionate about words and education, especially with regard to technology.
Google+ Sign-In
Google+ Sign-In is a simple, trusted way to let people sign in with their Google credentials and build even more engaging experiences across desktop and mobile.
In this presentation, Jenny Murphy and Joanna Smith guide you through the features proofed by this new feature of the Google+ Platform.
Amanda Surya
Amanda leads the YouTube and Commerce Developer Relations teams where she helps partners and developers large and small to integrate with the APIs. During her spare time, she loves to encourage more women to get into tech. She helped start the Women Techmaker series, an effort to tell the stories of many successful technical women.
Making the YouTube Platform work for you
From Justin Bieber to Psy, YouTube has become a platform for artists to launch themselves into international stardom. But how can developers and entrepreneurs take advantage of YouTube? In this talk, I will walk through YouTube's newly launched APIs and go through examples of businesses and cool apps built using them, so you can go built your own.
Meggin Kearney
Meggin is a technical writer for Google Chrome working on the Chrome Apps project. She's passionate about making technology easy to understand so that developers can get started quickly-- 'Writing less is more'. Meggin didn't start out in technology but her curiosity drew her to it. She loves to find technical solutions to problems, even if it means pushing the boundaries on what she's technically capable of doing. She relates to women coders whose path isn't always the straight and narrow. She believes the skills required to steer the windy roads are key to pushing women into the forefront of technology.
Chrome Apps: Bridge between Native and the Web
Today web apps require you to be online and in your browser. They have both perceived and real limitations in functionality like access to native hardware. Native apps have proven successful because of their full-fledged functionality and ease of distribution. With Chrome Apps, you can build apps that are just as powerful and integrated as the native app using web technologies. In this talk, we will take an honest look at Chrome Apps-- what it offers you now, what it could potentially offer in the near future, and how your code will run on any platform. We'll learn how to build our own Chrome App Todo lists, walking through this code lab.
http://chrome-apps-devfestw.appspot.com/#1
Fiona Tay
Fiona Tay is a developer at Pivotal Labs, where she writes tests before code. She got a late start with programming, but now loves learning new languages.
How to Test Your Javascript With Jasmine
Learn how to get started testing your Javascript code with Jasmine, a popular testing framework. I'll explain how to set up Jasmine and write simple tests.
Andy Granowitz
Andy Granowitz is an analyst at Google Analytics (GA), working to bring data-driven decision-making to Fortune 100 companies. Andy also plays a leading role in Google's customer analytics efforts, drawing on his prior work with the Wharton Customer Analytics Initiative. Andy graduated from the University of Pennsylvania with degrees in Mathematics and Statistics.
Google Analytics: Data for the Evolving Digital World
Google Analytics not only lets you measure sales and conversions, but also gives you fresh insights into how visitors use your site, how they arrived on your site, and how you can keep them coming back. In this session, you will learn how to reap full benefit from this powerful tool - from data collection to action. We will also discuss recent developments in the digital world and how analysis tools are adapting.
http://goo.gl/mYTkv
AGENDA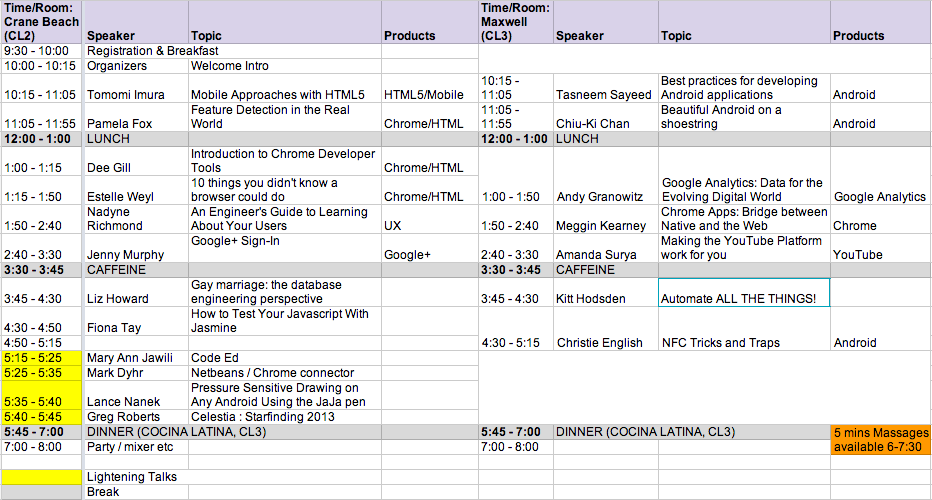 9:30 Registration
** Please note that there will be no refunds.