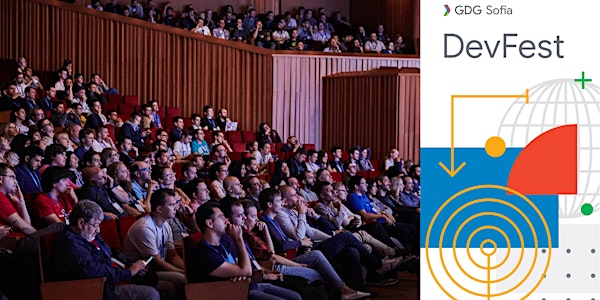 Date and time
Saturday, November 24, 2018 · 9am - 6:30pm EET
Location
National Palace of Culture Bulevard "Bulgaria" Hall 6 1784 Sofia Bulgaria
Description
GDG Sofia is excited to announce that we are organizing the very first GDG DevFest in Bulgaria this year.
What is a DevFest?
GDG DevFests are large, community-run developer events happening around the globe, focused on community building and learning about Google technologies.
They cover multiple product areas such as Android, Firebase, Google Cloud Platform, Google Assistant, Flutter, machine learning with TensorFlow, and Mobile Web.
Each DevFest is inspired by and uniquely tailored to the needs of the developer community that hosts it. That's why the first GDG DevFest Bulgaria will cover topics around Web, Mobile and Cloud technologies.
What to expect?
As an attendee, you can expect speaker sessions, code labs, study jams, training sessions, workshops and more. The sessions will be led by Google Developer Experts (GDEs), Google employees and other world-renown experts.
When?
Save the date – November 24th 2018
What is a GDG?
GDG Sofia is а group of enthusiasts that gather around Google technologies. We organize different events - seminars, conferences or just dine-outs, and discuss the latest developments.
Disclaimer: GDG Sofia is an independent group; our activities and the opinions expressed here should in no way be linked to Google, the corporation. To learn more about the GDG program, visit
https://developers.google.com/groups/
Organizers:
GDG Sofia & WTM Sofia
TechHuddle, Qualifast Ltd. & DataArt Bulgaria
Location:
National Palace of Culture (NDK), Hall 6
Tickets:
Early birds on sale now.
About the organizer
TechHuddle Academy is an exciting initiative inspired by our desire as a technology company to share our knowledge and contribute to the development of the IT sector in Bulgaria. We deliver various lectures and courses focused on building on developers' skills, knowledge and hands-on experience.
We use top-notch technologies, and our instructors are extremely experienced developers working for leading international companies in different industries. Participants who successfully pass a course exam will receive a certificate to show their achievement.
Feedback from participants 
100% of our academy participants would recommend our Python course and all of them gives our lecturer top marks!
100% of our academy participants would recommend our React & Redux course and all of them gave positive feedback.