A chance to connect with other like-minded women and reconnect with yourself for a weekend away at the Hyatt Place in Niagara Falls NY!
About this event
I'm gonna come right out and say it.
Our Women's Summit is not your typical summit
I know what you're thinking, that you'll have to
Wear a business suit and walk around handing out your business cards
Or listen to stuffy speakers who have never been in your situation
And more than likely stay quiet and just listen while people talk at you
But I am here to tell you that you will NEVER HAVE TO DO ANY OF THOSE THINGS
This Women's Summit is THE ONLY in-person, all-inclusive, interactive summit that allows you time to focus on yourself, meet like-minded women, get reenergized & walk away ready to conquer your world in less than 72 hours.
After over a year disconnected from others and cooped up in our houses, it's time to get out for a weekend that is all about you!
This event is going to include all of these things:
Two nights in the Hyatt Place
Apps & Drinks on Friday
Breakfast on Saturday & Sunday
Lunch on Saturday
Swagbag with useful items for the weekend
Access to a pool and fitness center
Energetic speakers
Connection with like-minded women
Six different breakout session options
Self Acceptance Workshop
Q&A Panel with thought leaders
Auction with variety of items (tickets for the auction will be earned throughout the event)
Parking
Plus it's a weekend out of your house (which is priceless!!)
So, grab a girl friend and book your tickets before August 30, 2021!
Keep in mind that space is very limited, so you will not want to wait to book your room.
Check out more details at summit.developingwithdevan.com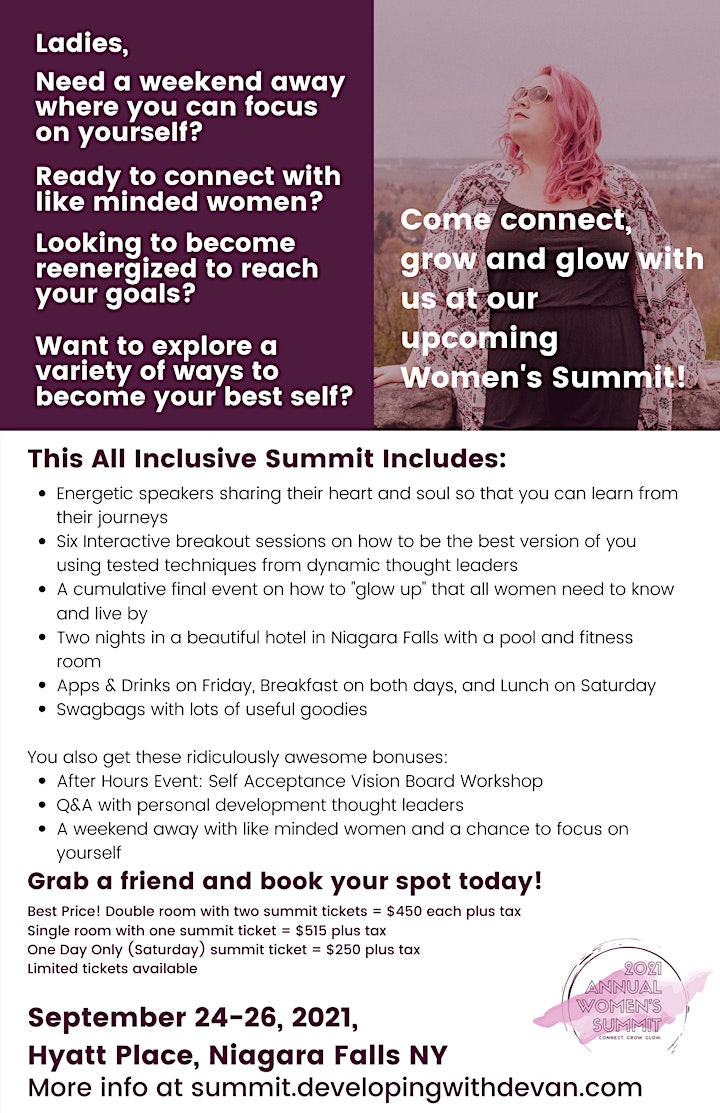 Own a business? And want a chance to advertise it at our event?? Connect with us at summit@developingwithdevan.com to see what options we have!
Organizer of Developing with Devan's 2021 Annual Women's Summit
Now you may be thinking, ok, this event sounds awesome, but who the heck is Devan and why should I come to her summit.
Well, I wouldn't say I am an expert in confidence and goal setting but the many ambitious millennials I have helped go from self-conscious to self-confident, would no doubt disagree.
It's just one of the benefits of helping so many people beat self-doubt after they have spent countless hours, days, weeks, months and even in some cases years looking for a solution.
But this wasn't always me. Before I threw myself into the world of coaching I was a career and education advisor in higher education and it took a ton of blood, sweat and tears (some of them were even mine, JK) to get to where I am today
So, that is why they call me expert…and I'm incredibly proud of it, and of them.