Description
Developing Executive Presence Masterclass with Janet Holmgren
Learn the language of leadership and influence colleagues, clients, and executives.
Business leaders like Michael Bloomberg, Sheryl Sandberg, and Indra Nooyi are known because of their abilities to guide their companies and teams to greatness. Leaders like these realize that communication that influences, motivates, and inspires others to take action is a critical skill of an effective executive and leader.
This interactive masterclass led by Janet Holmgren, a world-renowned education leader and linguist, is geared to rising stars and leaders who seek to refine and magnify their executive presence and ability to inspire others to take action.
In this course, participants will develop communication skills, executive presence, and receive meaningful feedback from the instructor as well as fellow participants. A portion of the class will be dedicated to exploring the role of diversity in leadership and communication, and identify how to elevate a diversity of voices in the business world.
You'll walk away knowing how to:
Find the right tone and words for common situations, e.g. public addresses, high-pressure meetings, challenging discussions

Understand your linguistic persona, and the strengths and weaknesses of your voice in a professional setting

Employ tools that will empower you to win your audience through language and presentation.
About the Instructor: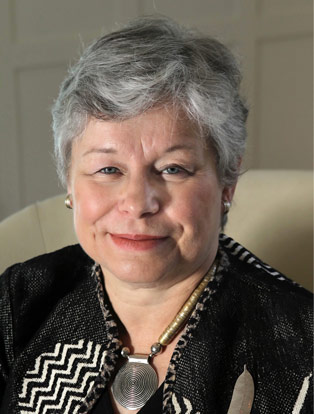 Janet Holmgren is an expert public speaker who has addressed audiences on five continents. She is a linguistics scholar and a passionate champion for diversity. Jan served as President of Mills College for 20+ years, and as Vice Provost of Princeton University, where she recently sat on the Board of Trustees. She has served on numerous non-profit, government, corporate and trade association boards, and is currently on the Board of Directors for 3DMX Inc, an international educational technology innovator.
---
About the host:

Founded in 1992 by Sue Cooper and Alan Cooper, the "Father of Visual Basic," Cooper is an award-winning global design and business strategy consultancy, with offices in San Francisco and New York. Our mission is to help organizations think big, create delight, and achieve success. We approach every engagement with fresh eyes and a proven framework. Cooper's Professional Education arm shares the best practices we have developed, and empowers participants and clients to create great products and services.
Interested in more Cooper U? See our full schedule.
---

Cancellation Policy
We know things happen. If you need to cancel your registration, notify us by emailing cooperu@cooper.com at least 30 days prior to the course and we will refund your full payment. Less than 30 days prior to the course, there are no refunds available. Alternatively, you can transfer your registration once to another course within one year of the date of cancellation or assign another individual from your organization to take your place. Once your registration is transferred, you may no longer receive a refund.